Here are the apps competing with Periscope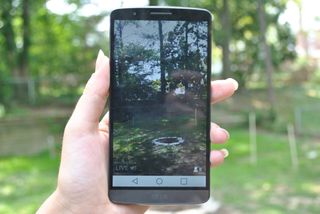 As consumers, we're used to having choices and being able to decide what works best for us. Where it can get pesky however, is when you are inundated with too many options, and not enough information about what each one can offer us. Well, it seems like live streaming video has more than enough options for even the most discerning user.
We've talked about Periscope in depth, but you need to know your options. So we've grabbed a few of the most popular live streaming video apps, with a breakdown on each one.
Read More: The apps competing with Periscope!
Meerkat
As far as navigating the app goes, Meerkat meets expectation without going above and beyond. The toolbar on top has a link to your profile, a search function, leaderboard of the most prolific Meerkat users. The profile page is fairly bare, with only a list of your followers and following list. This is also where you have access to turning your notifications on, or off and deciding whether you want a notification sound at all. The search function, denoted with a magnifying glass allows you to search for users to follow.
The leaderboard, is behind an icon of a ribbon and is a list of the most popular users on the network, along with their 'score'. You can easily see that the creators of Meerkat wanted you to have fun with the app. Popular users being rated on a leaderboard, along with a score next to your username showing your activity to the community at large. The feed is made up of two types of broadcasts. There are live casts which-as you might have guessed are going on right now-as well as upcoming scheduled broadcasts.
Broadcasting with Meerkat gives you a few options, but not many.You'll see how many people have been in the stream total vs. how many are currently watching, a location tag, the ability to tweet comments from inside the broadcast, access to either camera, and the flash function. When you're done all you need to do is hit the stop button, and agree to end your stream. After the broadcast you'll only get a message that the stream has ended, with a number of users who watched.
You are automatically linked up with Twitter, which means that each time you broadcast an automatic tweet is sent out. You don't seem to have the ability to turn that feature off though, which can be problematic if you're just fooling around trying to see how everything works. Unfortunately, it also seems that you can only broadcast in portrait mode.
There aren't many ways to customize the app, or your interaction with it unlike Periscope. Notifications are either on, or off with no input on what you will get notified about. It's unfortunate, because it means all or nothing. You do have the ability to promote future broadcasts by scheduling them through the app, which lets your followers know when something nifty is coming up. There is also the ability restream — also known as sharing — any live broadcasts that you come across. The amount of control Meerkat gives you over how you interact with the app is lacking, for instance the autotweet about going live could have been available to turn off in settings. Overall it's not a bad app, it just seems to be clunkier than Periscope in how the user interacts with it.
Download: Meerkat (free) (opens in new tab)
Hangouts On Air
Google Hangouts didn't start out a live streaming video service, but it didn't take them long to figure out live streaming was a good idea. Youtube and Google+ are both linked up with Hangouts since they're all a part of the Google suite. Using Hangouts on Air, is done through Google+ and creates an event page. You'll get to add a theme, a title, summary, and a time for it to start, as well as duration.
You also have access to wonderful privacy controls that allow you to decide precisely who will be notified, or allowed in the Hangouts at all. You definitely have better control over the privacy of your stream than most apps, and unlike Periscope where you have to manually add people to a private stream, Hangouts on Air allows you to add your 'circles' from Google+ speeding up the process.
When Broadcasting you're using Hangouts on Air. This one definitely doesn't work quite the same as Periscope, primarily because it can only be launched from a computer. This definitely limits what a user can see, and lends itself more towards being a broadcast platform that happens to have live video — Not a service that focuses on live video. There is the added benefit of immediate cross posting to your Youtube account where the broadcast is saved, and can be edited. While it means there are fewer options for amazing sights — unless you have your laptop with you anyway — it does lend itself to being a fantastic tool for podcasters, or vloggers who don't want their followers to miss out just because they couldn't catch it live.
During your broadcast, you can answer questions, post links through the showcase app, and use the applause app to see how people feel about your live stream, as well as choosing what viewers see if there are multiple people in the broadcast. After you finish your recording it will show up on the Hangouts on Air event page that was created, as well as your Youtube account if you've got one connected.
In certain arenas, Hangouts on Air is a real competitor to Periscope. You have fantastic access to privacy and customization options, and the immediate cross post to Youtube is powerful-especially for those with large followings. However, the fact that a Hangout on Air must be started from a computer and not a phone is problematic. Honestly though, depending on what you're looking for out of a broadcasting platform, this is at least on par with Periscope.
Download: Hangouts (free) (opens in new tab)
Stre.am
Stre.am is the last competitor on our list today. Unlike Periscope, you have the ability to connect with your Facebook, Twitter and Google+, allowing you to contact friends across networks. However it seems you can only tweet about broadcasts at this time, which is true of most live broadcasting platforms. When it comes to notifications, you can choose between a phone notification or an email; even then you'll only get notifications if a user follows you, or a followed user streams. You of course still have the option to turn off all notifications as well. Your profile doesn't autofill with anything but a profile picture if you link your account, which could be good or bad depending on your motivation level and blurb writing skills.
The app gives you both a top and bottom toolbar filled with ways to use it. At the top you have Live video, and Reels from both popular users and your friends. Reels are constructed videos-not live, and not necessarily unedited-that you can post up for friends and followers to view for 24 hours. Live video isn't available in its entirety like it is with Periscope, but the reels do make up for that somewhat by letting you mix and edit a reel to show to those who missed the real thing. Live will show you a feed of popular current broadcasts, and under Reels you'll find popular broadcasts as well as those from people you follow.
At the bottom of the screen you have five more options; watching video, a friends feed, search for users, and your profile page. Broadcasting with Stre.am also gives you some options not available elsewhere. To begin with, the app only broadcasts in landscape mode, which no other platform seems to support at the moment. (At least not without tilting the view of anyone trying to watch.) You can choose to tag location in your video, use either the front or back camera, use flash, save the video, and share via Twitter. You will get a short summary of your stream with a count on viewers, likes, length of the video and the users who liked this stream.
Comparative to Periscope, Stre.am is somewhat more cluttered in it's presentation. Really that's because they have things split up more specifically, making the app easier to navigate as you get comfortable with it. Broadcasting in landscape mode really steps things up a level, and with the access to privacy controls is on par with Periscope's options. Access to far more of your contacts across 3 social networks is also fantastic, even if you can't post directly to 2/3. Depending on how you plan to use it, Stre.am honestly seems like the biggest contender in terms of options to Periscope.
Download: Stre.am (free) (opens in new tab)
Make your Choice
So there you have it. The three apps that are out there giving Periscope a run for it's money. No one is doing it exactly like Periscope, and that's probably a good thing. Some things are better elsewhere, and you can choose what works for you and run with it.
Whether you're already firmly in the Periscope camp, or you're looking for the perfect platform, the choice is yours. By all means, tell us if we missed a service! Sound off in the comments and let us know which platform you're excited about!
Android Central Newsletter
Get instant access to breaking news, the hottest reviews, great deals and helpful tips
Jen is a staff writer who spends her time researching the products you didn't know you needed. She's also a fantasy novelist and has a serious Civ VI addiction. You can follow her on Twitter.
Hangouts was first. Still using the Sprint GSIII on FreedomPop Unlimited for $19.99

No, Qik was. Almost a year before ustream. http://www.technopinions.com/2010/02/10/iphone-streaming-showdown-qik-vs...

G3 looks better from the front than the G4. G4 looks like a mid ranger. I like the back though. Posted via the Android Central App cuz Android Police doesn't have an app yet :(

I would include Livestream in the list. Just 11 days ago, my wife and I had our first child (3 days after our due date) . My brother was getting married the next morning. I was in Boston, the wedding was in NYC. We were able to watch the entire wedding live.... Even hooked my Chromecast up to the hospital TV and were able to watch it live on the big screen. Posted via the Android Central App

Love Hangouts Posted via the Android Central App

Been using Hangouts/G+ primarily but downloaded both Periscope and Meerkat... So far I prefer Periscope and don't use Twitter that much so deleting Meerkat. Hopefully a update will allow FB and G+ integration like Stre.am and for God's sake, landscape recording. Posted via the Android Central App

So you deleted Meerkat because you don't use twitter....and you prefer periscope...does anyone want to tell him or let him find out for himself?

You now is also an option, its not good but should be recognised Posted via the Android Central App

I'm looking for an app that let's you broadcast from phone or pc but also let's you watch it by phone or PC. Which one can do this? Posted via the Android Central App

Periscope has the marketing and popular Twitter users. It has already won. Posted via the Android Central App

Before Meerkat and Periscope were available on Android there was Stringwire from NBC. It is very different. NBC becomes owner of the video. Here is a presentation from Button, a NYC startup, I recorded from March 2015: Check out this video that I live streamed using the Stringwire app: https://stringwire.com/profile/Zimjg/watch/5sfdAA App store link: https://www.androidcentral.com/e?link=https2F2F... Because of the ownership issue and longevity of the video storage, one must be careful what they use it for. Posted via Android Central App

WHY? why so much reporting on this app for teens?? .. Ive been using Ustream since my LG ALLY .. color or whatever that was on the droid? this is all old stuff.. nepotism?

You're *so* cool. Guess what, something changed and now something you used before has now gone mainstream. You're a bona fide hipster.

your comment is flawed in two ways.. periscope is not main.. and i was not a user of those apps in the past. but yeah.. I live in austin.. eat fresh food. ride my bike everywhere drink good beer and like unlocked phones. ooo and the word cool is not cool anymore.
Android Central Newsletter
Get instant access to breaking news, the hottest reviews, great deals and helpful tips
Thank you for signing up to Android Central. You will receive a verification email shortly.
There was a problem. Please refresh the page and try again.