What Android phone makes the most sense for BlackBerry fans?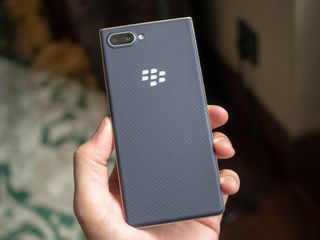 (Image credit: Android Central)
Oh, BlackBerry — sweet, sweet BlackBerry. The iconic phone brand has gone through a lot over the years, whether it be bleeding-edge handsets in the early 2000s or Android-powered offerings under TCL's ownership.
BlackBerry phones may be no more, but the want for a phone with similar ideals still exists.
Some of our AC forum members recently started talking about which Android phones they've drifted towards in lieu of BlackBerry, with the conversation going as follows:
Now, we want to hear from you — What's the best Android phone for BlackBerry fans?
Get the Android Central Newsletter
Instant access to breaking news, the hottest reviews, great deals and helpful tips.
Joe Maring was a Senior Editor for Android Central between 2017 and 2021. You can reach him on Twitter at @JoeMaring1.
There really isn't a slab that could truly replace a KEYone/KEY2/LE However if LG or someone else decided to get creative with a QWERTY slider, then that could be a very compelling option for those who have been holding on to their DroidBerry running Oreo for over 2 years now

For me after several BB's (the passport being the best) was the Moto brand. Cheap, decent specs and almost vanilla android too. Current g9plus. Brill.

The Best Blackberry Phone on Android is a Different Brand. I was a long time Blackberry User, I also used a Typewriter for a long time. I think it's high time We stopped waiting for the Blackberry Phoenix to arrive. Sorry Crackberry Nation It's only Budget second tier phones in the future. They had Their Chance and nosedived on to Their Own BB10 OS Sword. Nostalgia is great but I that's all it is. Blackberry is important in the History Books, but hadn't been relevant in over 10 Years. For all their advancements and awesome Devices it's sad, but could We stop covering It like Blackberry is going to make a Flagship ever again. Glory Days, let them be.

After my last personal BlackBerry I got the Essential PH-1. Loved it as much as I loved BlackBerry. Then I went to the Pixel 4a. I'm happy with it, but the moment BlackBerry comes back, I am buying it sight-unseen.

Two things: 1. The best answer is the Pixel line (with their Titan M chip) and then pay the $0.99 a month to use the BB suite of apps. Im using my Pixel 3XL and the BB Hub, and all the other apps. It is worth the investment! 2. @JoeMaring, if you are asking this, it must be because there is something brewing at BB 🤔😉🤣😃.

I went from a Q10 to an LG Stylo. But now I use a Samsung Galaxy A51 5g.

The answer is the Google Pixel line. It gives you security and monthly timely updates. It also gives you a great camera.

This is precisely the question I'm asking myself right now. My work K2 still has some legs in it, but my personal K1 (summer 2017) is slowly winding down. I was thinking Pixel, but I want less google in my life, not more. Curious if any OnePlus users out there running Hub?

My friend who was a huge BB fan went to OnePlus. He still runs BB hub on a 7t.

I still use the BB Hub on my Z Fold 2.

Went Samsung back in early '17. BlackBerry HUB suite has worked well on S7. S7 Edge, S9 and now A71 5G. In early '19 the ('18 released) Black Edition Blackberry KeyOne went on sale and I snagged one. Phenomenal PKB I use intermittently as I am here. I would only recommend Samsung or Pixel at this point for various price points and longevity of support. If you prefer a PKB you really just need a Blackberry. Thankfully a new 5G QWERTY is slated for '21 release.

Samsung Note series. Now if BlackBerry ever did make an equivalent, I'd be back like a shot. BlackBerry fan through and through.