What you need to know about Android and Windows 10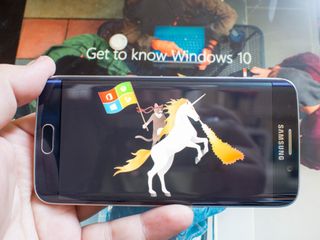 While Android is likely your go-to for mobile technology, the desktop-and-laptop world is still largely dominated by Windows machines. If you fall into that category, you've probably heard about this big update to Windows by now. There's a lot to like about Windows 10, including the price tag if you're running a fairly modern version of the OS. If you're wondering how this update will affect your day to day usage, particularly the Android parts, we've assembled this handy guide for you.
Spoiler alert — it's actually pretty good.
Chrome apps and notifications work great
If you rely on Chrome notifications to keep you informed without having to pick up your Android phone, or you rely on Hangouts and Gmail on Chrome for Windows daily, you'll find little about the experience has changed in Windows 10. Google has been supporting Windows 10 for quite a while now through the Insider Preview, so there's no need to worry about waiting for things to function. You can update today and everything will work as expected, including Chrome Remote Desktop.
The only thing you'll want to do out of the box is avoid activating Cortana if you have no plans on using Microsoft's voice service. The combination of Cortana notifications and Google Now notifications in Chrome can clutter your screen in a hurry, not to mention the additional notification tones. Alternatively, you could give Cortana a shot for yourself and see if your like it more than Google Now, especially once it is officially available on Android.
Better device detection, better sync options
While the All Google All The Time folks are big on the cloud, a good ol' fashioned microUSB cable and an OS that actually knows what you're connecting to it are great. Windows is usually good enough about accessing USB mass storage modes for Android hardware, but Windows 10 takes things a step further.
Device detection and driver installation is greatly improved, and the new Microsoft sync options are a gentle reminder that Microsoft apps are out there if you're not totally invested in Google. Even if you never use Microsoft's sync tools, the improved device detection and driver installation is great for quick video pulls and confirming the hardware you're playing with when busting out the Android SDK to poke around.
Read more: How to sync your Android to Windows 10
The days of Xbox One Smartglass being the same on Android as Windows are likely over
Microsoft did something incredibly cool with its Smartglass system, allowing users to take control of their console through whatever gadget they were using. As a quick remote control it's great, but as a second-screen platform Smartglass and a Nexus 9 make for an incredible combination. The best part was you got the same experience on every platform, and it worked well. Unfortunately, with Windows 10 that is unlikely to remain true for particularly long.
Xbox One Smartglass isn't going away, but Windows 10 is moving to the Xbox One app. It allows users to do a whole lot more, including stream games from your Xbox One to your Windows 10 computer. As incredible as this is, there's no way this functionality is coming to Android. With the Xbox One app taking center stage and fewer companies placing a focus on second screen experiences, you can expect a noticeable feature discrepancy between Android and Windows in the future.
Sign up for Black Friday email alerts!
Get the hottest deals available in your inbox plus news, reviews, opinion, analysis and more from the Android Central team.