What do you think about Android Q Beta 3's new gestures?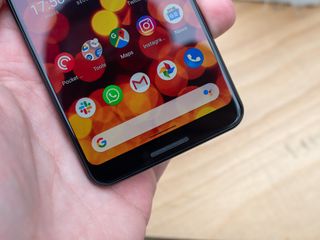 (Image credit: Android Central)
Android Q Beta 3 is full of new features, but perhaps the most important is the overhauled gesture navigation system.
In addition to being able to use Pie's gestures and the traditional three-button setup, Beta 3 introduces a new method of doing things where you swipe up from the bottom of your screen to go home, swipe from the left or right to go back, and do a swipe up and hold to access your recently opened apps.
AKA, it's almost identical to the iPhone X's gestures.
Looking through the AC forums, there are some mixed feelings about the new implementation.
Now, we want to hear from you. What do you think about Android Q Beta 3's new gestures?
Joe Maring was a Senior Editor for Android Central between 2017 and 2021. You can reach him on Twitter at @JoeMaring1.
They're great. I will use the good old buttons though. I am more excited about their return to Android Q than gestures. They work better and are one of the best features of Android.

I've habitually swiped from the left edge of the screen to open the side drawer so common in Android apps. This makes the back gesture a conflict of interests, for me. I'm having to rewire my brain to tap the hamburger icons at the top left instead of swiping. Google either needs a major campaign to get apps to drop the left drawer, or find a different back gesture. Swiping right and left for app switching is a bit of a mind bender for me because the order of the apps dynamically changes. I love the extra screen real-estate provided by the full gesture mode, so I'm continuing to use it for now. All in all, I'd prefer the extra screen space, but with a swipe left from center for back, and swipe right from center to toggle between the two most recent apps (as in the 2 button mode).

Regarding the drawer, I was going through the same thing, but then I went to the Google I/O 2019 app and I was surprised to see that sliding the drawer in worked as it used to! Only if the drawer is already open does the slide from the edge gesture navigate back, which to me now sounds like this is something that either a new release of the drawer library supports directly or that can be controlled individually per app going forth. Still have the same issue with most other apps that use drawers, though!

I like gestures, they eliminate the need to go for buttons which are small targets.
Android Central Newsletter
Get the best of Android Central in in your inbox, every day!
Thank you for signing up to Android Central. You will receive a verification email shortly.
There was a problem. Please refresh the page and try again.