What to do when you brick your Oculus Go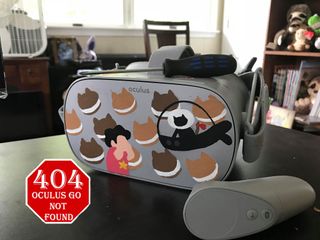 Did you try to factory reset your Oculus Go and now you've found yourself with a lifeless shell of what your headset used to be? Before you go into a full panic mode, try out any of these solutions to see if they help you get your headset back up and working.
Products used in this guide
Factory reset the device with the headset buttons
Turn off your Oculus Go.
Hold the power and volume down button on your headset at the same time until the boot screen loads on your headset.
Use the volume buttons on your headset to highlight Factory Reset and press the power button.
Login to the Oculus app with the account you'd like to connect to your Oculus Go headset and set your device up from scratch.
Hopefully, there was only an error in the files when you attempted your first Factory Reset. By forcing the device to reset once more you might be able to reset the drivers to not give you any further issues. If these steps didn't work for you, for whatever reason, continue on to try to factory reset with your phone instead. You might be able to get a response from there.
Factory reset the device with your phone
Open the Oculus app on the phone connected to your Oculus Go headset.
Tap Settings in the bottom menu.
Tap the headset connected to your phone.
Tap More Settings.
Tap Factory Reset and then Reset.
If factory resetting your device by either of the two steps didn't work for you, it's time to get a little more crafty with your attempts at fixing your device. Take a deep breath and keep going, there's still hope!
First things first: Make sure there's still something even there
Connect your Oculus Go to your PC with a micro USB cable.
In your headset, you will have to give your PC permission to gain access. Select Allow Access to Data.
Once you are connected to your PC the Autoplay feature should open. If it does, select Open Device to View Files.
If Autoplay does not start you can manually browse to Oculus Go Storage through File Explorer. It will be named VR-Headset
Once you have your VR-Headset open, select Internal Shared Storage
Open the folder named Oculus
If you're not showing any signs of any files or data on your device, it's time to contact Oculus Support. If you have, move on to the next step instead. The fact that your computer is recognizing there is something on your headset means not all hope is lost (yet). While there aren't many ways to go about fixing driver issues, outside of a factory reset, this will at least be able to give you the ability to let Oculus Support narrow down what the issue may be.
Try the power button one last time
Put on your Oculus Go headset.
Press the power button on your Oculus Go and hold it for at least a minute.
Try plugging in your headset and starting this process over.
Often times than not, when we're in a panic, we tend to not do things to the full extent that we should. After you've tried all the options above, see if you can turn on your headset by holding in the power button longer than you normally would. If you're still not getting any answers, put in a ticket with Oculus Support.
Contacting Oculus Support
Go to the Oculus Support Page.
Select Request to Return my Oculus Hardware.
Fill out the rest of the form with your information and the problems you are experiencing.
Press Submit.
Oculus usually takes 2-5 business days to get back to you on your request to return your hardware. When they respond back to you with repair or return options you'll be able to finish out the process however you feel comfortable. Whether that's returning your headset to buy a new one, sending your current one for repairs, or even just requesting a swap-out.
Our top equipment picks
Outside of the Oculus Go headset, you want to make sure you have the best cords to accessorize with it. This isn't just for style or not wanting to replace a twisted cord every two months, but also for performance. Here's our top pick for charging cables!
The best charging cable
Micro USB Cables (4Pack 3FT/6FT/6FT/10FT)
Using USB 2.0 to bring your high-speed transfer speed
These micro USB cables offer transfer speed up to 480Mbps, 2.4A fast charger, data transfer and speed charging two in one. Coming in various sizes, you'll always have the most convenient option available.
It truly helps save the battery life of your device by making sure you have the best charging cords available for your device. You always want to make sure you're charging your devices only after they've reached a power of less than 10%, and occasionally allow the device to die entirely before charging. Outside of this, a 2.0 USB charger means that you can download and upload files to and from your Oculus Go a lot faster than you would on any standard cable!
Besides, who can argue getting 4 cables for the price of 2?
Sign up for Black Friday email alerts!
Get the hottest deals available in your inbox plus news, reviews, opinion, analysis and more from the Android Central team.
Essa Kidwell is an expert in all things VR and mobile devices who can always be found with an Oculus Go, a Pixel 2, and an iPhone 7+. They've been taking things apart just to put them back together for quite some time. If you've got a troubleshooting issue with any of your tech, they're the one you want to go to! Find them on Twitter @OriginalSluggo or Instagram @CosmeticChronus.