What do I need to stream games from my PlayStation 4?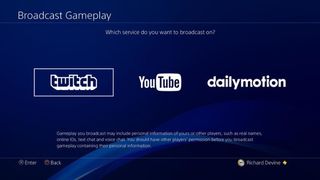 (Image credit: Android Central)
Best answer: Streaming games on the PlayStation 4 is as easy as pressing a few buttons and getting things going. However, if you want to take your stream to the next level, you'll need more than just a controller and the press of a button. Depending on your preferences, you might need a camera, a headset, or even a capture card for more advanced streams.
Do I need anything to stream games on PlayStation 4?
Many people think that to stream games to an audience or your friends, you must need an expensive, fancy set-up on your computer. Thankfully, this isn't the case, as modern day platforms like the PlayStation 4 allow you to stream games directly from the console, and to a variety of streaming platforms as well.
Steaming games from a PS4 is as easy as pressing the Share button on your DualShock 4 controller while you're playing a game and then hitting Broadcast Gameplay. From there, you're given a handful of options as to how you want your stream to operate (stream quality, audio, and more) before you go live. Finally, you choose which streaming platform you'd like to broadcast to. Choose from Twitch, YouTube, or Dailymotion, and then you're good to go!
Of course, there are some minor downsides to streaming straight off of a PS4. Displaying the live feed of comments in your stream shrinks your game screen a bit, and your viewers will see that as well. However, the ability to set up an easy stream within seconds is incredible, and couldn't be any easier.
Pick up the basics
It may be easy to stream on the PlayStation 4, but that doesn't mean you shouldn't have some items on hand to make your stream even better. Things like a microphone and camera are essential to good streams, and luckily they aren't too hard to come by.
When it comes to microphones, it doesn't get much better than the Blue Yeti. This microphone has become the go-to for streamers, as it's not only affordable but provides high-quality audio and a solid variety of options. It's also easy to install thanks to its USB and 3.5mm jack setup. If you're looking to stick to headsets, consider picking up something like the HyperX Cloud Flight wireless headset. Not only does it provide a noise-canceling environment, but it also sports a solid, 30-hour battery life.
Being seen isn't necessarily a mandatory thing in streaming, but it does help connect you to your audience. The PlayStation 4 Camera might not be the best in terms of quality, but it works well enough to help you in your streams. However, make sure not to use the camera as a microphone, as it picks up a lot of background noise and can cause streams to sound a lot messier than they should.
Get recording
A gold standard in USB mics
Streaming microphones don't get much better than the Blue Yeti. Ask almost any streamer, and they've likely used this at one point—or are still using it. It's affordable compared to some other microphones, high quality, and reliable. Blue now offers a bundled option that includes a USB microphone, studio-style headphones, a pop filter, and a USB hub to get you started on any streaming endeavor.
Official webcam
For when you want to broadcast your face
Your streaming experience won't be complete without a camera. You don't need to broadcast yourself in that way if you are uncomfortable, but it adds a level familiarity between you and your audience.
Game hands-free
HyperX Cloud Flight Wireless Gaming Headset
Stream wirelessly
Sometimes you want to sit back and relax without the constraints of a professional microphone, and the HyperX Cloud Flight wireless headset is here for you. Its ability to provide a noise-canceling experience, combined with its excellent battery life (30 hours) and compatibility with both PC and PlayStation 4, makes it a solid choice for any streamer.
Taking your stream to the next level
While streaming on the PlayStation 4 might be enough if you're looking to stream for friends or just getting into the world of streaming, taking your stream to the next level will always involve a computer. If you're looking to produce higher quality streams and take advantage of the highest possible video output, you'll not only need a computer but a capture card. Picking up something like the Elgato Game Capture 4K60 Pro — or any other product in the Elgato line — will undoubtedly take your streams to the next level, but require more than just a PlayStation 4.
Once you're ready to expand beyond the PlayStation 4 as a streaming option, you'll then need to look into either building your own PC, or picking one up that will support your streaming needs. It can be a bit daunting, but if you're just looking to get into the world of streaming, the PlayStation 4 is a great place to start, mainly thanks to how simple it is to fire up a stream and get used to the idea of playing for an audience.
Stream to the next level
Elgato Game Capture 4K60 Pro
Capture your games fully
The Elgato 4K60 Pro is the best of the best and will capture games in full 4K60FPS with ultra-low latency, which is perfect for anyone looking to take their stream to the next level.
Sign up for Black Friday email alerts!
Get the hottest deals available in your inbox plus news, reviews, opinion, analysis and more from the Android Central team.
Anthony Nash has been writing about games and the gaming industry for nearly a decade. When he's not writing about games, he's usually playing them. You can find him on Twitter talking about games or sports at @_anthonynash.