What CES tells us about VR and AR in 2018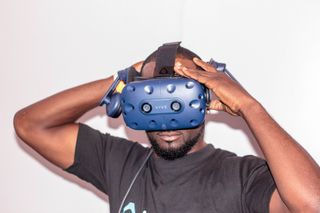 As fast as the tech industry seems to move, smartphones in particular, there are some general trends that can be easily observed at CES. Products are put on display from every corner of the world, and of the few that make it to release this year, only a few will be worth remembering. Still, CES is a solid way to see where the industry thinks people will spend their money, and that paints a decent picture of what we can expect for the year.
Here's what CES tells us about VR and AR in 2018.
Virtual Reality — ditching the tethers, keeping the games
Virtual Reality products at CES this year all had a similar theme: freedom from limitations. This was more easily observed from HTC with its wireless adapter for the Vive and Vive Pro, but the trend continued all over the place. Intel showed off its WiGig adapter for VR headsets, TPCast announced support for Windows Mixed Reality, and it quickly became clear wires were going to be on the way out by the end of the year.
But it's not just wires people want to ditch; phones are on the way out too. Lenovo's Mirage Solo and Oculus Go made big appearances at CES as options for totally standalone VR experiences that would previously have required a phone to act as the brains. Oculus has been teasing high-end standalone VR for over a year now, and Google's efforts to expand Daydream were made clear during its conference late last year. It's clear we're going to see quite a bit from these two companies as mobile VR moves beyond the phone.
The one thing that is absolutely remaining the same this year is the purpose of VR for most consumers — entertainment. These headsets are leaning heavier than ever on games and movies, including a renewed focus on VR180 capture from Google. While there are certainly practical applications for these headsets popping up every day, the dominant focus this year will continue to be fun.
Augmented Reality — eventually we'll have glasses worth wearing
If you were hoping this was the year augmented reality made its way to your glasses, I have some bad news for you. This year is going to be more about commercial applications for AR, like the glasses made in partnership with FLIR. In a kind of sad way, most augmented reality hardware manufacturers are only now starting to catch up to where Google was with Glass years ago.
This year all of the augmented reality most of us will experience is going to continue to live on our phones. Google will expand its ARCore experience to a ton more phones, and Apple will keep pushing ahead with ARKit. It'll be at least another year because we see glasses people actually want to wear, and likely another year after that before those glasses are available from a company most people are willing to give their money to.
Are you looking forward to anything specific in the VR or AR world this year? Share you thoughts in the comments!
Russell is a Contributing Editor at Android Central. He's a former server admin who has been using Android since the HTC G1, and quite literally wrote the book on Android tablets. You can usually find him chasing the next tech trend, much to the pain of his wallet. Find him on Facebook and Twitter
Android Central Newsletter
Get the best of Android Central in in your inbox, every day!
Thank you for signing up to Android Central. You will receive a verification email shortly.
There was a problem. Please refresh the page and try again.