What can my child learn with a Kano Computer?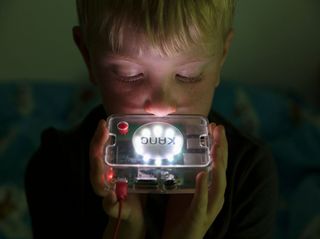 Best answer: The Kano Computer Kit teaches kids how to code, no matter what their age or skill. With the Kano Computer Kit, your child will be able to create games, music, videos and even software.
Amazon: Kano Computer Kit ($143)
What is the Kano Computer Kit?
The Kano Computer Kit prides itself on being the next cutting-edge technology that will help children learn to code for years to come. Instead of painting coding as a hard, serious activity that'll cause any sensible kid to run away, the Kano Computer Kit uses fun, creative methods that make coding not seem so daunting. These methods include asking the child to create the computer, as well as including a helpful storybook that educates children about the computer's "different organs," such as the motherboard.
In learning how to build a computer for themselves, the Kano Computer Kit prepares young minds for the future and allows them to share their creativity. As Kano itself says, "less than 1% of 1% of us can understand and influence" the technology around us. They plan to change that, one step at a time.
What does the Kano Computer Kit include and what does it do?
The Kano Computer Kit includes everything you could possibly need — all in one box. Your child will get a Raspberry Pi 3, programmable LED lights, a DIY case, power button, wireless keyboard, memory, HDMI and power cables, Kano's operating system, coding challenges, and stickers. Oh, and apps. Lots and lots of apps. And not just apps that are made "just for kids" but software like WhatsApp, Google Docs, and YouTube. The only thing that the kit doesn't include is a screen, meaning you'll need to get one that accepts an HDMI cable. Or if you have a monitor that doesn't accept HDMI, grab an adaptor! It'll help.
Your kid will even be able to go one step further and create their very own software. Instead of spending all their time tearing down the blocks of games like Minecraft and Roblox, why not let them become the next genius behind a game like them, instead? If that isn't up your child's alley, then they can look at creating different videos and even music. No matter what your child likes, the Kano will be sure to exceed all expectations.
The possibilities are absolutely endless with the Kano Computer Kit, and the best part about it is that you don't need to be a kid to enjoy everything it has to offer. That's right, adults are allowed to get creative with the Kit too.
Our pick
Master coding without getting your hands dirty
The Kano Computer Kit Touch does everything the Kano Computer Kit does, only this time you can do everything with just one swish of a finger. It's enough to make Mary Poppins jealous.
Get the Android Central Newsletter
Instant access to breaking news, the hottest reviews, great deals and helpful tips.