What Android tablet do you recommend buying in 2019?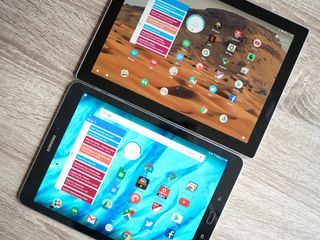 (Image credit: Android Central)
It's no surprise to anyone that the best Android tablets are a lot less popular in 2019 than they used to be a few years ago. However, while they might be fewer and further between, that's not to say that they're completely dead.
After being asked which tablet they should buy, one AC forum member was met with quite a few responses.
Now, we want to hear from you! What Android tablet do you recommend buying in 2019?
Join the conversation in the forums!
Android Central Newsletter
Get instant access to breaking news, the hottest reviews, great deals and helpful tips
Joe Maring was a Senior Editor for Android Central between 2017 and 2021. You can reach him on Twitter at @JoeMaring1.
Is there a reasonably priced Android equivalent to the 12.9-inch iPad Pro?

The Samsung Tab S5e looks pretty promising, but Samsung has a reputation for giving its devices a short update lifespan compared to the competition and especially Apple. Should last a good couple years despite that, most app devs tend to be pretty good at supporting older versions of Android.

Pretty much anything else is reasonably priced compared to an iPad pro. For that kind of money, I'd go with a Samaung Galaxy Tab S4.

I agree with those guys. Lenovo tablets have served me well over the years.

I have a Lenovo tab4 8 plus, still on 7.1.1 Lenovo announced they won't be updating it anymore. No security, no Oreo (in the US at least).
Ya, cheap, but it stutters when you scroll sometimes due to CPU throttling. The Tab4 8 Plus in the US tb-8704v. I use it for HU Reloaded and Torque in the car, so I don't really care about scrolling too much, but if you want something for social network consumption, it may not be the best. Media consumption should be fine.
You can root this device, but no ROMs as of yet. Hopefully soon.

Ever since I bought my Acer R-11 Chromebook... I have no more use for tablets.

I wouldn't recommend any. Stick with the handsets. You aren't missing much...

Except a much better keyboard experience and larger screen. Adonesc76, Everyone does not want to punch ittty bitty keys all the time or read **** by zooming in etc. The tablet (no matter what OS) has a very useful place in technology.

Fair enough. Speaking for myself only, I just don't think that the tablets have that much more to offer than handsets for the average daily users/consumers. Unless you really need a device for a specific use and certain tasks, I just don't see that much more of an advantage to a tablet. I went out and looked at as many Android tablets and even IPads I could because I was interested in purchasing one...and they had nothing to offer me in terms of functionality and usage that my current Android One device doesn't already give me . Besides, my experience with the BlackBerry PlayBook was enough. As I've said in one of my previous postings, if you have to go with a tablet, I think that only the Microsoft Surface (any of its iterations) is worth investing in.

I use it in the kitchen to watch a football or baseball game. My wife wouldn't let me get a cable box and TV there.

LOL...legitimate usage! 😁

If better keyboard and bigger screen are the criteria, get a Chromebook.

Still rocking my Nexus 9! I got it used for 100 about two years ago, with the keyboard case for 20! Lagged a bit with the stock ROM, so I installed SlimRoms on it and haven't had an issue since!

I'm going to have to try this. I've had one for years that's always just been a paperweight because of how laggy it is. Is it really that much better?

I have a Huawei Mediapad M5 that does the trick.

I have Xiaomi Mi Pad 4 Plus and it is great!

Just bought the finance committee a new Samsung Tab A 10". Good tablet. I have the previous model. I suspect That the reason that tablet sales are slow is because they last longer than phones.

I have a Huawei MediaPad M5 8" and a Galaxy Tab A 10.1 2019. Both work fine, but the Galaxy Tab A is far and away the better tablet. My kiddo has one of those Walmart Onn branded 8" tablet, and it does fine for him watching videos on road trips and stuff like that. And if he destroys it, it's only $64.

What is it about the SG TabA that you like over the Media Pad?
I have the M5 8.4" and really like it, the screen is fantastic and it browses very quickly.
I also have a Lenovo Tab 4 Ten plus with a sim card. I'm starting to prefer it over the M5 because of the size while watching media even though the M5 has higher resolution. Are you happy with the screen resolution on the Galaxy?

I haven't like any Android tablet since the Nexus 7 (2013). If you want a tablet with support, just buy an iPad. I just purchased an iPad Pro 11, and the experience and performance is way better than any Android tablet. If you need something cheap for the kids, get them a Kindle.

None. Unfortunately there is nothing that competes with the iPad.
Android Central Newsletter
Get instant access to breaking news, the hottest reviews, great deals and helpful tips
Thank you for signing up to Android Central. You will receive a verification email shortly.
There was a problem. Please refresh the page and try again.