What Android phone should you buy in early 2018?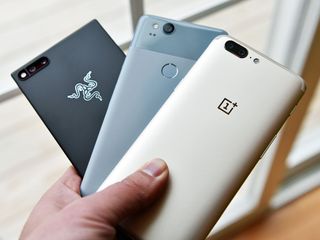 Buying a new smartphone is an exciting quest, but at the same time, can also be anxiety-inducing. A lot of truly excellent handsets have been released over the last few months, and all of this choice might make it difficult for you to narrow down the perfect phone for your needs.
One of our Android Central forum members reached out to the community for help in buying their next phone, as they're currently stuck between the Sony Xperia XZ2, Google Pixel 2 XL, Huawei P20 Pro, Samsung Galaxy S9, and LG V30.
Other users were quick to throw in their two cents on the matter, and these are just a few of the responses.
Now, we'd love to hear from you – At this point in 2018, what Android phone do you recommend picking up?
Joe Maring was a Senior Editor for Android Central between 2017 and 2021. You can reach him on Twitter at @JoeMaring1.
Nokia 7 Plus looks damn good and has pure Android. This could be one of the most interesting phones of 2018.

Went through most Android phones before settling on the S9. Checks most of the boxes and is the perfect size

I recommend the Nokia8 on Amazon 399.00. This phone has the 835 processor, a headphone jack, micro s/d & running pure android. To me, this is a mid-tier flagship & you can't beat the price!

How do you find the camera? And does it have OIS?

chimpboy, yes the camera has OIS!

Thanks I've got a 7 plus on pre order but still find myself coming back to look at the 8.

I recommend the Galaxy Note8. This phone is a beast and it is still running as smooth as it did on day 1. No other phone can even come close to offering the functionality that the s-spen provides.

At this time with what comes in the box hardware, software and updated the most bang for the buck is OnePlus 5t

So much cheaper and yet as smooth as a pixel... Proud owner of a 5t for sure!

I feel like it's really the Pixel vs. the S9. Google's version of stock Android has some extra features that other stock Android phones don't have. It's basically stock Android Plus. On the other hand you have Samsung with all the hardware and software features that you maybe can't find on the pixel with a little less smooth of an experience. Both of these phones though get good software support which should be an important part of your buying decision. Even though Samsung phones make you wait forever for new platform releases like Oreo, you still know you're going to get security updates for a long time.

I choose either, the p20 pro, essential or one of the Nokia offerings. Run far far away from one+, and samesong.

I can't speak to the 5T, but I couldn't be happier with my 3T. If it weren't for the insidious notch, I'd be looking hard at the 6.

Actually, we're moving towards the time when you might want to wait a few more months unless you're looking for a deal

None. I prefer to hold on to my Galaxy S8

I bought the new Samsung A8 about a month ago and am quite happy with it. Most of the features of the S8 but at a lower cost. A good solid mid range phone, but still $650.00 CDN. If the OnePlus 5T had still been available, I probably would have given that a go.

I got the P20 on release day and I have to say the phone is exceptional. The camera is almost beyond belief and the battery has to be severely punished to run out.
I haven't even used the Huawei Easy Projection desktop mode yet, but can't wait to try it. The phone flies through every task I thrown at it. I wasn't sure I would get on with the notch, but in all honesty, once I started using the phone, I rarely even notice it's there.

If you're looking for an awesome camera on a tight budget, the LG G5 from B&H(avoid the Amazon sellers) is hard to beat. The low light and image stabilization is incredible. Bonus points for the added wide angle camera instead of trying to stack images on the dual cameras, the wide angle camera is great for capturing context of the scene. And the Google Camera port's portrait mode works both on the standard and wide camera, meaning DSLR like blur depth of field even on the wide angle lens. If I didn't have the need for the wide angle on the LG G5, then the tried and true Moto G5 Plus or refurbished Pixel would be the budget camera phones to go with.

Oddly opting for a an S8 on budget...
Mate 10 Pro if I chose to risk because of its battery

Think if I had to choose now it would be the P20 pro.
I'm waiting for the Note 9 but might still change my mind.

It's the Pixel 2 XL for me, I want to be the first to have the latest version of Android and quick updates and monthly security patches and of course the pure Android and Google experience is the clincher for me as to why I plan on buying a Pixel 2 XL. But you can't go wrong with most Android Flagships in 2018.
Android Central Newsletter
Thank you for signing up to Android Central. You will receive a verification email shortly.
There was a problem. Please refresh the page and try again.