What Android phone would you recommend as someone's first smartphone?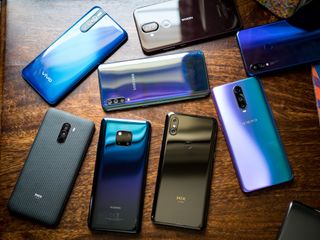 (Image credit: Android Central)
If you're reading this, chances are you're pretty familiar with Android and smartphones in general. For many of us, smartphones are just normal tools that we've come to use and rely on in various aspects of our day-to-day life.
For some folks that are still rocking basic/dumb phones, however, it can be challenging to get your first smartphone and learn all of its ins and outs.
One of our AC forum members recently said they were looking to finally upgrade their mom's current phone to a smartphone, specifically something that's relatively affordable and easy-to-use. With that criteria in mind, here's what other members recommended.
All of this got us to wondering — What Android phone would you recommend as someone's first smartphone?
Joe Maring was a Senior Editor for Android Central between 2017 and 2021. You can reach him on Twitter at @JoeMaring1.
I would suggest a OnePlus phone, a great value with a simple clean OS which makes it easier to use.

A Pixel. One can find a Pixel 3 for a great price, or a Pixel 3a, even. I have a 3 and a 4 and they are, by far, the best phones I've ever owned. Clean, not cluttered with crapware, and get regular updates to keep them more secure.

One thing to add is that Pixel phones come with an excellent chat support option. Tech support is one thing that Android users don't easily get like Apple products.

Pixel 3a, Moto G series, OnePlus, or Nokia.

In Canada I would have to recommend a S10e or Pixel 3a XL depending on the person's need for screen size and battery life.

I would recommend a Pixel 3a and if they desire something a little more complex then Samsung or OnePlus One.

Easily the Pixel 3a/3a XL or the upcoming Pixel 4a. You're getting almost all the best features of the Pixel Range and Stock Android, all for a reasonable price and few compromises. The next best option would be any Nokia Android One phone, as they seem to have one of the best software track records behind Google and Essential (R.I.P.) and they have nice, quality hardware to back it up.

Nokia? No way, OnePlus is way better.

I'd recommend a OnePlus phone for a first time smartphone as their first Android phone as the OS is clean, fluid and very smooth and fast and won't break th bank we OnePlus phones are half the cost of a Samsung and Google phone and provide much better value.

I believe Pixels make the most sense. You get Android as Google intended with no additional fluff. I can personally vouch for 1+ as a runner up (currently own the 1+6T) and it has a very light skin and performance and charging is class leading. Moto makes a distant third I can recommend. Unfortunately, I just wouldn't recommend Samsung or LG as they are too heavy on the skin and would confuse your average person with the sheer amount of features and bloat.

Nokia 7 2. Large enough for ease of typing, expandable memory, headphone jack, affordable, nice display and great camera. I had the Pixel 3 and sold it for the Nokia 7.2. It is also gorgeous in Cyan Green.

First timer? A Pixel 3a is the best recommendation.

I agree with the Pixel 3a/3aXL recommendations, as they are the easiest to use Android phones I've ever tried, with OnePlus as a close second.
Android Central Newsletter
Get the best of Android Central in in your inbox, every day!
Thank you for signing up to Android Central. You will receive a verification email shortly.
There was a problem. Please refresh the page and try again.