Welcome to the all-new Android Central app!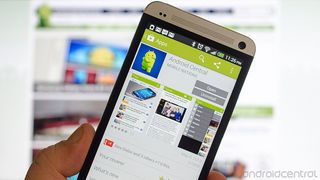 Get the latest news, reviews, forum posts, podcasts, wallpapers and more, all from the Android Central App!
Ladies and gentlemen, boys and girls! Behold, the all-new Android Central application. Known as an "app" on the streets, this is a long overdue endeavor for us. We've been testing internally for some time now, and it's been floating around our forums for a week or so, and now we've officially gone public, for Android 4.0.3 and up.
So what's in the app? We'll have posts detailing the features over the next few weeks, but here are the broad strokes:
All the posts from the blog side of things. News. Reviews. Apps. Accessories. Editorials. It's all there.
Plus, you can comment on posts directly from the app.
Access to our Android forums. If you've used Tapatalk or our dedicated Android Forums app, you'll be used to things here. (We've still got some bugs to iron out on this one, but a good bit of functionality is there.)
Podcasts. We're big fans of the major podcatcher apps out there. But why not bake it into our app as well? You can stream or download all of our episodes right from the app.
Wallpapers. Downloading from our Wallpaper Gallery is easier than ever. Browse and install, all from the app.
Accessories. We've got direct access to ShopAndroid.com, right in the app.
Videos. You can check out everything that hits our YouTube channel -- often before it hits the blog.
That's quite a few features for a v1.0 release. But we've still got work to do.
In addition to fixing a few bugs we know are out there, we've got a number of features still on the drawing board. Those include:
Notifications:. New stories, replies to your comments or forum posts -- we get it. You want notifications. We want notifications. And so we're working on it.
Widgets: One of the most sought-after features for our app, actually, and it's high on our list of things to get done in this ne version.
Better Google account authorization: We've got this fancy new Mobile Nations Passport that we're using in Android Central and across all our Mobile Nations sites. It works great on the desktop, but better integration into our mobile apps is a high priority.
Better tablet support. It works, but it can be better. Much better.
And that's just for starters. We've gotten a lot of great feedback from you folks over the past few weeks, and we can't wait to roll out the next version. And lest we forget, a huge thanks to our developer, Neil, for putting up with us through all this. Those Aussies are a resilient bunch.
So give it a whirl, give us your feedback, and be sure to leave a rating in Google Play and share the link on Google+. We're excited about the all-new Android Central app, and how much better it will become in future versions.
Sign up for Black Friday email alerts!
Get the hottest deals available in your inbox plus news, reviews, opinion, analysis and more from the Android Central team.