Weather Time for Wear gives you the weather and all the options you might need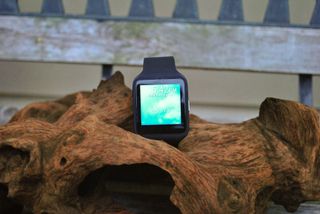 Out of all the watch faces that you can currently find in the Google Play Store for your Android Wear device, weather apps are some of the most helpful at a glance. There are plenty of them out there right now, and one to take a look at is Weather Time for Wear.
It's free with in-app purchase options that unlock the good stuff, but mostly gets the job done well. Lets take a look.
Weather Time for Android Wear definitely has the design aspect of things down. The default screen is a blue sky with fluffy white clouds — even when that is not at all what it looks like outside — and all your information overlaid onto it. At the top of the screen you'll see the time, underneath that there is the date, and at the bottom of the screen you'll see the temperature along with an icon for weather conditions.
The free version of Weather Time for Wear gives you access to some options, but to get the full experience you'll need to drop $2.00. All of your options are available on your phone and they are all divided up into one of several categories; Weather Settings, Look and Feel, Notification Settings, Touch Event Settings, and General Settings.
Each category is named so that you can easily find the options you're looking for in a pinch. In Weather your options include one of three weather providers, as well as the location you want information for. You can use either your current location, or one you set manually. You can also adjust the units for your Temperature, Wind Speed and Pressure. With premium you can see far more than just the temperature, you can also see condition, location, step count, wind speed and several more.
Look and Feel is where you can adjust your background, ambient mode backgrounds, clock settings, date settings and battery indicator settings. There is plenty to play with here, even if you don't pick up the paid version. You have 12 or 24 hour settings for your clock, including the option to include seconds. You can also adjust the format and font of where everything sits on your watch face. While you need premium to grab the other weather screens, you can still change yours to a color of your choice.
Notification settings let you decide when and how cards show up on your smartwatch. There are vibrate settings for things like the temperature changing, or your phone disconnecting, but they are for the premium version. There is also a handy 'do not disturb' function, which disables those vibrations during selected hours. Touch event settings is a premium only option. It allows you to enact some extra nifty features. These include opening the current forecast when you tap the weather icon, opening your agenda when the calendar icon is tapped, and opening the agenda when the date is tapped.
Your last category is General Settings. This one has far fewer options, in that there are only 3 of them. You can adjust the 'Ok, Google' placement, change where the status bar sits, or show a system indicator shadow.
Weather Time for Wear does a great job of getting you the weather info you need to plan your day, while also giving you plenty of options. Considering everything you get with the free version of this app, the upgrade is very much a personal preference. Does this seem like the weather app for you, or have you already found one that works well?
Get the Android Central Newsletter
Instant access to breaking news, the hottest reviews, great deals and helpful tips.
Jen is a staff writer who spends her time researching the products you didn't know you needed. She's also a fantasy novelist and has a serious Civ VI addiction. You can follow her on Twitter.