Vodafone will let you use your UK allowance for £5 per day in 28 new countries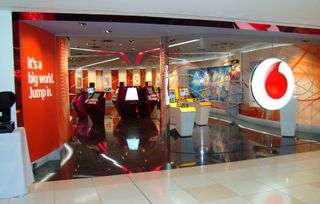 UK mobile operator Vodafone will be adding 28 new destinations to the company's WorldTraveller on December 1. This move will enable subscribers to travel abroad to even more markets and enjoy their contracted allowances without incurring massive charges when returning home. The actual service requires you to pay £5 for a full day's use, but you'll be saving in the long run.
The full list of new markets being added tomorrow include: Argentina, Brazil, Canada, Chile, China, Colombia, Costa Rica, Democratic Republic of Congo, Dominican Republic, Ecuador, Guatemala, Hong Kong, Indonesia, Israel, Japan, Kenya, Lesotho, Mexico, Mozambique, Peru, Puerto Rico, Russia, Serbia, Singapore , Thailand, United Arab Emirates, Uruguay, US Virgin Islands.
Will you be taking full advantage of the expanded coverage on Vodafone WorldTraveller?
Source: Vodafone (opens in new tab)
I mostly travel in Europe and North America so my £15 a month Three contract already covers me as it includes "feel at home" which allows me to use my UK allowance abroad at no extra charge AND unlimited data usage in the UK and all the "feel at home" countries. Voafone and other UK carriers have some way to go before they can match the Three UK flexibility.

If only Three roaming was any good ;-) Seriously. I appreciate it's free but it's also been terrible for anythingbesides basic email and social media in my experience.

I have found it excellent. I suspect it may depend on your phone. Many people have no idea what bands their phones work on. An 'all bands' phone makes a big difference when roaming. Sadly most people choose purely on looks, screen size and OS rather than the full technical capabilities. Of course mobile operators are somewhat reluctant to point out such limitations.

Fwiw I've used it a lot travelling on an iPhone. And it sucked just as bad on that as anything with Android on it. But then our travel is also reliant on connectivity so maybe I'm just expecting too much!

I used three "feel at home" on a PAYG Sim in a Nexus 5 when I was in New York for a week last year and it was excellent, I got fast reliable coverage where ever we went. The Voda article is useful for me as I go to Canada a lot though and this gives me more options there. If Three add Canada to feel at home though I'll be using that for sure.

It's only as good as the local network. So I've had no problems. It would be the same as if you bought a lock sim. Posted via the Android Central App

I've had good experiences in the US, although I think it's capped at H+ speeds. I'm sure it was roaming onto AT&T.

Yeah just got back to the UK from a month in LA and SF Bay Area. Used my Three roaming on AT&T and T-Mobile. It was fine and HSPA+ did alright, but I had a hard time streaming music. Next time I'll probably pay up for US prepaid if I'll be there for any significant period of time. Or maybe try out Project Fi. Posted via the Android Central App

Let's be honest, at £5 a day, they're still making out like bandits. Posted via the Android Central App

Another vote for Three here. I work as a flight attendant and now there are less than a handful of places I land in with no free Internet.
Agree with previous comments, yes its not full speed and yes some places are better than others but its much better than basic email. I can stream video just fine.
Now say you go for week to the south of Spain (not sure why you would but a lot of people do).
On three- loads of free Internet no extra cost. So that's £17
7 days of £5 a pop on voda =£35. On top of your contract cost.
Fine its not 4g but you'd have to be nuts to think it was a better deal Posted via the Android Central App

Vodafone is a rip off roll on 2017 for roaming charges to go in europe.
£5 a day is way too much. Next time it'll be three UK. Posted via the Android Central App

It's also only 100mb... Of my 5GB allowance. Posted via the Android Central App

I used three when in florida. It was atrocious. 7 of us in our party had taken out three pay go sims specifically for our trip. All 7 of us had problems. Seemed to be related to when the phones switched from at&t to tmobile. When that happened we couldn't make calls or have data. We had several calls with three whilst there who never fixed the issue.
To be fair to three they gave all 7 of us our money back when we got home. Any hoo I wouldn't use Vodafone either. £5 per day seems pretty steep. Posted via the Android Central App
Android Central Newsletter
Get the best of Android Central in in your inbox, every day!
Thank you for signing up to Android Central. You will receive a verification email shortly.
There was a problem. Please refresh the page and try again.