Vivo X20 Plus launches with in-display fingerprint sensor and I want one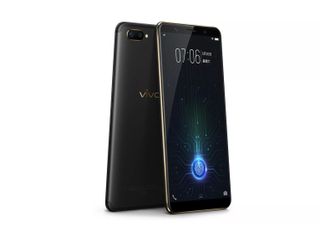 We saw a lot of crazy tech at this year's CES, and while I wasn't personally in Vegas to check out everything first-hand, one of the products that caught my attention the most was the Vivo X20 Plus – or, as it's more commonly known, the first phone with a fingerprint sensor underneath its display.
The Vivo X20 Plus made its way through China's TENAA earlier this month, and just a couple days later, the phone is now ready for prime-time. Although pricing details have yet to be announced, pre-orders will officially open in China at some point today, January 24.
Vivo's main selling point with the X20 Plus is definitely the fingerprint sensor tech, but the rest of the phone isn't a slouch by any means. The screen is a 6.43-inch OLED panel with a resolution of 2160 x 1080 and 18:9 aspect ratio, two 12MP cameras can be found on the back, the Snapdragon 635 is powering the phone, and a 3,905 mAh battery should offer more than enough stamina.
It's unclear if/when the Vivo X20 Plus will make its way out of Chinese markets, but that hasn't stopped me from desperately wanting to get my hands on the thing. The rear-mounted fingerprint sensor on my Pixel 2 works just fine, but the little nerd in me can't help but jump for joy at the fact that this technology is actually available in a phone that people can buy.
The X20 Plus likely won't ever come to the U.S., and while that is a bummer, it's only a matter of time before more OEMs follow suit. Vivo might be the first company to ship a phone with a fingerprint sensor underneath the display, but it won't be the last.
It still remains to be seen if this new fingerprint sensor tech offers any real consumer benefits over what we've had on our phones for years at this point, but even if it functionally works just the same, that's perfectly fine by me. If I can place my finger on a screen, have it properly register the biometrics, and unlock my phone, I'll be more than happy.
Now that my little rant is over, what are your thoughts on phones with in-display fingerprint sensors?
Vivo's in-display fingerprint sensor shows the future of smartphone biometrics
Joe Maring was a Senior Editor for Android Central between 2017 and 2021. You can reach him on Twitter at @JoeMaring1.
I don't get it - it has in-screen fingerprint reader but it also has enough space under the screen for normal fingerprint reader. Why? What's the purpose?

To showcase new hardware? The same reason any manufacturer does something new.

"It's the future" -- uggg. "It still remains to be seen if this new fingerprint sensor tech offers any real consumer benefits over what we've had on our phones for years at this point" Well, there you have it. It may not work as well - certainly not any better. But It's the future!!! I want it!!! What I want is a reasonably powerful device that gets me, say 4 years of solid, secure use for my money. I get it that AC is run for the benefit of its advertisers, and drumming up support for buying a new phone every year makes them happy. But this is nonsense.

They retrofitted the FPS to an already designed phone (Vivo X20). So the phone wasn't designed with the front FPS in mind.

I have the same question, but why can't manufacturers put the FPS on the side of the phone like Sony used to do in the power button? It's a great middle ground where you can use your thumb or pointer finger on the side while holding it (depending on which had you use), or by pinching the sides of the phone to unlock when it's sitting on a desk or in a mount.

Sony used to? Why don't they do it anymore?

They still do an it is awesome, it works amazingly well and is the best placement I have used so far. (I have had all of them minus in screen.) They disable it for some reason in the US but it can be re-enabled if you look around and it is not hard to do. Apparently their next phone is going to ship with it enabled though so maybe they licensed something or whatever they needed to do here and will update the old ones to enable it in stock.

I would much prefer Sony's method for fingerprint sensors. I just never liked their phones design wise.

I believe Sony FPS are being moved to the back from now on They're also finally ditching the mahooosive bezels at last

I prefer the fingerprint sensor in front rather than on the rear, so I've been looking forward to this feature. And it'll be interesting to hear how well the first in-display sensor performs.

I have a Sony and I'm not too keen on the scanner being in the power button...you have to hit it just right, and no dirt, or moisture of any kind or it will fail. It would be OK on the power button if you didn't have to push it first. What's strange is that the scanner works much better when using a banking app or some other app...better than unlocking the phone itself which is weird. I prefer on the back so that as I pull it out of my pocket I can easily just touch the scanner and it unlocks. Samsung made a mistake of putting it next to the camera...to be fixed in 2018...DUH! I wonder if there can be two fingerprint scanners on a phone...one in the back and one in the front...or under the glass?? It would be a bummer if you cracked your screen and were locked out! Having one on the back would be a good backup!

Put sensors all over the phone and let users pick which sensor they'd want for fingerprint through software. Problem solved just don't complain about the devices price.

Finding a screen protector for this thing would be a nightmare. I'll pass

You still use a screen protector in 2018?

Not always, but with a brand I've never used? Yes

This actually looks like a really nice phone even before the FPS. Big battery, nice screen, always on display, 128gb storage and on paper at least - nice dual cameras

Total disappointment the phone has a normal variant for 450-460USD price tag and a plus model for 510-525 USD and we get snapdragon 660. Overpriced when placed against the competition like 1+5T and the Honor V10. I really don't understand why VIVO phones are overpriced 😑😑😑
Android Central Newsletter
Get the best of Android Central in in your inbox, every day!
Thank you for signing up to Android Central. You will receive a verification email shortly.
There was a problem. Please refresh the page and try again.