Virtual reality labs are coming to schools with the Google Daydream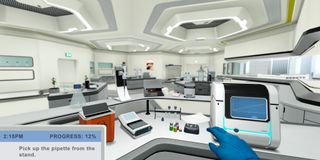 All too often students around the world are troubled by not having the means to go to their lab sessions. Whether a University near them doesn't offer the programs they are looking for, or they don't live close enough to a lab to complete the hours for their degree, the problem occurs too often.
Well, it's 2018 and the number of resources for students to learn inside and outside of classrooms keeps growing. First, administrators brought computers to schools and changed the way they do their research and projects forever. Then they brought tablets and made the whole process even easier. Now, Google and a company known as Labster have joined hands to bring us the next step of revolutionizing the way students learn. That's right, virtual reality labs are coming to classrooms with VR Labs.
So, how does it work?
VR Labs doesn't just take the fun of learning to a whole new level, it also gives students the access to subjects they wouldn't normally get in a standard University lab. This includes being able to actually see and manipulate DNA at a molecular level. How cool is that?
Another amazing feature is the ability for students to visit Astakos IV. This is an exoplanet that has the potential to be habitable for human beings. The students will be able to go over theories, concepts, and techniques without a time limit. The app collects data from each student and sends them personal feedback to let them know what areas they should study more, or which techniques they need to practice more on.
Arizona State University has an online B.S. in Biological Sciences program where students have already been using VR Labs at home with their Daydreams. This has given the students the ability to get a hands-on experience with the lab hours they'll need, even if they are nowhere near a real lab. It doesn't stop there, either. The Massachusetts Institute of Technology, the University of Texas at San Antonio, McMaster University, and other colleges around North America and Europe will have access to VR Labs soon as well!
This app is compatible with both the Google Daydream and the Lenovo Mirage Solo with Daydream. The Google Daydream is the cheaper option, which will run you about $99 at Best Buy. This device is powered by slipping your phone into the headset and launching the Daydream App. Otherwise, students can grab the Lenovo Mirage Solo with Daydream for about $399 at Best Buy, which is a VR headset that is completely standalone and requires no phone to use. Considering the current battle between the best standalone headsets is between the Oculus Go or the Lenovo Mirage, I would surely recommend students to go for the standard Daydream option instead.
What do you think of classrooms being brought to VR?
I, for one, am rather excited for this new development. We're getting to a day and age where students around the world can take the courses they want to for their education without things like location or accessibility holding them back. Friends who are bound to wheelchairs without labs that have the proper accessibility will still be able to follow their dreams in biology, and family members who live too far from any medical facility will still be able to get the education they want.
Even when we aren't looking at that, there's so much more potential for ciriculums when we aren't held back by whats available to us in the real world. Google and Labster have taken a step towards the future, and I'm extremely excited to see more headsets appear in classrooms. But, what do you think? Tell me about it in the comment section below, or shoot me a Tweet @Original Sluggo with your thoughts and opinions.
Essa Kidwell is an expert in all things VR and mobile devices who can always be found with an Oculus Go, a Pixel 2, and an iPhone 7+. They've been taking things apart just to put them back together for quite some time. If you've got a troubleshooting issue with any of your tech, they're the one you want to go to! Find them on Twitter @OriginalSluggo or Instagram @CosmeticChronus.
This sounds super cool for kids (of all ages). Google Daydream isn't the greatest VR experience, comparatively, but it sure is one that could be widely available. It's relatively affordable, if you assume the user has a decent phone. Oculus Go is leaps and bounds better, and only $250, but that is still a leap from <$100. MS needs to really think about this area with their WMR headsets. The headsets aren't too bad, along the lines of Oculus Go pricing (bit more), but the PC requirements aren't insignificant.
Android Central Newsletter
Get the best of Android Central in in your inbox, every day!
Thank you for signing up to Android Central. You will receive a verification email shortly.
There was a problem. Please refresh the page and try again.