Official Vimeo app finally comes to Android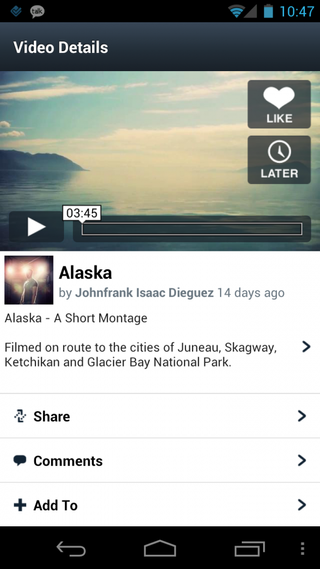 Vimeo, the popular video sharing site, has finally launched an Android app. The app brings a nice experience that allows you experience the best of Vimeo on your mobile device.
Here are the features:
Watch and manage all your existing Vimeo videos and download them to your camera roll
Quickly search for videos on vimeo.com
Easily upload your raw footage in HD
Pause and resume uploads
Replace existing videos
Edit title, description, tags, privacy and credits
Share with Facebook, Twitter, Email or SMS
Add your clips to your Groups, Channels and Albums
Stats on daily plays, likes and comments
The official Vimeo app requires Android 2.3 (Gingerbread) and is also compatible with tablets. The free app is available in the Android Market. Please follow the links after the break if you're interested.
why is it not available for the bionic?

This is for 2.3.7 or higher! So my Bionic doesn't work, as it's 2.3.4. Please edit the post with this info. Not all Gingerbread devices work.

No it is not for 2.3.7 or higher. It works perfectly on my Thunderbolt running 2.3.4 stock OS including Vimeo HD video channel. Go to vimeo.com first and create at least a FREE Basic account then grab the app from the Market. Make sure you get the correct app, there are several out there for Vimeo.

i clicked on the link from this post and it took me to the market ( on my phone ) and it clearly states at the top that it is not available for my device. This is bs.

dragon go does not work either. just a heads up.

Both work just fine with my device and I am not on .7.

i dont know if it might have anything to do with the .901 firmware for the bionic but i cannot do anything with these apps. i guess ill just ride it out and see what happens.

*Waiting on Google to buy this company*

Not compatible E4GT, lamezors

Guys, you're a little behind, they launched this app 3-6 months ago. I know because I downloaded it when the YouTube app was loading random videos whenever you clicked a link.

This is a good app for uploading videos to Vimeo.com, called "Uploader for Vimeo": https://www.androidcentral.com/e?link=https%3A%2F%2Fwww.anrdoezrs.net%2F...
Android Central Newsletter
Get the best of Android Central in in your inbox, every day!
Thank you for signing up to Android Central. You will receive a verification email shortly.
There was a problem. Please refresh the page and try again.