Viber brings free VoIP to Android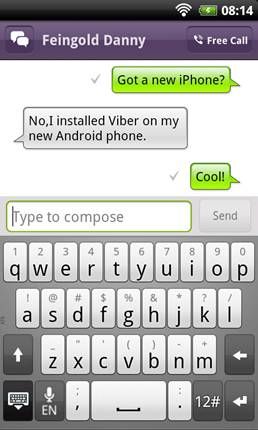 Viber, the popular VoIP app previously available only to iPhone users, will begin rolling out its beta version for Android this week. Viber allows users to make phone calls over 3G and WiFi connections (no word yet on 4G support) to other Viber users. The app also supports free text messaging through its interface. With a free Viber account you'll have "unlimited" calling and texting to any fellow Viber subscriber on either Android or iPhone. (The service does use data instead of voice, so Viber is only as "unlimited" as your data plan.)
Viber says that it has added features unique to Android, including a full call screen, pop-up text message notifications, integration with your phone's call and messaging logs, and the ability to set Viber as your default dialer. Remember, the app is still in beta, so hit the source link to sign up on Viber's website to receive an invitation to download.
Source: Viber
Android Central Newsletter
Get instant access to breaking news, the hottest reviews, great deals and helpful tips
Received my invitation about an hour ago, have made a couple of calls already. So far no problems :-)

How long did it take you to get the download? Just confirmed the email they sent me.

well almost straight-away...

Still waiting on the download. Been a few hours.

I'm not sure I see any value to a service that lets you only call "other subscribers" unless you have certain folks you make lots of long phone calls to. I'm playing around with GrooveIP right now, which I understand will let me call anyone on VOIP. Now if I can just manipulate the settings to make the sound quality useable.

The problem with all of these is small user base, and no interconnect to other networks. Still, they are great if you have a few friends outside of your free calling area or overseas and they all agree to focus on the same app.

Just wanted to check with you guys how Viber is different than Skype over 3G?

everyone i know has Skype (& most of them have it on their Verizon phone),
no one i know has Viber. i'd be willing to give it a shot, but the hassle of setting everyone else up with an account is their greatest obstacle @ this point.

If google hadn't knuckled under to the carriers even the phones without front facing cameras would be getting the gingerbread voice capability in the new Google Talk application. There is no reason voice capability couldn't be handled on every phone. (Remember Google Talk is just a (slightly) bastardized implementation of XMPP (jabber) with the jabber voice channel enabled.) Had that happened, all of these little voice over internet fiefdoms would be coming to an end, including first and foremost, Skype. They would have to build in interoperability or face extinction.

Have you ever used Whatsapp Messenger?
There is no set up...yes at the moment it requires an account due to it being beta but when it comes to the market it is simple.... 1. download and install
2. enter your phone number (which gets saved to Viber server)
3. all your contacts you already have are automatically synced and ready to be called I use Whatsapp for my primary messaging service, almost never send a text. Whats even better, I am on holiday the moment so as long as I have data I can still send free messages anywhere in the world :) CANNOT WAIT FOR THIS

Hi,
This is a member of the Viber Development Team. Thank you for this review of Viber's Beta for Android.
I'd like to deliver a message to our testers: You can report bugs or post suggestions here: http://www.viber.com/android
Find the "Support" button on the right side of the page. In case you haven't subscribed to be a beta-tester yet, you can still do it here: http://eepurl.com/bW1Ln Best regards,
Viber Media.
Android Central Newsletter
Get instant access to breaking news, the hottest reviews, great deals and helpful tips
Thank you for signing up to Android Central. You will receive a verification email shortly.
There was a problem. Please refresh the page and try again.