Verizon HTC One M8 getting a power boost, updated Android OS come September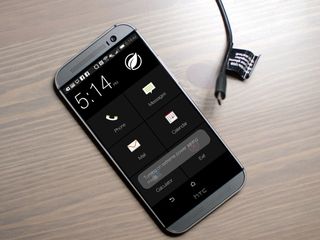 Verizon's HTC One M8 will be in for a treat come September as HTC executives have announced on Twitter that the handset will get some notable software updates. In particular, the flagship aluminum-clad phone will get a software boost to Android 4.4.3 as well as the Extreme Power Saving Mode to extend the standby time of the phone by turning off non-critical radios when not needed.
HTC Americas president Jason MacKenzie confirmed that the update will be happening "by mid-Sept." on his Twitter.
Additionally, Mo Versi from HTC also commented, saying, "...we're working on it and had to re-spin SW. It's target is early Sept. Thanks for your patience on this. It will include EPS."
Are you excited for this update to arrive on your Verizon One M8?
Source: Twitter 1, 2; via: Droid-life
For some reason, thought this was a promise of Android L Posted via Android Central App

How could it be a promise of Android L when Android L was mentioned nowhere in the article?

He thought that Before he read the article. Context clues.... What are they teaching these days??? Posted via the Android Central App

Wow, that's fast ...for Verizon

Exactly what I thought.
Hasn't everyone plus dog received this update already?

Well, T-Mobile started rolling theirs out today. Supposedly, it is coming out in Europe, but mostly I see complaints in the forums about how they haven't received it yet. Verizon is slow, but they aren't that far behind the curve this time. Posted via Android Central App

*wiping a tear from eye* extreme power saving mode, i thought this day would never come.

Hasn't every other M8 had this for months now?

Yes what you else you can expect on Verizon? Posted via the Android Central App

If you consider months to mean, T-Mobile started putting it out today, then yes, it has been on every other M8 for months. Except for all the places overseas that haven't gotten it yet. Posted via Android Central App

I really like this phone but ended up with the G3. Is the battery life bad on the M8 or is the battery on the G3 just that good Posted via Android Central App

I leave my house with a full charge around 7 in the morning and get home after 10pm with the battery at 40 percent most days. « Posted via my HTC One M8! »

Battery life is better on the M8 compared to the G3 had the M8 before the G3 Brought to you buy a Gold G3

Blah blah. My phone lasts two days already without EPS

Exactly. I've had this update for a month or so, and except for manually trying it out, I've never seen EPS.
I too get two full days, with my regular use pattern.

Better to have it and not need it.... Posted via Android Central App

Got rid of the m8 and g3... And apple isn't even in the conversation. Sammy ftw ;) Posted via the Android Central App

lawl Posted via the OnePlus One

Wow Verizon. Way to be 4 months behind all other carriers in the world. I am sure Android L will be out within 90 days for all major carriers who sell the M8. Verizon will get it to us when the M10 launches 2 years from now. Posted via Android Central App

What a misleading article title and picture. Thought the rapid charger was coming or something... Posted via Android Central App

Oh how I love being able to root. I've had it for so long now that I forgot it wasn't supposed to be there. Lol Posted via the Android Central App

Yeii very excited!! Posted via VZW G3

Didn't 4.4.3 have a problem with it and that's why 4.4.4 came out so quickly. Why would any company still be messing around with 4.4.3 Posted via Android Central App

Because their name is Verizon.

They baked in the 4.4.4 vulnerability to 4.4.3. At least that's what some of the devs at XDA are saying.

Because they have actually included the fixes from 4.4.4, they just didn't bother changing the version number. And it was HTC that did this, which is why all M8s are getting 4.4.3, not just Verizon. Posted via Android Central App

Link? Posted via Android Central App

https://twitter.com/moversi/statuses/489081322745245696

Sounds awesome. Seems Verizon is putting something they took out back in. I was hoping I'd get this feature without being forced to root. On XDA there is a post about all the things Verizon disabled or took out, and this is one of them. And the only real thing they took out that I care about. http://forum.xda-developers.com/showthread.php?t=2729137&nocache=1

Wow thanks for the link. I knew they hacked it up but I didn't know it was that much Posted via Android Central App

Sprint's had this update for about 5 weeks now. Way to go Verizon!

Wonder if this update will kill Foxfi?

I am with a T-Mobile Poland firmware (1.57.118.2) and also don't have the extreme power Saving mode available. This sucks Posted via Android Central App
Android Central Newsletter
Get the best of Android Central in in your inbox, every day!
Thank you for signing up to Android Central. You will receive a verification email shortly.
There was a problem. Please refresh the page and try again.