A vast majority of Android users still don't have the latest emoji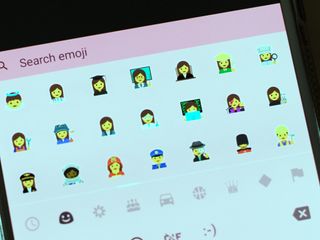 Software updates have always been a major headache for Android users. Frankly, it's a wonder that so many of us have stuck around this long as fragmentation remains a major issue on our beloved mobile platform. Especially considering that the lack of consistent software updates means that there are too many users without the same features that their other Android brethren are using on the regular, like the latest emoji.
You might be wondering: Why does it matter if I have the latest emoji? Well, think of it this way: just because you don't eat croissants doesn't mean there aren't others out there that want their croissant-loving ways recognized as the norm. As Emojipedia rightly points out, despite the fact that Google was the first to introduce more diverse emoji in Unicode 9, including a number representing the working female populace, it has no bragging rights because only 4 percent of Android's users are actually utilizing the new cast of characters. (The data is based on Emojipedia's internal findings.)
Apple, on the other hand, is doing a better job at making its users feel included based on the sheer fact that it controls software updates, thus pushing out those new emoji to a whopping 84 percent of its users. That's a major chunk of people who have access to emoji that represent them! As Emojipedia pleads:
Sure, you could use a third-party keyboard app or a messaging platform like WhatsApp to streamline the emoji process on your yet-to-be-updated Android device, but that doesn't help everyone else. There are still 96 percent of Android users out there who can't see the new emoji offered on the platform, and thus, a big chunk of users who aren't seeing themselves represented.
I've been racking my brain on how to fix this problem, but I have no answer for you at the moment. We're still fighting for timely software updates on the Android platform. Emojipedia suggests spending your money where your mouth is, but that's not going to happen here at Android Central as we're all planning to continue wielding Android devices. The best we can do right now is continue to harp on Google on the issues of fragmentation because those who are left behind are not just missing out on new software features and security updates — they're also missing out on feeling represented by their mobile platform.
Sign up for Black Friday email alerts!
Get the hottest deals available in your inbox plus news, reviews, opinion, analysis and more from the Android Central team.
Florence Ion was formerly an editor and columnist at Android Central. She writes about Android-powered devices of all types and explores their usefulness in her everyday life. You can follow her on Twitter or watch her Tuesday nights on All About Android.