Using a GoPro with Android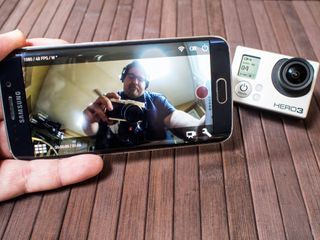 When it comes to strapping a camera to something and doing something crazy, GoPro is usually the first gadget that comes to mind nowadays. The company has worked hard to put its hardware in the hands of some of the most extreme activities mankind has dreamed up, including Google's new Jump program, and as a result its the new Qi charger product offers nearly first-person view of what it's like to do those things from the safety of your couch.
As cool as it is to watch those videos, GoPro cameras can be used for a whole lot more than diving off of something or spinning around someone in spectacular fashion. The sheer number of options you have available to you with one of these little cameras is impressive, but accessing those settings from the camera itself is more than a little obnoxious. If you're in an environment where it is convenient, the GoPro app for Android is a much better idea.
Here's how it works.
Unlike some of its competition, GoPro uses Wifi to make a connection between the camera and your phone. The basic connect and capture functionality is mostly the same as the Wifi remote accessory you can get for a GoPro, only with a phone once the connection is established you gain a viewfinder. From here you can capture photos, videos, and timelapse setups with ease, and the results can be viewed from the gallery inside the app.
If you capture something you want to share right away, as opposed to waiting to export everything to GoPro Studio on your PC, you can download anything from the camera to your phone and use your local gallery app to edit and share the files. GoPro's software gives you some export quality options, which can be important when you consider how image compression works on most social networks and how much battery life is consumed during large file transfers.
If the default settings on your GoPro aren't what you want, the settings button in the app gives you access to everything. Navigating this scrolling list of options is significantly easier than pushing the two buttons on the camera and staring at a tiny monochrome square to get what you want. You can set resolution, framerate, capture angle, and dozens of other tiny tweaks like Wifi settings, LED brightness, and how loud the sounds are when pressing buttons on the camera.
GoPro has mastered flexibility with their hardware, and the ability to set any of these things as the default for when you power on the device means you don't have to pair to your phone every time to go to record something. The ability to frame your shot with the viewfinder mode in the app is cool, but being able to navigate all of the settings is a much bigger deal when trying to change something quickly.
Arguably the most important feature in the GoPro app is locating your camera when you've misplaced it. As long as you are within Wifi range, and the battery isn't dead, hitting this toggle sets off a short chirp every second until you locate the camera. It's a small thing right until your camera has slid into the bottom of your backpack and you've looked everywhere for it already, and then it's a lifesaver.
And that's just about it. GoPro's app is exactly what a needs to be, a more visual version of the experience you get when using the camera and GoPRo Studio app separately. There's a lot to like here, especially if you're using a GoPro in less exhilarating situations, and if you frequently rely on a device like this the app is a must have in your app drawer.
Sign up for Black Friday email alerts!
Get the hottest deals available in your inbox plus news, reviews, opinion, analysis and more from the Android Central team.