Using a GoPro with Android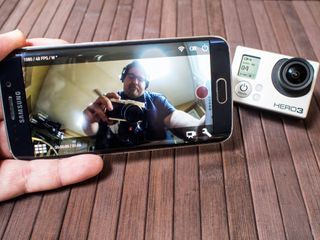 When it comes to strapping a camera to something and doing something crazy, GoPro is usually the first gadget that comes to mind nowadays. The company has worked hard to put its hardware in the hands of some of the most extreme activities mankind has dreamed up, including Google's new Jump program, and as a result its the new Qi charger product offers nearly first-person view of what it's like to do those things from the safety of your couch.
As cool as it is to watch those videos, GoPro cameras can be used for a whole lot more than diving off of something or spinning around someone in spectacular fashion. The sheer number of options you have available to you with one of these little cameras is impressive, but accessing those settings from the camera itself is more than a little obnoxious. If you're in an environment where it is convenient, the GoPro app for Android is a much better idea.
Here's how it works.
Unlike some of its competition, GoPro uses Wifi to make a connection between the camera and your phone. The basic connect and capture functionality is mostly the same as the Wifi remote accessory you can get for a GoPro, only with a phone once the connection is established you gain a viewfinder. From here you can capture photos, videos, and timelapse setups with ease, and the results can be viewed from the gallery inside the app.
If you capture something you want to share right away, as opposed to waiting to export everything to GoPro Studio on your PC, you can download anything from the camera to your phone and use your local gallery app to edit and share the files. GoPro's software gives you some export quality options, which can be important when you consider how image compression works on most social networks and how much battery life is consumed during large file transfers.
If the default settings on your GoPro aren't what you want, the settings button in the app gives you access to everything. Navigating this scrolling list of options is significantly easier than pushing the two buttons on the camera and staring at a tiny monochrome square to get what you want. You can set resolution, framerate, capture angle, and dozens of other tiny tweaks like Wifi settings, LED brightness, and how loud the sounds are when pressing buttons on the camera.
GoPro has mastered flexibility with their hardware, and the ability to set any of these things as the default for when you power on the device means you don't have to pair to your phone every time to go to record something. The ability to frame your shot with the viewfinder mode in the app is cool, but being able to navigate all of the settings is a much bigger deal when trying to change something quickly.
Arguably the most important feature in the GoPro app is locating your camera when you've misplaced it. As long as you are within Wifi range, and the battery isn't dead, hitting this toggle sets off a short chirp every second until you locate the camera. It's a small thing right until your camera has slid into the bottom of your backpack and you've looked everywhere for it already, and then it's a lifesaver.
And that's just about it. GoPro's app is exactly what a needs to be, a more visual version of the experience you get when using the camera and GoPRo Studio app separately. There's a lot to like here, especially if you're using a GoPro in less exhilarating situations, and if you frequently rely on a device like this the app is a must have in your app drawer.
Russell is a Contributing Editor at Android Central. He's a former server admin who has been using Android since the HTC G1, and quite literally wrote the book on Android tablets. You can usually find him chasing the next tech trend, much to the pain of his wallet. Find him on Facebook and Twitter
GoPros are way overpriced.

True, but the flexibility you get and the software support is unmatched. Even from the clones that look near identical.

Brilliant! Thank you stranger Posted via the Android Central App powered by Droid Turbo

I use my family's gopro and when I did timelapse with it for a school function it was great to see the angle I had the camera at, etc through the software .... Yes they are way overpriced. Posted via the Android Central App

Picture used to illustrate article needs more cameras.

Pricey but that's why they have the entry level one, which works amazing by the way. Posted via the Android Central App

They have really been improving their app a lot recently. My biggest problem has always been running two cameras & trying to get them both started up. One usually on the outside of the windshield of the car, the other on the back window. Makes them both hard to reach strapped in & waiting to get on track. The new feature to easily swap between cameras is a godsend. Things are busy enough in the last minute before hitting the track without worrying about "did both cameras get started?" Now both can be done from the app rather than trying to do one on the app & one on the WiFi remote (iffy results).

I'm hoping they team up w PocketWizard to allow for simultaneously syncing, etc. Posted via the Android Central App

I use the remote when I need to control more than one gopro. You can't see the cam view but it does start & stop them at the same time & tags the files to let you know that they go together Posted via the Android Central App

GoPros are overpriced POS. I have a Xiaomi Yi Cam and it does the same as the most expensive gopro (500) for only $68. It has slomo, wifi, 2k, 1080p in all framerates, etc and doesnt mess up the colors like a gopro does. Sold my gopro 3+black and kept the Yi cam. Plus it gets software updates every week.

Neat Posted via the Android Central App powered by Droid Turbo
Android Central Newsletter
Get the best of Android Central in in your inbox, every day!
Thank you for signing up to Android Central. You will receive a verification email shortly.
There was a problem. Please refresh the page and try again.