Using your Google Play wishlist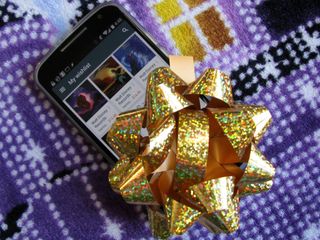 The wishlist is a great place to stash things for later, but that's about it
Google Play's wishlist (opens in new tab) is something of an oddity. You can't share your wishlist. People cannot buy you things off your wishlist. Because of this, most users seem to think the wishlist in Google Play is useless, but they are wrong! Oh, yes, it does have a purpose!
You just have to ignore the name.
Your wishlist in Google Play is a rather simple affair. The list sits in the drawer, where it can be easily accessed from any section, and to add to the list, go to any item in the store and tap the little bookmark icon you see above. That item is added to the list and you can keep going about your day.
Your wishlist can serve any number of purposes, but first and foremost among them is still that of a traditional wishlist, that is, the apps that you want to buy. If you're someone who's limited in credit on Google Play — or perhaps someone who's limiting themselves — then the wishlist is a good way to pin items for later consideration. If you think an app is overvalued, sticking it in your wishlist and regularly checking it is a good way to — eventually — find the apps you want on sale. For those rare TV shows that aren't on Netflix/Hulu, I add them to my wishlist and purchase a season every now and again.
Wishlists are also useful for pinning apps you have no use for now but will in the future. For instance, before obtaining my Moto 360 last year, I used the wishlist to pin Android Wear apps for me to try out once I got the device, otherwise I'd've forgotten all about them by the time the watch finally graced my wrist. It's also good for collecting groups of apps for a long-term project — say, testing a bunch of watch faces to find which ones offer the best battery life, functionality, and style.
The wishlist also serves as a cheat-sheet for apps or materials that you may not use but reference or share frequently. That may not be something all of you do, but every now and again it comes in handy during online debates.
But how about you? Do you use your wishlist at all, or do you think it's a waste of code and space without a way to share your wishlist with others or buy things for others through their wishlists?
Ara Wagoner was a staff writer at Android Central. She themes phones and pokes YouTube Music with a stick. When she's not writing about cases, Chromebooks, or customization, she's wandering around Walt Disney World. If you see her without headphones, RUN. You can follow her on Twitter at @arawagco.
I wish they'd drop the 'My' and make it Wishlist. Having it directly under 'My Apps' is highly annoying when navigating quickly through the store. Also it'd be nice if you could re-add apps you've previously installed back on the wishlist as a reminder for future use. Right now apps you've installed before are impossible to add. Or just allow custom lists.

My Wishlist is actually My Budgetlist, I either save up for some or earn the cash through rewards every month, about $6 a month, I never impulse buy. Google play just had some good deals like Modern Combat 5 for .99 yesterday, I do impulse buy if it's a price drop to.99 from $5-10

like so much about play store, wish list is very basic and can soon become unmanagable...
its about time google gave us some, more sensible, usable filtering and management for apps tegisteted to accounts and for play store itself.
if like me, you have accumaleteda very large number of apps, i. e round about a thousand apps since before first android public beta, then you are basicaly buggered, i have still not found any way of sensibly trying to manage such a large number of apps..

Good lord, 1000 apps? That's crazy man. I, too, would like a better way to keep track of apps I've used and bought throughout the years, and I've probably only used (around) 100, I'd guess. I bet they don't offer a way to keep better track of those apps because most people don't have such a long list of apps like you, but maybe I'm in the minority with using relatively so few.

I've used android for many years and I'm sure I have thousand or more apps as well, every app you've ever installed stays in that list if I remember correctly. I do believe you also have the option to remove apps from that list as well if you wanted to trim down the list one rainy day Posted via the Android Central App

Google Play has the worst Search for their store, you can't even search within sub-directories, only general search terms. They really need to refine and redo the searches inside the play store instead of scrolling through 1000 apps for what I am looking for. How can a company built from a search engine have the worst search parameters for there own store?

I have three accounts. Each have broken 1000 apps. I have used android since December 2012.
It really depends on your usage scenario. Posted via the Android Central App

Never even noticed it. If I need to put something in a "wish list" instead of buying it, its usually a clear sign I don't need it. My house is already littered with crap I thought I needed....lol Posted via Serenity

Google should make Google Play Wishlist more useful by providing notifications for-
1. Reduction in apps price.
2. Avaialability of the app in your country.
3. Compatibility of the app with your devices.
4. App going free, etc.

Those would be great, but I'd start with bringing the ability to share lists and buy people things off theirs.

Buying people apps would be good. Posted via the Android Central App

There is an App called AppSales just for that. Galaxy Note 4 Galaxy S III
LG G2
If it ain't Tech, it ain't Right.

I use it as a movie queue - like Netflix. If there's a movie I want to watch but isn't available on Netflix or Amazon Prime, I'll store it in my wishlist to rent later.

Same here Posted via Android Central App

I mainly use the wishlist to get a chance to buy apps that go on sale. If it's some app I don't need right away, I just put it in the wishlist. More often than not, it gets discounted.

If I'm browsing apps on my tablet I'll stick something on there that I might want on my phone. That way I won't have to subject myself to the awful Play Store search function later.... Posted from my Nexus 7 2013 via Android Central App

I use it to cache items that I want to download, but am unable to until I get to a WiFi location. Helps me conserve data, to keep my bill down.

I use it for apps I may want to install later, such as a game I may want to play, but don't want to waste the limited space on my phone at the moment. I also use it for apps that are not compatible with my phone so that I can check now and then to see if that has changed. Posted via the Android Central App

Pretty much the way I use it as well. Great from keeping me from having 2 or 3 of the same game type. Who needs multiple action RPGs on their device? Posted via the Android Central App

I use it regularly & in ways the article describes. Personally, it's useful. That's just my opinion. Posted via the Android Central App

I thought it's pretty useful. My bosses are the ones who think it's useless!

As a gamer I use the wish list to bookmark games a plan on getting after I beat older ones I am currently playing. After I beat a game I'll remove the game from my device and grab another game off the wish list. This keeps me from filling loading to much in my device and stops me from having to many of the same game type playing at once. Posted via the Android Central App

I use it mostly for books and movies that I want to buy or rent in the future, sometimes apps. But, well, it's all mixed up in there, books and apps and games and movies. You open the wish list from Google movies and it shows you just everything.
Like some other things, it seems like Google just don't care about it. Posted via the Android Central App

I am one who saves a lot on their wishlist but I like to couple it with the app called "AppSales" which you can add apps,etc to a watch list and when they go on sale it will tell you that way you don't have to watch your wishlist constantly for sales that you may have even missed. I'm also saving stuff in my wishlist in hopes one day they'll add a share feature or one where others can buy stuff for you on your wishlist (you know kind of like any other website that sells things).

I was going to add that https://www.androidcentral.com/e?link=https2F2F... to my Wishlist but it seems to have been overrun by ads. It also doesn't work for anything but apps (no books, movies). Too bad - something like that would really come in handy. Posted via Android Central App

I mainly use it to bookmark films I want to buy if and when they are on offer in the future. I don't mind paying for them but I'm not paying £12 for Die Hard for instance from 25 years ago when I've bought the DVD before! It normally pays off in the end. I occasionally add apps I'm thinking about buying or trying when I have time. Posted via the Android Central App

I use it for books I'd like to read once I've finished the one I'm currently reading. Occasional buy them before if they are a good price.

I guess that sharing a list of apps that haven't bought/installed with others isn't something that you would do on a regular basis (you are more likely to share lists of apps that you have bought). Like others, I think is a good simple function for bookmarking apps for later. Say that I'm looking for a calender app, I may find a few, bookmark them, then have a look around for reviews etc before deciding to install. It is far better than relying on search that may or may not bring up the app again (esp if there are similar sounding apps)

I used to put movies I wanted on the wishlist, but then it seemed they never went on sale. stopped using wish list and they went on sale. I think google is watching my wish list!! creepy. Posted via AC app on my X 14

I use it as a 'sleep over it" list.
Before buying an item, i add it to my wishlist..and if i still am excited about it the next day, ill get it. If it fizzled, then it would have been an impulse buy and i wouldve wasted money.

My wishlist was full with 451 apps and to add an app to the list I should first delete an app from the list or download one .
When I try to add an app it says :"...(the name of that app)..... could not be added to wishlist"

I use it all of the time and I am always going back to it to see what I have on it. I'm glad it's there. Posted via the Android Central App

Doing add to wishlist/install/uninstall sequence is fine but the thing that makes my angry is when I install and then uninstall an app it will not ever let me put that app on the wish list just because I forgot to do it before the first install.
Android Central Newsletter
Thank you for signing up to Android Central. You will receive a verification email shortly.
There was a problem. Please refresh the page and try again.