Using EasyHome on the LG G4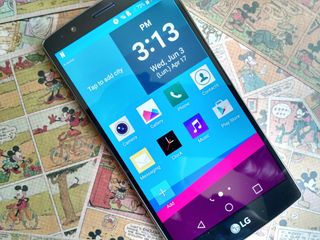 Your home screen — the place you first see when you unlock your phone or hit the home button — is run by a type of app called a launcher. There are many launchers for users at every skill level, and while the Home launcher that LG ships with the G4 is fairly standard, they've gone a step simpler with EasyHome. This launcher is stripped down and super-sized so that icons are easier to read and touch. Maybe you're new to Android and aren't used to your home screen and your app drawer being separate things. Maybe you're looking for a setup that's a bit easier on the eyes and a bit bigger for your thumbs. Maybe you just bought this phone for a relative and you need a home screen that won't confuse them.
EasyHome is here for you.
You can change your launcher to EasyHome in Settings. Under the Display tab, you'll tap Home screen. You'll select your launcher under Select Home. EasyHome will be sitting right under Home, with a description highlighting it's simplified layout and larger font size. Once you select EasyHome, you'll be taken out to your new homescreen, which will sport a slightly different look than the home screen you first saw when you turned on the phone.
The Smart Notice widget has been replaced by a simpler weather and date widget with a larger font. Tapping the weather will take you into the Weather app, while tapping the time will take you into the Clock app, where you can find alarms, a timer, stopwatch, and world clock. This is the only widget in EasyHome, and you cannot add any more, which is fine while you're getting used to your phone.
The next big change is that the dock — that bar of four apps and the six-dot icon that took you to your apps — is gone, replaced by a grid of app shortcuts with space for more. Where are the rest of your apps, you ask? Well, there's a bar on the page to your right, which is where you can put even more app shortcuts by tapping the Add icon at the end of your current shortcuts. If there's a shortcut on your home screen that you don't want, you can long-press it till a popup appears. That popup will ask you if you want to remove or replace that app. You tap whichever word you want to do, or you can tap outside the popup to make it go away if you accidentally tapped an app shortcut too long.
On the left-most home screen you have a grid of 12 opaque contact tiles and an opaque Call logs shortcut on the bottom of the screen. To add a contact to this grid, tap the Add icon in an empty square and then select the desired name from your contacts. To remove someone if you pick the wrong contact, tap the face — not the name, which will call them — and select Remove shortcut at the bottom of the contact's popup.
Another function of EasyHome is changing the system font size to Very Large. If you're unhappy with this size — be it too large or too small — you can change it after selecting EasyHome by heading back into Display in Settings. Upon tapping Font size, you'll be greeted with a list of font sizes, each displayed in the font size they represent. EasyHome sets it at Very Large, but if you need to go even bigger, there is a Maximum font size for you.
If you want to change the wallpaper in EasyHome — maybe use pictures of family, or a vacation spot from your bucket list — you'll need to head back into Home screen in the Settings app. Most of the options in this menu will be grayed out now, but Wallpaper will still be working. Upon tapping it, you'll be given a lot of choices for where you want to choose your wallpaper from. Wallpaper Gallery will show the wallpapers that came with your phone, while Gallery will show you the photos on your phone.
Any photos you've downloaded will appear in Download while any pictures you took using the G4's camera will appear in Camera. Upon finding a photo, you'll possibly be asked which app you want to use to crop it, choose Crop picture with the Gallery app's icon. You'll be taken to a cropping screen, where there will be a glowing box over the picture. At the top will be two options, to use the same part of the photo for each screen, or to select a wider section of the photo and have the photo scroll as you go between pages of your homescreen. Once you're happy with the framing of your wallpaper, tap OK. You'll be asked if you want to set this on your lock screen while setting it as your wallpaper. If you want to, check the lock screen box, and then tap YES. Once the wallpaper saves, you can hit the home button and head back out to see how it looks.
EasyHome is a launcher that's easy to set up, yet a little harder to accidentally change, since removing anything takes at least two taps. Once you get used to EasyHome, you may feel daring enough to try out the regular Home launcher, with widgets and icon packs and themes and gesture controls and ... we'll come back to that later. For now, set up your home screen as simply as you want and enjoy your LG G4.
Android Central Newsletter
Get instant access to breaking news, the hottest reviews, great deals and helpful tips
Ara Wagoner was a staff writer at Android Central. She themes phones and pokes YouTube Music with a stick. When she's not writing about cases, Chromebooks, or customization, she's wandering around Walt Disney World. If you see her without headphones, RUN. You can follow her on Twitter at @arawagco.
Can we start with the 'Samsung did it' yet like the family Guy, Simpson thing? Sent via carrier duck. They were out of pigeons

Holy shit, that was the exact thing I wanted to post. Bastard. Posted

You can do this on Samsung phones too Posted via the Android Central App

Yes everybody gets it Samsung did it first, but if you have a LG and not a Samsung a lot of good it helps you to know that. If every article starts with who did it first that would get pretty old. But than again that's why we have comments right.

More fucking bull shit
No AC reader uses easy mode Its ment for my 90 year old grandmother for god's sake Posted via My G2

Her posts have been like that as of late. I don't know if she's getting away cuz she's a woman or what? I'm gonna get flamed in 3,2,1 now Posted via the Android Central App cuz Android Police doesn't have an app yet :(

I have a feeling she was assigned articles on the G4 since she's one of the staff that has been using one. What exactly is she getting away with, writing an article for beginners? I'd like to point out Phil wrote the articles on Easy Mode for the HTC One M9 and Galaxy S6.

I like to think I don't get away with anything on this site as a woman, even posting the reference articles I was assigned. If you think they'd just let the rookie come in and do whatever she wants, I want to know who you pot dealer is and if they have any left over for me. Posted via the Android Central App

Don't worry about the haters.
I rather enjoy these simpler post.
When "Normies" asks me questions, I do a Google Search for AC How to articles. It's a lot easier than talking to these people. Still using the Sprint GSIII on FreedomPop Unlimited for $19.99

When I new phone comes out they write articles aimed at new users. A quick Google search of "G4 Easyhome" will give this article first. They're hoping to attract new readers and new user of Android. I found this site the same way when I got my first Android tablet four years ago. I liked what I saw and started reading daily.
If the article isn't aimed at you, why read it? Why comment on it?

What goes on in your mind that makes you so butt hurt over nothing? Posted via the Android Central App

Let a dude grumble Posted via My G2

Hey you can grumble, I'm just curious. But you also don't have to be rude. Posted via the Android Central App

Major flagship releases attract new, and often inexperienced and clueless, Android users. Those people need help with basic stuff, and AC wants to attract those new users and get them to visit the site. If that wasn't immediately obvious to you, you probably shouldn't be talking shit about people who might want to use Easy Mode.

I'm sorry lg lovers but I had a looks see at the new g4 and my first off the bat reaction is Okkk? . There's only two things going for this phone in my opinion. And that's the removable back and memory card slot . Since owning my 32 gs6 edge I haven't miss those things at all . Lg tried to up there game in screen resolution and they failed miserably compared to Samsung's AMOLED display. And the UI is all over the place so much so that it makes even touch wiz look almost apple like in its app arrangements . And the fill in the hand is like chunky plastic. Now all this is just my observation your mileage may be different Posted via the Android Central App

Did you play with the LG G4 camera in manual mode? That's pretty tough to beat right now IMO and the phone's best feature. Posted via the Android Central App

lol S6 has manual mode too. It just shoots in more accurate color than the G4. Which is sad after how big of a deal LG made about color accuracy. I pray they fix that with an update. Posted via the Android Central App

I didn't find Samsung's variant as easy to use though. I shoot mostly RAW and post process so the color accuracy hasn't bothered me as much, but I have seen it and agree, it could use some tweaking.

Appropriate that you proceeded "S6 has manual mode too" with lol. I pretty much laughed myself at the misnomer myself. S6 manual mode is not on the same level of manual mode as a DSLR let alone G4. . . .both of which you obviously are not familiar with, in addition to the term color accuracy.

I'm really enjoying playing around with the manual settings on the G4's camera. I know NOTHING about photography, though, so it's pretty much entirely a learning experience at this point.

There are a million books out there that teach photography, bu the easiest I've found is Scott Kelby's Digital Photography volume one. You can find it used at most book stores or on Amazon. If you're just an enthusiast and don't mind his corny jokes, it's worth the $6 or $7 to understand how to abandon auto mode and, more importantly, how to set up particular shots.

Funny, all of a sudden Samsung owners are ridiculing other phones for being plastic, never mind Samsung phones were made of "chunky plastic" for years. Cheap plastic at best. What ever happened to "just slap a case on it". To much Posted via the Android Central App

Butthurt comment right there. For years there were outcries for Samsung to move to a premium build to go with the premium hardware, even from Samsung loyalists. So it definitely is something to remark on for a company that prides itself on being a cheaper Samsung. Biggest downside to LG for me is that even on this phone they bond the glass to the digitizer. Too many buyers come in upset that even a tiny crack in the glass means you can't use the screen at all. Posted via the Android Central App

I always hate that. An area where Apple and Samsung reign. Got a broken Samsung or Apple, no worry. It is still workable but have an LG G4 and have a crack and the screen is useless. Posted via the Android Central App on my Nexus 5 or Nexus 7 2013

That happens when Samsung users get hand on with a premium build. They are just trying to bring other manufactures to premium materials. They are actually doing one a favor Posted via the Android Central App on my Nexus 5 or Nexus 7 2013

"Easy Mode is a feature for 1st time smartphone users. It is used to make fonts bigger and streamline smartphone in such a way that help users who like to keep things simple"! Easy Mode generally adds most often used apps, calendar, widget, and other shortcuts to your home-screen to make things simpler for you. LG added an "Easy Mode Launcher" in G4 that turns the smartphone into regular phone which is ready-to-use for starters.
This post is written awesomely but i also tried to describe the same thing here : http://dexteroid.com/how-to/use-easy-mode-in-lg-g4/

I've been an Android user for a decade and just jumped to the LG G4 from the HTC M8. I like the Google interface, but I immediately installed the Everything Me launcher. IMHO, it's the easiest launcher to customize and work with. Other launchers I tired might offer more options, but you need a degree to configure them. The Everything Me launcher can literally be set up in a couple of clicks and all it is all set to go. If you are looking for a truly simple and easy to work interface, try this one.

I use EasyHome on my LG Volt with Android V 4.4. I am having one issue with it that I've been trying to find a solution to. Can anyone point me to the developers website or some other source where I can find other people who use it? On the app launcher screen – the one that you get to when scrolling to the right, you can add, change and remove app icons. But the icons often just disappear. This usually happens after a reboot, but other than that, there doesn't seem to be any consistent pattern. Any thouhts on this 1 ½ year old article?
Android Central Newsletter
Get instant access to breaking news, the hottest reviews, great deals and helpful tips
Thank you for signing up to Android Central. You will receive a verification email shortly.
There was a problem. Please refresh the page and try again.