Use a Galaxy S7 edge for the best Pokemon Go experience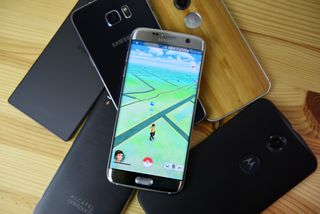 There's no doubt that Pokemon Go has had an explosively popular start. The game is being played by folks of every age, and that means there are a lot of users who were perfectly happy with their phone but are now starting to see the need to upgrade. Maybe your battery doesn't last long enough for a full Pokemon Go session, or you're struggling to see the game in sunlight because your display is a little on the old side.
There are plenty of reasons Pokemon Go users are considering an upgrade to make playing the game a little more fun, and after testing the game on all of the current Android phones, it's clear Samsung's Galaxy S7 Edge is the best phone to use for Pokemon Go. Here's why!
Dat screen tho ...
Samsung's phones are frequently among the best in the industry, but the Galaxy S7 and Galaxy S7 edge have an incredible ultra-brightness mode that kicks in when standing in direct sunlight. It keeps you from needing to squint at the screen or hide in the shade, which is critical when trying to walk around and catch Pokemon out in the wild. The screen also gets nice and dim when playing late at night, which means you'll be consuming less power when going on an evening stroll to your favorite PokeStops.
Seriously, the screen on these phones really is that good. It's worth upgrading to the Galaxy S7 edge just for that super nice screen. The edge version of the Galaxy S7 also has some nice special features that will make accessing other parts of your phone while playing Pokemon Go a little easier.
Read More: A closer look at the Galaxy S7 Edge Screen features
You're gonna want that bigger battery
There aren't a ton of differences between the Galaxy S7 and Galaxy S7 edge, but the two biggest differences are the screen size and the bigger battery. The Galaxy S7 edge is going to offer you a bigger screen for a nicer look at the virtual world around you in Pokemon Go, but the phone is also going to last longer than the smaller Galaxy S7.
You're still probably going to want a battery backup for your Galaxy S7 edge just in case you decide to spend an entire day hunting for a complete Eevee evolution set, but the larger battery is a good place to start!
Read more: The Best External battery packs for the Galaxy S7 and Galaxy S7 edge
Take the best Pokemon photos!
Samsung's camera in the Galaxy S7 and S7 edge are among the best you can use in any phone available today, which is a big deal for a lot of things. Taking photos with your phone has become more common than using real cameras, but with Pokemon Go there's now a massive group of users taking fun photos with Pokemon in them!
If you're going to be taking photos of Pokemon, you might as well be using one of the best cameras you can buy on a phone. That means using this phone, and having a great time while doing so!
Check out our best smartphone camera showdown for more!
What are you waiting for? Go get one!
If you've been waiting to upgrade but Pokemon Go has pushed that urge right over the edge, this is absolutely the phone you need to get. It's an all around great phone, but will also give you that competitive edge as you fight your way to becoming a true Pokemon Master!
Get the Android Central Newsletter
Instant access to breaking news, the hottest reviews, great deals and helpful tips.