Use a Galaxy S7 edge for the best Pokemon Go experience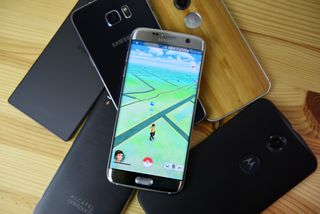 There's no doubt that Pokemon Go has had an explosively popular start. The game is being played by folks of every age, and that means there are a lot of users who were perfectly happy with their phone but are now starting to see the need to upgrade. Maybe your battery doesn't last long enough for a full Pokemon Go session, or you're struggling to see the game in sunlight because your display is a little on the old side.
There are plenty of reasons Pokemon Go users are considering an upgrade to make playing the game a little more fun, and after testing the game on all of the current Android phones, it's clear Samsung's Galaxy S7 Edge is the best phone to use for Pokemon Go. Here's why!
Dat screen tho ...
Samsung's phones are frequently among the best in the industry, but the Galaxy S7 and Galaxy S7 edge have an incredible ultra-brightness mode that kicks in when standing in direct sunlight. It keeps you from needing to squint at the screen or hide in the shade, which is critical when trying to walk around and catch Pokemon out in the wild. The screen also gets nice and dim when playing late at night, which means you'll be consuming less power when going on an evening stroll to your favorite PokeStops.
Seriously, the screen on these phones really is that good. It's worth upgrading to the Galaxy S7 edge just for that super nice screen. The edge version of the Galaxy S7 also has some nice special features that will make accessing other parts of your phone while playing Pokemon Go a little easier.
Read More: A closer look at the Galaxy S7 Edge Screen features
You're gonna want that bigger battery
There aren't a ton of differences between the Galaxy S7 and Galaxy S7 edge, but the two biggest differences are the screen size and the bigger battery. The Galaxy S7 edge is going to offer you a bigger screen for a nicer look at the virtual world around you in Pokemon Go, but the phone is also going to last longer than the smaller Galaxy S7.
You're still probably going to want a battery backup for your Galaxy S7 edge just in case you decide to spend an entire day hunting for a complete Eevee evolution set, but the larger battery is a good place to start!
Read more: The Best External battery packs for the Galaxy S7 and Galaxy S7 edge
Take the best Pokemon photos!
Samsung's camera in the Galaxy S7 and S7 edge are among the best you can use in any phone available today, which is a big deal for a lot of things. Taking photos with your phone has become more common than using real cameras, but with Pokemon Go there's now a massive group of users taking fun photos with Pokemon in them!
If you're going to be taking photos of Pokemon, you might as well be using one of the best cameras you can buy on a phone. That means using this phone, and having a great time while doing so!
Check out our best smartphone camera showdown for more!
What are you waiting for? Go get one!
If you've been waiting to upgrade but Pokemon Go has pushed that urge right over the edge, this is absolutely the phone you need to get. It's an all around great phone, but will also give you that competitive edge as you fight your way to becoming a true Pokemon Master!
Android Central Newsletter
Get instant access to breaking news, the hottest reviews, great deals and helpful tips
...and it just keeps coming.

What a subjectively stoopid article.

I haven't read any of the pokemon articles but this article is very informative. The points he makes i'm sure millions of people are facing right now. The advantages of the s7 edge are huge which he points out. Esp the outdoor screen brightness boost that the s7 edge has that nothing comes close to.

AC needs to take away Russell Holly's posting privileges for a few weeks until he cools down on the Pokémon obsession.

Or you could just not click on them.

Can they also take away your commenting privileges until you cool down?

You must feel so powerful and important... Posted via the Android Central App

I've always felt powerful and important.

What's that, write five more Pokemon Go articles today? YOU GOT IT.

Yup, obviously they support this as they bothered to click and comment. Posted via the Android Central App

I was just wondering if u should replace my note5 to have a better Pokemon experience..... THANK GOD FOR THIS SITE AND ITS UPTO THE SECOND UPDATES.... Posted via the Android Central App

Well you have a great phone for pokemon. Except battery life will be average.

AC must get a lot of money from Samsung. Posted via the Android Central App

Yeah because a giant corporation like Samsung needs to pay AC to promote their phones for sales LMAO. In case you didn't realize the majority of people who buy Samsung phones don't even know AC even exists. Posted via the AT&T Note 5

Exactly. Same situation with the large majority of iPhone users having no clue iMore exists.

Both Apple & Samsung make their sales by making quality devices that people enjoy and aggressive marketing. To even think AC gets paid by Samsung is ludicrous SMH. Oh well let some people think what they want. Posted via the AT&T Note 5

Thanks you. I've been saying that for a while. Seems obvious to me. Posted via the Android Central App

All of these poke-a-man articles screams "thank god we don't have to put out another best phone of '16 article"
EZ does it with these please Posted via the Android Central App

It's the start of a new friendship and stuff. Posted via the Android Central App

Wow... saw this headline with its Samsung subjectivism/fanboyism/paid articles come up on my rss reader and instantly knew it had to be Android Central and not one of the other 4 android sites subscribe to....

I actually see it more often with other sites (Engadget, TC, and AP). What sites do you subscribe to? Posted via the Android Central App

In order of most favorite to least: Android Police, droid-life, phandroid, androidauthority, androidcentral. Android Police has been killing it lately with the exclusive Nexus leaks! Actually about the same time as this post they were showing off renders of the possible new Android wear watches...

I am obsessed with PoGo, and i have an S7E...but wtf is this article?

Google "Native Advertising"

Usually the ads have comments turned off tho, and it plainly states it's an ad...

OK cmon i don't mind the content of the article but can we maybe combine them a bit? Posted from my cracked Nexus 6/Nexus 7 2013/Surface Pro 3

I feel like this article was done because of y'all complaining about Pokemon go coverage and I feel like since there are more complaints then there will be more post pertaining to it and I approve lol Love for all things android and IT

The beatings shall continue until morale improves.

"Samsung's phones are frequently among the bust in the industry" - I'd like to disagree.

Holy cow. This is not an advertisement and Samsung didn't pay for it. IT WOULD SAY SO BY THE HEADLINE

"...but the Galaxy S7 and Galaxy S7 edge have an incredibly ultra-brightness mode that kicks in..." What's the best phone to use to proofread your articles?

The phone with the largest sample size, of course! Posted from my cracked Nexus 6/Nexus 7 2013/Surface Pro 3

Pokémon central I am looking forward to you guys covering Andriod again. Posted via a still buttery smooth nexus 7 2013 .

Not going to complain about the pokemon go coverage... BUT don't talk about which phone to get. Plenty of phones that'll perform just as well for much cheaper. My N6 plays it great (I don't use the AR mode, the screen is plenty bright to see with my glasses that hate IPS LCD screens, and I just got an Anker PowerCore 20000 mah battery for $25). This is clearly either Samsung fanboy-ism or advertisement; no matter, it's a bad article. Posted via the Android Central App

This is the worse article by far, it combines everything insufferable about AC this year, in order: 1) Pokemon GO 2) Galaxy S7 fanboyism Posted via the Android Central App

The article seems spot on to me 1. Pokemon is the most popular game right now 2. The gs7 edge has a great screen resolution best out doors viewing and best battery .Im sorry if there's some butt hurting going on cause of the s7 popularity. But everything thing that's was said is a fact ...sooooo what's the problem don't hate the player hate the game!!! Posted via my note 5 are gs7 edge

No sane person can argue against the fact that Samsung has run the table so far in regards to top Android devices of 2016. Just personally dislike the back glass and why I would lean towards the S7 Active.

I knew it would only be a matter of time before we combined an article about Pokémon Go and the S7. Both have been way over done in the past few months. Posted via the Android Central App

I agree with this article, unless you are an AT&T customer, then you should be using the S7 Active for even more battery life goodness.

I would be willing to say that a phone with a removable battery is more appropriate for Pokémon Go. *cough LG V10 cough* Posted via the Android Central App

$200 refurb G4 + 2 extra batteries @ $32 ea + $40 power bank = 29KmA for less than half the price of an S7 off contract.

As long as the bootloop issue doesn't hit you. I got hit with it whole I was reading an article about the issue. Haha Other than that I loved the G4. Posted via the Android Central App

True dat. I got hit with it after about 10 months, took forever to get the replacement under warranty.

Oh FFS- enough of Pokemon posts, please!!

Because of this informative article, I will give this Poke thingie a go now. Maybe this is what my S7 Edge needs. I had a feeling it may be missing something, this could be it. Thanks Russ and keep on churning those killer apps for the S7 and such. Posted via the Android Central App

The Droid Turbo 2 is also an excellent phone for Pokemon Go. It has a bigger battery than the S7 and extremely good cellular and GPS radios. While it may not have a super bright screen, the camera issue is stupid (why do you need high quality photos of your Pokemon captures??) it has another ace in the hole: that shatterproof screen that will keep the phone safe when you inevitably drop the phone while being oblivious to the world around you!

Do not use a Galaxy S7 for Pokemon it is the worst phone possible I have an S7 an iPhone 6s I go to the same spots with the same signal and nothing spawns on the Samsung meanwhile everything spawns on the 6s I even logged out of my account and signed in on the iPhone to the account I usually have on a Samsung and everything appears warning don't use an S7 Edge for Pokemon you will get nothing

I think it wouldn't be so bad if Android Central retracts this article. :-) Or at least add in a quick disclaimer at the top. "Android Central not responsible if your phone explodes while playing." :-)
Android Central Newsletter
Get instant access to breaking news, the hottest reviews, great deals and helpful tips
Thank you for signing up to Android Central. You will receive a verification email shortly.
There was a problem. Please refresh the page and try again.