Updated Android Market with Google Music now rolling out in earnest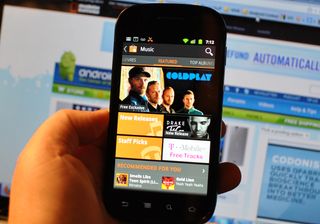 Google said it could be days, but it looks like a good many of you -- and a number of our own devices -- are starting to see the Android Market update with Google Music. Odd that the version number of the Market app didn't change, but we're not going to worry about that.
Note that you'll also have a "My music" button available from the menu in the music section that will take you to the Music App -- and the Music App now features a handy button to take you back to the Market. Nicely done, Google.
If you're still not seeing Google Music in your Android Market, try clearing the app's cache and data (go to settings>applications and tap on the Android Market app), reboot and see if that doesn't fix things.
Thanks to everybody for all the heads ups!
I got mine within 1 hour of the live announcement!

Same here. I didn't realize that wasn't the case for everybody.

Mine is updated. Love the free song of the day feature. Free is my friend.

Speaking of free.... All that free music you got when signing up can now be downloaded using the New Version of the Music Manager for your computer. This update didn't happen automatically, you have to go fetch it. The new version has a download tab in support of your purchases, and it puts your purchases in their proper directory tree location on your computer so that even if Google Music goes TU, you still have your purchases (and freebies) backed up to your computer. (All in glorious 320kbs bitrate with no drm) If you point the download directory to your upload directory it is smart enough not to upload it again, so no worries. So far, I don't see any check box to automatically download your purchases, so you have to remember to do that once in a while.

Will rooted phones get the update.

Yes. My rooted Thunderbolt got the update.

My rooted Thunderbolt got it as well

I cleared the data from the older market, then restarted the market agreed to the terms and... Behold the market with Google music was there. ROOTED N1

To get this update quickly go to markert in applications and tap uninstall updates. When you do this it'll push the new update out to your phone in a few minutes.

cleared data on mine last night and on next open of the app, boom it was there.

Just had to clear the cache on my rooted Thunderbolt and ta da I have it.

Updated Market due to trick in your story above. Thank you!

Didn't have to do squat - opened Market to update ROM Manager and it gave me the ole TOS box again. Like buttah!

Same as above. Cleared my Market app's Data and received update. Thanks Phil!

It was not a new market version. It was just something server side that changed to allow access. I installed a fresh CM7 the other day and when I first got the market update to 3.3.11 the Music tab briefly flashed on the screen. Couldn't get it to happen again and CM7 screenshots take too slowly.

Yup, looks like just an update to your account which prompts you about a new TOS (Terms of Service) and now displays the Music tab. Market is still version 3.3.11 from early this month.

I really dig the staff picks. I was surprised to see albums like Skylarking by XTC and Operation Doomsday by MF DOOM on it.

Yea man that and Dilla's "Donuts" caught me off guard, ain't know Google staff got down like that lol

My market just got updated right now ...

The article says that "the Music App now features a handy button to take you back to the Market" - but I don't see it. In fact, when I open the menu for, say, an artist, and click "Shop for this artist", it takes me to a google page in the browser. Should I have some sort of integration back to the Market from the Music player that I'm missing? Thanks!

I noticed the Market icon briefly appeared while loading the Recent view in landscape. Go to the Recent view (the cover flow thing) and try quickly turning your phone between landscape and portrait a few times (faster than it can switch), and then stop in landscape. On my phone, a bar appears with the Market button, then quickly disappears. I managed to click it, and it took me to the Market, although my Market hasn't updated yet, so it just went to the main page.

I just clicked Clear Data for the app for a different reason, and now the icon is displaying on every screen.

Mine won't update for the life of me. I uninstalled updates to the Market. Cleared the data and cache a bunch of times. Still getting no update for the past hour. Stinky!

Mine doesn't either. EVO 3D. cleared cache and rebooted, accepted terms from the market. NOTHING...

Is anyone else getting this message when trying to download free music? https://dl.dropbox.com/0/view/qx5l6o5anp88ybf/8GB%20card/screenshot-1321...

Yes. Even when trying to buy music.

Yup, every time I try to buy music I get that same error.

I got Google Music in the Market working yesterday. I only had to force stop it and clear the cache.

Just got it!Now if app updates are faster?

T-mobile: Samsung Galaxy S2 just updated and I'm in love.......

Tried several times clearing data. Still no update....EVO 3D. Suggestions?

Is this for Gingerbread+ only? Or does it work with Froyo? I know the Google Music app used to be for Gingerbread+ only.

It's for Gingerbread onward.

Uhm, no. I have a phone running Froyo and it's on there.

I didn't know you had a nexus s phil.

nothing yet on my Sprint EVO 4G. in fact - i'm still waiting on the big Market update that everyone else got a few months ago!

Mine pushed through, no problems. EVO 3D

I have it on my Sprint HTC Evo 4g running Mikg

I have HTC Sensation and I still have Market version 2.3.6

Yeah, I don't get this, my wife's Sensation 4G has always had an old market on it. I have a G2 and it's always stayed up to date, I have the new market now.

This might be a dumb question, but do the songs download to the music folder? I just downloaded one of the free songs and can't find it in PowerAMP, nor did a notification come up that it was downloading. I would expect that it would work like apps do - you buy, they just download. Then you play in whatever music player. I hope I don't have to sync music every time (or keep synching on), and that the mp3s I buy aren't only recognized by Google's music player.

Updated Market! Great, another way to spend a buck at a time. Thanks, Android Central!

Jus got mine earlier today t-mobile G2

Don't forget about Canada Google!!!! Don't forget about us!!!!!!!!

Got my update today OG EVO

Yep, cleared data/cache and rebooted, and now I have the music tab. -Rooted Epic 4G Touch

I got it on my Samsung Vibrant by going to the Market and clicking on an ad for Busta Rhymes on the main screen (with the Apps, Books, and Movies tabs, but no Music tab). It took me to his page, then I searched for another artist and viewed their page. I exited out of the app and came back, and I had the Music tab. I didn't have to clear any data or reboot.

brilliant. i have been waiting for proper music integration like this!!! this is just amazing. still wishing music was 99 cents instead of like the iphone 1.29 but hey.. im cheap like that lol. GREAT JOB GOOGLE

I just had to "Clear Cache" for the Market app and the Music store was available for me on the next launch. Did not need to "Clear Data" or reboot. Looks like purely a server-side change.

I'm lucky enough to have the music available. Now how do I make it available to another music player. Let's say power amp. It's nor showing up there

Any ideas on how to make the Market button stay displayed in the Music App? When quickly viewing in landscape mode the button displays and quickly goes away.

This updated Market came up on my phone a few days ago (I think even before the announcement), and then went back to the way it was. I still haven't gotten the newer version back yet, not that I'm too worried about it. I definitely liked it better than what we had though!

As someone mentioned earlier, I have been impressed with the staff picks leading back to the Google Music blog that you could get free content from. Amazon used to give away free music but I never had a need for Celine Dion.

Rooted HTC Incredible with CM7. Music is working.

What about tablets with honeycomb. How about a market update for them.

Does anyone else lose the notification bar when google music is in landscape? Is there a way to fix that? thanks

I found that just starting up the market and waiting for a sync to finish, WITH MARKET STILL RUNNING got the new market loaded up fine. No need to clear my cache. Nice to see another way to blow some cash!

Still no update. EVO3D. WTF. Is this a phone or carrier issue? Any suggestions?

Where does google music store downloaded music? Its telling me there isn't enough space to download 10 songs...

Some of the above people have the same issue I have (when trying to get a song, you get an error message instead). I don't know what the solution is yet BUT I found a work-around. Grab all the music you want online (on Google Music's web portal) and that music will automatically be on your device as well (in the Google Music app). No sync'ing involved. It worked for me. Next I am trying a Movie this way since I get the same error message trying to rent a movie. But then again I am using a Nook Color booting to the N2A card. Good luck! :)
Android Central Newsletter
Thank you for signing up to Android Central. You will receive a verification email shortly.
There was a problem. Please refresh the page and try again.