Uh-oh! If your Google Wifi went crazy this evening you're not alone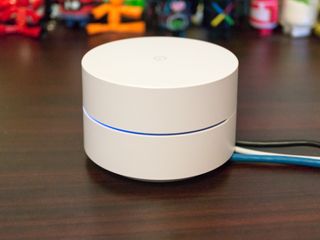 (Image credit: Android Central)
Google says there were issues with the Google Accounts Engine today that affected some OnHub and Google Wifi routers. Details and instructions for recovery are found on this support page.
Seeing a blue blinking light but no Wi-Fi from your Google Wifi or OnHub router tonight? Plenty of other people are.
Something has happened that has caused a number of folks to lose Wi-Fi abilities on their Google router, and we're not yet sure what it might be. Users report a power reset and when things start back up wired access works but wireless communication doesn't. Wireless access is pretty important for a Wi-Fi router.
Google Wi-Fi support techs are aware of the issue and say they are investigating right now. In the meantime, if you can't wait for Google you can factory reset or remove your router from the app and set things up again to get back where you started.
We can confirm that an update was sent out today, but our units are working fine. This certainly sounds like an update issue, but we'll have to wait and see what Google finds out. Hopefully soon.
Android Central Newsletter
Get instant access to breaking news, the hottest reviews, great deals and helpful tips
Senior Editor — Google Ecosystem
Jerry is an amateur woodworker and struggling shade tree mechanic. There's nothing he can't take apart, but many things he can't reassemble. You'll find him writing and speaking his loud opinion on Android Central and occasionally on Twitter.
Happened to my TP-Link OnHub about an hour ago; the thing went into setup mode and I had to fire up my Google WiFi app and set it up as though it were new. Took about five minutes and now everything seems to be normal. Strange.

Sounds like the official word lines up with my experience; they sent me an email a few minutes ago too explaining the situation and linking to the support page in the OP. Ah well, hardly the biggest inconvenience I've had to endure at Google's hands.

Things like this scare me away from using cloud manage WiFi systems at home.

I think something happened at google today. My wife and my google account, we had to resign in.

I did too on my 6P and Droid Maxx (work cell)

Me too... I had to sign back into everything

Here as well. I glimpse a trend.

Mine, too. Also, my Google Home is glitching every time I say the hot word.

Same. Had to sign in on my pixel via notification.

Had to re-sign into my android pixel a few hours ago here in Australia. Also the security checkup at https://myaccount.google.com/notifications kept giving HTTP 500 error page. Seems all good about an hour later.

Yup same thing happened to me. Also, had to resign on Gmail on iOS.

Was crazy.. It was reporting no internet and took me a while to check that.... Took a while to figure out to factory reset the whole thing to fix it and then do it.. one tip to delete the 2nd and 3rd wifi point was to connect each by Ethernet to get it internet access, then go into the old group and find the wifi point and remove it from the group ( which factory resets it). Leave it connected to the Internet until it flashes blue again indicating the reset is complete then power it off, remove the Ethernet and power back up and add it to the new group. It left my primary WiFi point in my old group and would not let delete it from there however they must have made a change as I could subsequently delete it from the old group, which then deleted the old group completely. Lost all my stats unfortunately. Seems to be back now.. Have to figure out what else was lost (port forwarding).

I prefer devices that let me decide when, and if, to apply an update. Think I'll stay away from these.

Google does not sell the Google WiFi as such but it feels like a network device with also a service. I believe it will be getting models somewhat like spam that monitors network security which would include updating your software and models. The fact nobody updated their routers was an issue just was not discussed. I am a "techie" but have. Zero interest in upatting anything and love Google doing it. Same with my browser, phone, laptop and if you are willing to do my network gear please go ahead and thanks.

Oh yeah, 90 mins on hold to Google WiFi support and never got through. Was really hoping not to reset everything and lose the stats and also was stimied by having two groups of the same name/SSID, with the primary in the new one and the others in the old.. The old ones were clearly connected but the app said none were, so it took me a little experimenting to get to a screen to remove them.. I think I did that by just trying again. Note you select which of your groups you are seeing in the main app screen hamburger menu.

Reset mine took a couple of minutes and nothing lost and even still had the latest software. But I only had one of my three need resetting and only for wifi. Still love my Google wifi and would need more than one hiccup to change.

How did you reset it/ what did you do?

Happened to my Google Home. I had to unlink and then sign back in.

Interesting, my home was unaffected. I read everything from DNS problems to authentication issues... Will be interesting to see what happened, if they'll say.

My GH fixed itself. But I am lazy and just left broken last night to have it work this morning.. Only glitch had so far. I think the GH has not been even powered down or booted since early Dec.

I had to reboot my home... as soon as I said hey google it would tell me something went wrong

We followed the instructions for resetting until we got to the end and were told on the app that we needed more advanced help and to call Google. We waited on the phone for about an hour, and were finally connected to someone who was actually a shipping clerk, who tried to follow a script to help us, but really didn't have a clue what he was doing. We ended up with a promise that someone from Google would get back with us via email, but we still had no WiFi. Fortunately, we still had our old Airport, which got us back on-line. We'll see if we actually get any help from Google.

Got a notification to re-sign in on my phone, and when I got home from work my Google Home had to be relinked to my account.

My 3 pack started disconnecting several times a day starting a couple weeks ago

I had to set up my WiFi all over again. It just reset itself

At work right now, but checked the app, everything seems to be working fine for now. Do we have a build/version number?

Google Home kept asking me to "log in through the app" when I asked it to turn on the lights. Really weird, my 2nd Google Home bought a few weeks later as fine. I had to unlink my 1st Google Home from my Google account and then add it again. I also got a message from Google on my phone while in Best Buy earlier in the evening saying there was an issue with my account and for me to log back in. I don't trust public networks for that sort of thing so I waited until I got home to check my account via the desktop and Google Chrome. Had to log into the browser again and on my phone (Galaxy S7 Edge). Everything is fine now. Not sure if my OnHub ever went on the fritz. It was working fine when I pulled into the garage (I "move" my music from the car to my Homes and my Chromecast Audio when I get home).

Are you saying you use Bluetooth in the car and it is automatically handed off to your chromecast audio when you get home?

Not automatically. I wish. I simply turn off BT and then cast it to my Homes and Chromecast Audio from the driveway. Music is on when I get inside. Seamless handoff would be awesome but come on, GPM doesn't even have cross-device syncing.

Google says no update was sent out, but you "confirmed" an update was sent out?

Maybe someone hacked their systems and sent out a bad update.

Not home yet (have the OnHub, Home, and Chromecast) but I haven't had to resign on my Nexus 6P or 5X so far.

Got home, and seems like I'm one of the lucky ones that didn't get affected. All my home devices are working so far *knock on wood*.

Not just WiFi. i had to resign in to my Google account on my Galaxy S7 and both of my Google Homes got disconnected from my account. I had to unlink and relink my account to the devices in the Home app!

I received a firmware last week and worked fine until tonight. Google has confirmed that it has to do with their account authentication. It's as if the OnHub was somehow kicked out of my Google account and it decided to factory reset itself. It's not limited to OnHub either. Google Homes and phones are also being kicked.

All 3 of my Google Home devices went down as well had to unlink and relink them all.

I Factory reset my TP-Link on Hub and can't get it to work at all now. Just flashing red/orange

Yup my Google accounts on my phone told me to sign in Lol

Happened to me earlier today and the app wouldn't let me relink or set them up again. Whatever they did factory reset all three and the app wouldn't let me continue. Took them down and put real routers back. Going to sell these or give them to a family member. I work from home and can't be google's lab rat.

Things like this should scare anyone away from using networking equipment where all the intelligence is in the cloud. When the network has to work even if the Internet doesn't, you don't buy a network that depends on the Internet. Cloud-managed can be great if it's just "managed" from the cloud. That's a little different from "cloud based" or "cloud controlled".

After reading all this, I felt a bit smug as my TP-Link OnHub was working fine. Karma is a drag. Very thankful the support page was listed. Anxiety ran high as all my other net device connect thru it. A bit of hand ringing, a reset here and there put my Nets and Hue goodies back to working condition.

Wow! Thanks for sharing this as it is EXACTLY what has happened to me last night. I really like this idea of Google monitoring for inconsistencies of things with my account. But clearly had thought about how great when it works. It is weird that the other pucks are fine and even the blue blinking one is fine except for WiFI. Did unplug and plug back in and then did it again with longer period of time in between and did not help. Guess will need to hardware reset today.

Mine reset to factory settings as well. Good thing the setup process is simple.

It felt like this was tied to some false positive hack attampt on my Google account. I believe Google is in the process of establishing a kind of new security between all your stuff and your Google account.

Google apology email is out today
Android Central Newsletter
Get instant access to breaking news, the hottest reviews, great deals and helpful tips
Thank you for signing up to Android Central. You will receive a verification email shortly.
There was a problem. Please refresh the page and try again.