Twitter basics: Understanding @, DM and ★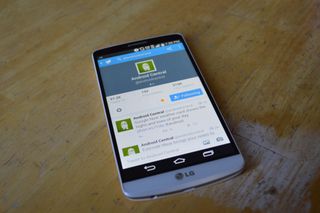 While Twitter is one of the largest social networks on the internet, it is also one of the most confusing available. The confusion only increases when users attempt to use the corresponding application on their phone or tablet. The confusion stems from Twitter giving users the ability to communicate and interact with each other in numerous ways without explaining the proper functionality of each available feature. While there are third-party Twitter applications on the Google Play Store (which usually makes the Twitter experience easier and a lot more fun to use) we're going to talk specifically about the stock application experience that Twitter built for their mobile users.
For you folks new to Twitter, here, now, are some basics.
How to mention a user in your tweet
The core of Twitter is the feed of tweets from people you follow. These tweets can range from users telling the world what they are doing or feeling to having a semi-public conversation with others. When using the social network you are allowed to tweet out text, emoji, pictures and much more just as long as it is under 140 characters long. In your tweet you are basically able to shout-out to someone just by adding the @ symbol in front of their username. When you do this the recipient is notified about the mention and is able to communicate back using the same tweet procedure. There is no limit to the amount of people you may mention in a tweet but be aware that their usernames do count against your character limit in a tweet.
How to show that you like someone's tweet
When someone tweets out to their followers, you can show that you like what they are saying by clicking on the favorite button located under the tweet. The favorite button is represented by the star image and will illuminate when you have favorited a tweet. This feature is useful to see how many of your followers like what you are tweeting about and acts like the +1 button on Google Plus or the Like button on Facebook. Favoriting tweets is also a very useful tool if you want your followers to discover people on Twitter. When you favorite a person or a specific tweet, Twitter will add this to your follower's "Discover" section. Here they can find popular posts and people based off of the interests of the users that they are following.
How you can to privately message another user
One of Twitter's least used features is a built-in messaging application. Since most users are on Twitter to communicate publicly using the @ mentioning tool talked about above, there is normally no use for the direct messaging feature built into the social network. The private text messaging like service is incredibly easy to use but finding it can be a little more tricky. The envelope icon located on the taskbar will bring you to a running list of direct messages that have already been sent. Here you can quickly jump into a previously started conversation or start a fresh one with another user. To send a new message, just click on the new message button located in the upper right hand side of the application, choose a recipient (no group messages unfortunately), and send them a message. Just like when sending a normal tweet, your message can only contain 140 characters but there is no limit to the number of messages that can be sent back and forth in the conversation.
Get the Android Central Newsletter
Instant access to breaking news, the hottest reviews, great deals and helpful tips.