TTMMINUS for Android Wear brings a different look to your watch face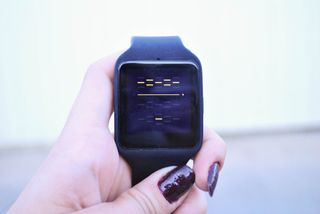 Each watch face on for Android Wear has a different flair and style that draws you in. With the TTMMINUS Watch Face, time is displayed as a series of dashes, giving it a minimalistic and futuristic appeal. For the look of it alone it's worth checking out. With a unique take on time display, this face insists that the future is now.
When we say that the TTMMINUS is a seriously futuristic watch face, boy are we not kidding. At first glance it can be pretty intimidating, looking more like morse code than an easy way to glance at the time. Instead of displaying the time in an analog or digital display like most faces out there, or even one of the super nerdy binary watch faces, time is displayed in a series of dashes on your screen. It's something that is absolutely different than just about every watch face out there, and that's a good thing. There is a learning curve in reading the dashes, but thankfully it isn't too steep.
You have dashes for the hour, tens of minutes, and minutes. The hour and tens of minutes dashes are separated by a blinking line to denote seconds. That sounds far more complicated than it is. That's why there is going to be a period of adjustment as you get used to how this watch face displays and that is okay. TTMMINUS runs on a 24 hour cycle, but a square will appear to the left or right of the screen to denote am or pm.
TTMMINUS has one option for you to play with, and it's the accent color available. The default color is orange, but there are 9 choices to pick from. All of them are clear and easy to read when the phone is active, but the ambient mode can be a bit disorienting when you're first getting used to the new method of displaying the time. You can see dashes on the screen in ambient mode, but they aren't particularly easy to read.
TTMMINUS is certainly a innovative and different design for a watch face, and that's why it caught our eye. Available for $1.06 in the Google Play Store this is a fantastic minimalist watch face that can add some futuristic flair to your smartwatch. It's got style, and gives you only the options that you actually want. If you've been looking for something a bit different this could definitely be the watch face for you.
Sign up for Black Friday email alerts!
Get the hottest deals available in your inbox plus news, reviews, opinion, analysis and more from the Android Central team.
Jen is a staff writer who spends her time researching the products you didn't know you needed. She's also a fantasy novelist and has a serious Civ VI addiction. You can follow her on Twitter.