Truffol Strap for Pebble Steel brings classic watch band design to your wrist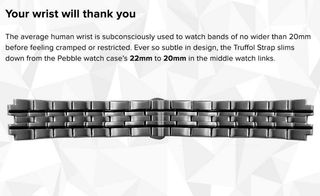 The Truffol Strap is designed as a replacement watch band for the Pebble Steel. Featuring a stainless steel design, which is the same material as the original steel Pebble Steel watch band, the Truffol Strap also adds in a little sophistication. If you're looking to glam up your Pebble Steel, the Truffol Strap is on sale for $26.99 through the company, down from the $40 MSRP.
According to Truffol, the Truffol Strap is machine-milled with a brushed surface and accents. The strap also features a butterfly clasp so you can quickly remove the Pebble Steel from your wrist.
The watch band is available in either silver or black colors.
Thanks, Max, for the news tip!
Is this an accessory that you will want for your Pebble Steel? Let us know in the comments.
Source: Truffol
Anyone know if it's easy to take links off? Is that what the strap adjustment tool is for Lol. My bad. I jus read that

I wonder how the black steel would look with the Stainless Truffol band? I think it might work with the black accents in it? My black Pebble Steel band looks like crap already with the black wearing off in places. I think stainless would be more durable?

That's good to know that the finish doesn't last long. It does pretty nice when new though.

My stainless steel band has not tarnished at all. I have had it from day one. Posted via Android Central App

This with the Moto 360.... Posted via Android Central App

I was going to say or the LG G Watch? lol
Android Central Newsletter
Get the best of Android Central in in your inbox, every day!
Thank you for signing up to Android Central. You will receive a verification email shortly.
There was a problem. Please refresh the page and try again.