Toshiba Thrive initial review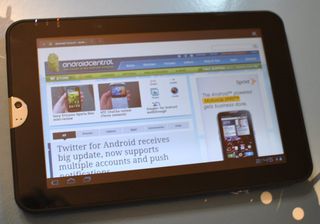 It's been some six months since we first saw the Toshiba Thrive at CES. At the time, it didn't have a name, and it wasn't even a Honeycomb tablet -- more of a hardware prototype running Froyo.
That all ends today. Let's start with the obvious: It's not the most svelte Android tablet out there. No, that crown still belongs to the Samsung Galaxy Tab 10.1, and the Thrive's actually thicker than the Motorola Xoom while weighing about as much. But the Thrive more than makes up being a bit portly with its hardware features. Let's explore them after the break.
Youtube link for mobile viewing
Under the hood, it's the same NVIDIA Tegra 2 processor we've come to know and love. On the outside, it's got just about every port you could dream of. Let's go over the external features in handy bullet point form.
Front-facing 2MP camera.
Power button
Volume rocker
Rotation lock
Full-size SD card slot
Mini USB port
Full-size HDMI port
Full-size USB port
3.5mm headphone jack
Proprietary charging port
Proprietary docking port
Rear-facing 5MP camera
Battery cover locking switch
Removable 23 watt-hours battery
LED lights for charging, network and power
Great googly moogly, that's a lot of ports. And they're not haphazardly thrown onto the tablet, either. The USB ports and HDMI ports are protected by a cover. Buttons are nicely ruggedized. And the prospect of a removable battery (it's actually pretty easy to get to) is sure to make may a power user happy. And the battery's around $75, depending on where you buy it, and that's quite reasonable.
Software-wise, we're looking at Android 3.1. Technically it's no longer running the latest version of Honeycomb -- Android 3.2 just dropped for the Motorola Xoom. But that's hardly the Thrive's fault, and we fully expect it to be updated. In the meantime, you have a relatively unskinned Honeycomb experience, with a smattering of apps thrown in.
The Thrive has a custom update manager -- ours had a downloaded dated July l7 ready to go. Quickoffice, LogMeIn Ignition is there, as well as a few card games, and all the usual Honeycomb apps.
But why on earth would you want an Android tablet as large as the Thrive? Options, options, options. The various ports are a major selling point, as is the three pricing and storage options -- you can get an 8GB, 16GB or 32GB version for $429, $479 or $579.
Full review's coming, folks. For now, feast your eyes on some more pics.
Sign up for Black Friday email alerts!
Get the hottest deals available in your inbox plus news, reviews, opinion, analysis and more from the Android Central team.