Toshiba Thrive initial review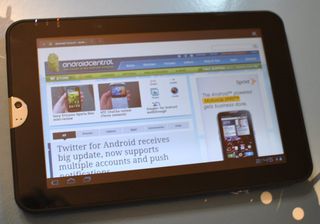 It's been some six months since we first saw the Toshiba Thrive at CES. At the time, it didn't have a name, and it wasn't even a Honeycomb tablet -- more of a hardware prototype running Froyo.
That all ends today. Let's start with the obvious: It's not the most svelte Android tablet out there. No, that crown still belongs to the Samsung Galaxy Tab 10.1, and the Thrive's actually thicker than the Motorola Xoom while weighing about as much. But the Thrive more than makes up being a bit portly with its hardware features. Let's explore them after the break.
Youtube link for mobile viewing
Under the hood, it's the same NVIDIA Tegra 2 processor we've come to know and love. On the outside, it's got just about every port you could dream of. Let's go over the external features in handy bullet point form.
Front-facing 2MP camera.
Power button
Volume rocker
Rotation lock
Full-size SD card slot
Mini USB port
Full-size HDMI port
Full-size USB port
3.5mm headphone jack
Proprietary charging port
Proprietary docking port
Rear-facing 5MP camera
Battery cover locking switch
Removable 23 watt-hours battery
LED lights for charging, network and power
Great googly moogly, that's a lot of ports. And they're not haphazardly thrown onto the tablet, either. The USB ports and HDMI ports are protected by a cover. Buttons are nicely ruggedized. And the prospect of a removable battery (it's actually pretty easy to get to) is sure to make may a power user happy. And the battery's around $75, depending on where you buy it, and that's quite reasonable.
Software-wise, we're looking at Android 3.1. Technically it's no longer running the latest version of Honeycomb -- Android 3.2 just dropped for the Motorola Xoom. But that's hardly the Thrive's fault, and we fully expect it to be updated. In the meantime, you have a relatively unskinned Honeycomb experience, with a smattering of apps thrown in.
The Thrive has a custom update manager -- ours had a downloaded dated July l7 ready to go. Quickoffice, LogMeIn Ignition is there, as well as a few card games, and all the usual Honeycomb apps.
But why on earth would you want an Android tablet as large as the Thrive? Options, options, options. The various ports are a major selling point, as is the three pricing and storage options -- you can get an 8GB, 16GB or 32GB version for $429, $479 or $579.
Full review's coming, folks. For now, feast your eyes on some more pics.
I still don't see why this is a better option than the Transformer. Not trolling, can anyone explain its advantage over ASUS' tab, anyone?

I don't think anyone is saying it is better option than the Transformer. The point is, that it is another option, and certainly a better option for some...

I like that you don't need to buy a $150 keyboard dock to get full usb and hdmi ports, along with a full size SD card slot.

The major issue I have seen with the Transformer is the screen. Lined up against any of the others Samsung GT, Toshiba Thrive it is dimmer and less reactive. I compared the three with playing the same HD video via YouTube (Look up Sam Macaroni's Average Guy vs Parkour Master). Both the GT and the Thrive had rich vibrant screens that made the 1080p video look amazing. The Transformer has artifacts and was blown out when any white came into the scene. We buy these items for different reason. I personally wanted something to show of the videos I create through my work. So for me it was the Samsung GT. For you it might be the Transformer with its inputs and the docking station?

Thanks for the screen comparison. I really wanted to like the Transformer but the screen issues turned me off too :-P Now I'm going to have to look at the Thrive. Originally Toshiba mentioned something about having a way to color calibrate the display but it doesn't look like that made it in...

I explain the pros to all the tablets Xoom: Directly updated from google so that means updates before the other tabs. Less steps + more streamlined to root/rom/kernalize from looking at xda
Transformer: Keyboard attachment that doubles battery life with more ports
Acer: ? ( screw this tab)
GT 10.1: Touchwiz + Thin as hell + PLS display
Thrive: Removeable battery + Full sized SD slot/HDMI slot + LED :D

Whoa! This thing just looks big. Probably isn't all that bad though.

Don't care. Full USB port, standard SD card and a removable battery are worth a little extra girth, I think.

It isn't all that bad at all. I love it!
Go to BB or somewhere and see for yourself.

Is the internal storage really 128mb?

No, it comes in 8gb, 16gb, and 32gb.

@ blackbyrd Full size connections and cheap memory upgrades with a full size sd card. You have to drop another 160 bucks with the transformer to get a full size usb... I am debating over getting this or the Transformer because having a super long battery life and full physical keyboard would be pretty cool. But connections without accessories kinda trumps a lot of the Transformers benefits. Oh yeah... a removable battery! That is so cool because sometimes you don't have time or access to a way to charge... This balances out the alleged 16 hours with dock that the Transformer boasts.

What do you do that you would be on one of these tablets for more than 14 hours ata time. I have the Samsung Galaxy Tab and it has a 14 hour battery life. I use it for work and have it active for 6-7 hours a day with still 40-50% of the battery left by evening. I have yet to have to charge my GT before I head to bed.

Try getting 14 hours with playing videos with moboplayer... Anywho you could gain a 15-25% boost if you get a kernel with undervolt. Undervolting works wonders. xD

14 Hours of video playing?!!?!?!?!? It's something 99% of people would never do. At the most I watch 3-4 hours of video on my tablet before my eyes or my brian gets tired. Still not a factor in my book.

Thanks for the review, choices, choices and choices, Acer, Toshiba, Xoom, now Lenovo.

This thing is huge.I swear its the size of the bottom of my notebook

I had a chance on Sunday to compare the Thrive with the Xoom and the Galaxy Tab 10.1. Although the Thrive and Xoom weigh the same, I found the weight much easier to handle on the Thrive than the Xoom, probably because of the contoured and textured back on the Thrive. Honestly, the Xoom seemed like a boulder to me compared to the Thrive. There is no doubt that the Tab has a much sleeker design and I wouldn't kick it out of bed, but the options on the Thrive were exceptional. User replaceable battery? Count me in! Full sized USB port? YES! SD card slot? Wonderful! Those were more than enough to push me into the Thrive camp. I also had a chance to check out the iPad. Again, exceptionally sleek, but the closed system was a turn off to me. If I had to rate them, it would be an easy list: Thrive > Galaxy Tab > iPad > Xoom. I look forward to your full review.

What are you plugging into these tablets. For now they have no file system (that are credible) for searching linked devices. The Card reader is the only thing that makes sense. Personally Blue tooth keyboard, mice and headphones work just as well as plugged in, AND I dont have to carry all those things around. We all talk about needing inputs, but until the tablets file system is update to react to FAT32 devices it really doesn't matter. AND before you say they do, I took a standard SanDisk 16GB card in to Best Buy and Plugged them into all the tablets to see what works. Only thew Acer Iconia actually read the USB drive.

What do you mean? I have a standard SanDisk card too but it's 32GB instead of 16 and it worked just fine on my Thrive without doing anything special to it.

Sorry meant to say the Thrive was the only one that could access... my bad.

And actually I was talking about USB Thumb drives, not SD cards

I think I smell a troll. Android has no trouble reading FAT32 devices. I have a Viewsonic G-Tablet and every ROM I've run on it (Froyo, Gingerbread, and now Honeycomb) has had the capability to read USB thumb drives. I haven't tried one bigger than 8gigs, since that's the largest I have, but Android is more than capable of reading them. There are even custom kernels out there that will allow you to connect to Windows network shares using the SBC protocol. A full size USB also means peripherals. I can plug the receiver dongle for my Logitech wireless keyboard/mouse combo and use a full-size keyboard wirelessly to type on the tablet while it sits on a stand. The keyboard even worked in Gingerbread but, since I got Honeycomb, I can now use the mouse too :)

ive tried every honeycomb tablet and this is my favorite one. Its very fast and smooth experience unlike the tab 10.1. The screen,might not be as good but very good on the level with iconia and xoom. Can't express how much I like the SD card reader, the photos look amazing. This tablet is a photographers best friend, no more adapters!!!!

Thanks for that info. My interest in the Tosh was image review on location. Now, how about my CFs?

Well, I have a NookColor that I've rooted and my Thrive just arrived and the Thrive is lighter than the NC, so maybe the GT is lighter, I don't care because the Thrive is lighter than what I've been carrying around. Weight is kinda relative. And the Thrive is a nice feel in the hand; not scared I'm going to break it or drop it. I'm more than happy with the feature set and price.

Thrive is nice played with it yesterday. I like/had all the HC tabs except the Sammy and Thrive. I settled on the Acer because it has every port (USB, mini USB, HDMI, SD Card, plus a reset button) . It also has a camera flash which none of the other tablets have, and performed the best in benchmark test. Can't really go wrong with any of them.

The xoom also has a camera flash.

I really like the textured back of the Thrive. I just feel like it would give a great experience for holding the device and making it tough to drop. The removable battery doesn't do anything for me but its a nice option to have. I worry that the thickness after you add a case would start to be a problem.

Spent an hour in BB playing with Samsung GT, Thrive and Transformer..its definitely a tough decision. Probably the Tab is the most logical one but the Transformer is hard to turn away from with that keyboard dock. By the time you spend for a dock and BT keyboard for the other, the Transformer is probably the cheaper option

This will probably finally get me to buy a consumer grade tablet. The full size SD slot is the main selling point for me because it will allow me to insert the SD card from my camera and upload photos. It will also make storing media a cinch. I do wish they would make a 64 GB version, but 32 will be fine.

Nice to see more options on the market. I'm happy with my Xoom though. All of the added port options on the thrive are great, but I don't think I would need a full sized USB port, though the full sized HDMI port sounds like a winner for a lot of folks. I have equipment at home that do the heavy lifting that a full sized USB port calls for. Maybe it's just me, but a MicroSD slot and Bluetooth pretty much sets me straight. I don't even bother with the mini-HDMI (I never use or need it). Your mileage may vary, though.

While the Thrive is a great tablet it does still have a couple problems. Main two I've noticed is that it had a couple random reboots but that only happened when I first bought it Saturday, hasn't happened since. But the one huge issue is the sleep issue. Once it goes into sleep you have to hold the power button down to turn the tablet off then turn it back on again. Toshiba knows about this and is said to be working on an update. Not sure if any of that was covered in the article, seemed like it was just an overview and talking about specs more than an actual review so I didn't read all of it. Can't wait for the actual review!!!

Yeah, this wasn't a real nuts and bolts review. I've had the Thrive since it was released Sunday and the sleep lockup issues and random reboots have been a constant problem. If you check some of the Android forums out there a lot of people are having these issues with them and who knows when Toshiba will have an update to fix them. Between those problems and the weight of this thing I'm thinking about exchanging for the Samsung Galaxy Tab 10.1 or wait till August for the 8.9. Not sure I really need the ports and SD card that the Thrive offers.

Had same issue with sleep, happened 3 times on first day of ownership. If it slept, it seemed to lock/ignore keyboard. Googled a bit and found a post that claimed this worked (if I recall correctly, did it once ) 1) Plug in thrive to power supply while it is running. 2) remove battery (all while running). 3) power off thrive normally 4) restart thrive 5) plug battery back in (while running) For me, it worked. Haven't had issue in over a week.

Picked one up last night. Things I've noticed already: It's running 3.1 but there's no movies yet! And there really aren't any other streaming video options for Honeycomb are there?! It's surprisingly big. I've also got a Toshiba netbook with an 11.6" screen and the Thrive is only slightly smaller. It's so wide in fact that thumb typing in landscape is pretty much impossible. It's hard to discern the Volume button from the power button. I've already locked it by accident when I meant to turn up the volume. The volume down button is also hard to feel without looking. Maybe I'll get used to it? The good things: This thing runs circles around my original iPad. Zinio is actually usable! Yay. Full SD card is awesome. And having a full USB means I can easily exchange files with other people via USB stick. One less hassle to deal with in crunch time. General questions: I like that it has a full HDMI port but is that supported by default in Honeycomb so all apps can use it? On my Atrix, the HDMI port is useless outside of Motorola's custom apps.

That can be fixed (check XDA). I'm curious as well whether the Thrive supports mirroring like LG's and HTC's recent phones, or whether it's only for the gallery by default (like the EVO 4G & the Atrix).

I think the Acer still has them all beat due to price, pre installed apps, and form. The only thing to shake this up will be the better processors in the fall/winter

Make the most of your Toshiba Thrive. Visit http://ThriveForums.com

Excellent and civilize conversations about all tablets...I have the Asus Transformer, and it works well for me; I am going to buy another Tablet this fall; what do you guys think about the quad-processors coming out?.(sorry for changing subject)

nVidia's Kal-El demo is pretty amazing. You can find the video on YouTube, if you haven't already seen it. Just search "nvidia kal el light ball demo". I want to get a more consumer-grade tablet (have a hacked Viewsonic G-Tablet), but I'm really torn between either the Thrive and GT 10.1 or waiting till Sept to see if we really do start seeing these quad-core beasts hitting the shelves. Incidentally (for anyone who hasn't been paying attention) nVidia's already listed their processor roadmap with "Stark" and "Logan" being the next two after "Kal-El". That's Iron Man, Wolverine, and Superman, respectively, for anyone who's not as big a nerd as me :) I can't wait to see what the next step up from Kal-El can do. Couldn't even imagine the step after that because, the way they're going, it will have better graphics than my xbox360 :)

how about hive player for honeycomb...only third party music player out with scrollable widget for music navigation and playing

So far 2011 has been a year of shaking out the bugs. The future of Android on tablets is still a mystery. The iPad2 owns more than 90% of this market, so can companies like Toshiba make money at this? Perhaps Toshiba want this to be the "Business Friendly" Honeycomb tablet; hence the full size ports, SD-XC card and so on. If so, can it compete with compact laptops, which can do much more? Despite all that, I like the look of THRIVE, but wonder what 3.2 and Ice Cream will do to it.
Android Central Newsletter
Get the best of Android Central in in your inbox, every day!
Thank you for signing up to Android Central. You will receive a verification email shortly.
There was a problem. Please refresh the page and try again.