Top 7 things you need to know about Fortnite for Android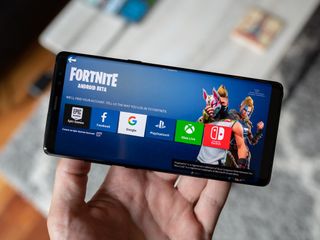 (Image credit: Android Central)
Fortnite is a massively popular game that's wildly popular across basically every platform you can game on. But there are some specific quirks for the Android release that you need to know before you play.
It's nowhere to be found in the Google Play Store
Epic Games decided not to release Fortnite through the Google Play Store which means all the traditional advice about only downloading apps from the Play Store kind of goes out the window. You can't even search for Fortnite in the Google Play Store, as Google just gives you a little message stating "Fortnite Battle Royale by Epic Games, Inc is not available on Google Play". Salty.
For parents with kids demanding to play Fortnite on their phone or tablet, you need to know that the game is still in beta and is only available on non-Samsung devices via an invitation from Epic Games. You can go to Fortnite's Android portal and register your email and device to get an invitation but at this point, it's all a matter of applying and waiting for your download link to the installer.
Meanwhile, if you've got a Samsung Galaxy S7 or better you can pop into Samsung's Galaxy App store and download the Fortnite Installer app and dive into the game.
There's no cross-play between mobile and PC or console
You might be wondering if you'll be able to play against your friend who plays on PC or Xbox One on your phone. Alternatively, it might seem like the dude who just sniped you from across the map is playing on a PC setup.
As it stands, Fortnite players on Android will only ever play against other Android players, and there's no indication from Epic Games or reason to believe that there will ever be true crossplay. Instead, you're able to log into your Fortnite account across all available platforms and play when and where you want. This is a good thing because as it stands it is very hard to play Fortnite on mobile for most new players.
And that's because…
There's no support for Bluetooth controllers or USB accessories
Perhaps the worst part of waiting so long for an Android version of Fortnite is the fact that there was nothing done to address one of the biggest complaints with the game — the lack of control options beyond the default touchscreen controls.
You can go in and completely customize the layout of the on-screen controls which is good, but if you've played Fortnite on console or PC you're going to have a bad time playing Fortnite on your phone because it controls just awfully. The fact that you also have to switch over to build mode in the heat of a battle just makes it all the more frustrating with any little slip up potentially costing you the match. Even the somewhat glitchy gameplay issues people have been experiencing could be somewhat alleviated with a controller in hand.
With phones like the Moto Z series and ASUS RoG offering gaming accessories for adding controller mods to your phone, and Samsung and others developing docking technology for connecting a keyboard and mouse for a desktop experience, there's a ton of potential even beyond Bluetooth accessories that may never be fully implemented into Fortnite. It's a damn shame.
Turn down the graphics if you're having frame rate issues
Choppy frame rate and game freezes are among the biggest complaints gamers have had playing Fortnite for Android. The game is still in beta and receives regular updates with bug fixes designed to improve the experience overall, but the game still gets sluggish if there's too much going on — not ideal when you're in a frantic firefight and getting around five frames per second.
The latest update fixed an issue regarding the graphics settings, so you're finally able to reliably turn down the graphics to get faster gameplay — this will be extra important if you're playing on a phone with 4GB as Epic Games has acknowledged performance issues and worked to address them. The downside is turning down the render level can create a new host of problems, where sniping becomes sketchy and the game just looks all blocky and weird.
V-Bucks are non-transferrable between platforms, but the stuff you buy is
If you bought V-Bucks, the in-app currency in Fortnite, on your PC and are confused when you see an empty balance playing on your phone, that's because the in-app currency you buy on one platform stays on that platform.
However, if you spend your PC V-Bucks on a new outfit, you'll be able to access that outfit across all platforms. The issue here is if you've got some spare V-Bucks on mobile and some on PC or console you're unable to pool them together.
In-app purchase refunds are available —but you only get three
Speaking of in-app purchases, it's important to understand the in-app purchasing policies given this game is not regulated by Google's app store. This game has proven to be a micro-transaction juggernaut for Epic Games with so many cool outfits, emotes, and other cosmetic upgrades to buy.
If you accidentally make a purchase, your kid makes an unauthorized purchase, or you simply have buyers remorse for that new skin you just blew $15 bucks on, you'll be happy to know that Epic Games has a refund request system built right into the game itself. Fortnite's refund policy allows you to request a refund three times per account. The refunds can't be applied to items like the Battle Pass or Battle Pass tiers, only items such as emotes, outfits, pickaxes and such. It's a fairly reasonable approach that gives the benefit of doubt to players.
It's worth noting that these refunds are only available for items purchased with your V-Bucks, and not for V-Buck purchases.
That installer vulnerability has been patched
It was recently discovered that Epic's Fortnite installer for Android contained a vulnerability that would allow malicious apps to be installed. The good news is that there were no reported infections with malware before Epic patched the installer, but the situation is sure to extend the cool relationship between Google and Epic.
Get the Android Central Newsletter
Instant access to breaking news, the hottest reviews, great deals and helpful tips.
Marc Lagace was an Apps and Games Editor at Android Central between 2016 and 2020. You can reach out to him on Twitter [@spacelagace.