3 things to look forward to with smartwatches in 2019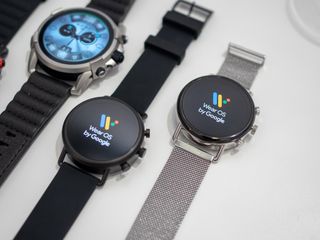 (Image credit: Android Central)
When you step back and look at 2018 as a whole, it was actually a pretty big year for smartwatches. Google's Wear OS saw a huge software overhaul, Qualcomm launched its first new wearable-focused processor in over two years, and Fitbit released its best smartwatch yet with the Versa while continuing to polish and refine its FitbitOS platform (not to mention the incredible Series 4 Apple Watch).
Smartwatches had a pretty good life for the past 365 days, and as we head into the new year, there are a few things we can look forward to that'll see them mature and advance even more.
Join me as we go through my top smartwatch predictions for 2019!
We'll see the full potential of Qualcomm's Wear 3100 chip
Like I said above, 2018 was the year that we finally got Qualcomm's long-awaited Snapdragon Wear 3100 processor for smartwatches. So far, however, it's been less than impressive.
Only two Wear OS watches with the new chip have been released, those being the Montblanc Summit 2 and Fossil Sport. While we've yet to review them here on AC, our friend Mr. Mobile and other various outlets have cited battery performance that doesn't live up to the big claims Qualcomm made for the new chip.
The general consensus right now seems to be that the Summit 2 and Fossil Sport aren't fully optimized for the 3100 and that future software updates should improve battery life as time goes on. Seeing as how legendary battery was supposed to be the 3100's big claim to fame, one can only hope that turns out to be true.
As we go into 2019, I think this will be the year that we see the true potential of Qualcomm's new chip. Software updates will be issued, OEMs will spend more time working with the chip so that it performs as good as can be, and I think that'll result in better end-user experiences as new smartwatches are released.
The end of 2018 was an awkward time for Wear OS between watches shipping with the outdated 2100 processor and the two 3100 models not living up to expectations, but those growing pains should (hopefully) be gone in the near future.
What's next for Fitbit
While Wear OS was trying to figure out what to do with its new processor, Fitbit managed to have a pretty great 2018. It followed up on its Ionic smartwatch with the Fitbit Versa and delivered a truly great smartwatch that was accessible for more wrists, easier on the wallet, and further refined the FitbitOS software experience.
I'm not entirely sure what we'll see from Fitbit in 2019, but one thing I do believe we'll get is a successor to the Ionic. The Ionic is well over a year old having first come out in October 2017, so this year would be a great one to refresh it with a sleeker body, new health features to better compete with the Apple Watch, and a more competitive price.
The Ionic is Fitbit's flagship watch, and while the Versa still serves as a great option for people that want a Fitbit smartwatch experience while staying on a budget, it's time for Fitbit to take what it's learned from the Ionic and Versa to create one kickass Ionic 2.
Lastly, we'll continue to see FitbitOS change and evolve as Fitbit figures out what direction it wants to take it. The 2.0 and 3.0 updates focused on adding new health features while further refining the user experience, and I think those trends will continue throughout 2019.
Maybe Google will release the long-awaited Pixel Watch?
Ever since the first Pixel phone was released in 2016, we've been waiting patiently for a Wear OS-powered Pixel Watch. It sure was looking like 2018 would be the year that finally happened, but Google shot that rumor down in late August by saying it was focused on helping third-party brands with their own smartwatch efforts.
At that time, Google said:
Does that mean 2019 is the year we finally see a Pixel Watch? Perhaps. We saw plenty of rumors and reports last year that Google was working on a Pixel Watch, with reliable leaker Evan Blass even seeming surprised that it wasn't announced alongside the Pixel 3.
There's no way of saying for sure, but if Google wants to be serious about pushing Wear OS, 2019 seems like the year it needs to get a Pixel Watch out on the market and on people's wrists.
What do you think we'll see?
Now that I've rambled on, what do you think we'll see from smartwatches in 2019? Will we finally get a Pixel Watch? Is Fitbit going to dominate the smartwatch market with new hardware?
Sound off with your thoughts in the comments below, and here's to an excellent new year!
Joe Maring was a Senior Editor for Android Central between 2017 and 2021. You can reach him on Twitter at @JoeMaring1.
Great article! I'm in the Android ecosystem using a Samsung GS8 smartphone right now so the smartwatch & fitness tracker options seem endless. I have used the Samsung Gear watches, Ticwatch, Fossil, Huawei watch, I even used Polar and Pebble. The options are wide. They all have great options, styles, pluses and minuses. I am now using the Fitbit Iconic. I got it at a great price in the 4th quarter of 2018. The health app and fitness tracking is far superior and more intuitive than what I have found in Wear OS, (Google Fit), and Samsung Health. I have been reading that the other health apps are improving & catching up though. Health tracking seems to be the most important feature these days in Smartwatches. The Fitbit Coach app is great as well. No question the smartwatch capabilities of the Fitbit Iconic or Versa are limited. When I had more smartwatch capabilites of the other watches I found as time went on, other than the alerts, I would end up using the phone. The fitbit has alerts and some limited smartwatch functionality. Fitbit seems committed to the core mission of health while adding functionality. I guess it is what you expect and need. I value the health features as most important so Fitbit is good for me.

The options are endless, but the quality is sh*t. Also, apps are absolute @$$ on Android, as someone who switched to the Note 9 from 4 years of iPhones. As much as I like the convenience of being able to do simple things like put an MP3 on my phone without going through hoops and iTunes... the quality and sheer "capability" that I've given up by moving off of iOS was absolutely wasn't worth it. This exitends to smart watches. Frankly, Android app developers simply aren't good enough for me, and too many companies are favoring iOS - too heavily - to keep the platform as a viable alternative to me. I'm really feeling like I have a $1,000 paperweight, and basically will be forced to pay the premium for an iPhone XS Max sooner rather than later. Definitely wouldn't invest in an Android smartwatch anytime soon. Google has been way too slow in this market, and Android's fanbase makes it impossible for other OEMs (like Samsung) to really take over and offer great alternatives. Too much "stock fetish" perpetuates the Android tech press. It really harms competing implementation, to the point that it isn't worth risking dollars on anything that isn't an Apple product in the Set Top Box, Tablet, Smartwatch markets. After this attempt to switch back to Android on smartphones, it's dead to me. The app quality is simply not there, and there are too many holes where there are virtually no viable apps in various market niches (with some companies (large companies) blatantly stating they "Only Support Apple Devices," but simply keeping the Android apps there to get free money off apps they basically never update - simply because there are no competitors within those niches).

Could we please get a better soc than the 3100? Ugh

This x1000
I don't want a Pixel watch until it can be released on a modern processor. Maybe it's time for Google to take another page from the Apple playbook and start designing their own chips?

I'm loving my Fitbit versa. I would love to see better response to texting and a speaker!

IMO competition from others and low prices will have the biggest impact on smartwatch design and sales. I have used fitbit charge, hr and hr 2 but decided to move to Garmin as prices have really come down. I even tried an Amazfit Bip for several weeks. It was close to getting it right ...but not yet. I look forward to better designs in the future and competitive prices.

I have used Garmin watches for years for tracking my runs...and switched to the Garmin Vivoactive series to get some smartwatch-esque features. I just wish there was an easy way to pass data to Google FIT for step counting and move minutes. I won't buy a Wear OS watch until the quality is much closer to an Apple Watch. Wear OS needs a single large champion to push capabilites and style forward...... I hope that 2019 is the year for this.

Had a Zenwatch 3 for about the past 18 months. Couldn't make it through a work day without it dying on me. Got the Versa through Amazon right before Christmas for $90. Miss a few things about Wear OS but the battery life is so much better.

I'm personally very disappointed in the wear OS arena. I realize that the Apple Watch series 4 is almost double the price of a lot of wear OS watches but man it is SO good. I am seriously considering leaving the android ecosystem for it. It's just insane that android wear had such a lead and they totally squandered it over the years. I blame Qualcomn but ultimately it's google who needs to step up and find another SOC vendor. Maybe I'll come back to android in a few years when they can get their act together.

I have a moto 360 and for me this was the bench mark for smart watches. It looked like a real watch and the amount of complements I got for it was amazing but for me nothing has come close to it in terms of looking like a watch. I never had any issues with the watch it's self to always ran well and got about a day and a half out of it but just before Xmas battery has finally started to give up so I have moved away to a Samsung Pro fit as I am now biking and wanted a fit band rather than a watch. It's not bad tbh but I still think the MS band is the best fitness tool on the market just ashame it was dropped. Anyway back to the moto ide love to see them make another watch but I don't think it will happen any time soon.

Just a thought from a non-techie, I have the Samsung Gear S3. I've tried several Wear OS watches and just didn't like the way they worked compared to Tizen. I use it for notifications and emails, etc. I don't use the health apps on any of the OS's so I can't compare those. Besides, I really like the rotating bezel a lot better.

Wasn't it only a few months ago you guys were saying WearOS would pretty much die in 2019? This is why grandiose predictions and hype (positive or negative) always miss the mark. Granted, you don't do it often but you can still improve. Your latest hype train is 5G and I'm getting pretty exhausted by it. WearOS isn't likely to be revitalized this year but I'm willing to bet it will perform better than 2018. Unfortunately, "WearOS likely to show marginal market improvement in 2019" isn't as headline grabbing as declaring it's doom.

I'm actually one of the people that likes using wearOS. My first experience is with the discontinued Verizon Wear 24 watch that I got for $80. For $80, I love it. Had I paid the original $300 I would have been pissed. It does everything I want it to do, and the Google assistant is what keeps me from a Samsung watch. I'm ready for when this dies to go with something like a tic watch pro or Fossil sport. HOWEVER, there is one obnoxious bug hanging out there almost all year. Basically the watch shows the icon of a cloud with a line through it to say that it's disconnected even though it's always connected on Bluetooth and Wi-Fi. Google is aware of the bug but had apparently not made the effort to fix.
If you look at this link to their bug system you can see tons of users with a variety of wearOS devices, even brand new models! and this is just plain unacceptable.
https://issuetracker.google.com/issues/77939918

I'm very disappointed that in 3 years, no. Smartwatch manufacture has been able or willing (other than Apple) to bring something new to the Smartwatch or fitness watch Space.
I have a MS Band 2 which I use every day - I know it's not a Smartwatch, but why hasn't any one manufacture added features to their devices like UV detection?
My 3 year old Band shows me my GPS route on screen, keeps my vitals synced to my phone (Galaxy S9+) without incident, can last 3 days (no GPS) , or about 6 hours with GPS on (not great) but it does the job well.
When my Band 2 eventually breaks, dies or the wristband can no longer be patched, I don't know what I will do - or how I will replace it. The current Wear OS, Fitbit and Tizen options don't have the right value to price ratio.
WearOS developers, OEMs, ODMs, etc, need to make something Great; and for those on a budget they need to make something really good that feels great to own and proud to own.
Other than desire there is NO REASON in the world that one company (Apple) is so significantly ahead of all others.
There is no rationale excuse for Google, Fitbit and others to be so far behind Apple or in Fitbits particular case, stagnant feature frozen in 2014.
[if Apple made a Apple Watch Android app, that's what I'd get - - and at this point in time, I think it's the ONLY thing that will rally the smartwatch and fittness industry into developing and creating GREAT devices]

Smaetwatches for Android really need to make significant improvements. Honestly Apple watch feels like it is several generations ahead

Wearos in itself is fine, good actually it just needs a good soc to back it which the 3100 isn't it. Assistant sometimes takes a bit too respond and a better chip would help.

I'm not sure google sees a pixel watch as a requirement for their hardware division. My guess is no pixel watch for 2019, but many more wear os fashion watches. I would like to see a wear os watch as good as the apple watch.

I think companies like Garmin, Suunto, and Fitbit have been responding to what customers demand and are crushing Wear. Wear, even with the new processor, won't be relevant. They didn't even close the gap in battery life and will likely lose ground this year as they release new models. I'm jumping ship now that my New Balance Run IQ just died.

I think we will see prices drop as new competitors enter the market. Smartwatches are priced way too high for what they are, especially the Apple and Samsung varieties. Once the prices come down, they will become less of a novelty, and more of a commonplace accessory. As for Google's smartwatch, I really don't care. Anything with the Pixel name is overpriced and irrelevant as far as I'm concerned.

I can see google wanting to be the company that wants to wait and release some super smart watch in 2020... the year I feel will the gate way to the future.

I have both a Ticwatch Pro and a Gear S3. They both have their pros and cons but I like changing between the two. The Ticwatch has more and better apps (along with more readily available watch faces) but the Gear is so smooth and that rotating bezel CANNOT be beat. I like both ecosystems but honestly, none of them beat Apple Watch.
Android Central Newsletter
Get the best of Android Central in in your inbox, every day!
Thank you for signing up to Android Central. You will receive a verification email shortly.
There was a problem. Please refresh the page and try again.