Top 5 Productivity Hacks for BlackBerry KEY2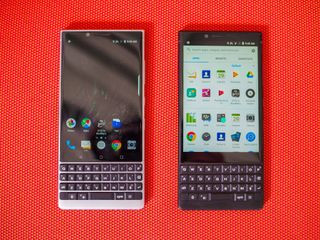 The BlackBerry KEY2 is a productivity powerhouse — just look at everything you can do with its keyboard.
But there's more than meets the keyboard with this phone. BlackBerry has outfitted the KEY2 with some additional productivity "hacks" that will make using the phone even more convenient.
Convenience key
If you've ever used an Alcatel phone, you'll be familiar with the Convenience Key, which has made its return on the KEY2. Located on the right side below the power button, it offers quick access to three apps, contacts, or other shortcuts, as set by you.
The beauty of the Convenience Key is its flexibility: you have myriad options because you have four individual sets of options depending on your situation.
The "Normal" mode is default and available whenever the three other conditions are not met. The "Home" mode uses your home Wi-Fi to determine when you're planted on the couch or working upstairs, and shows another set of actions. "Meeting" uses your calendar to determine when you're occupied with work. And "Car" uses your vehicle's Bluetooth to show yet another set of keys. Why would you want this? Let's go through a few options:
At home, you may want the convenience key to offer quick access to your favorite music or TV apps, or to quickly set a timer, or quickly open a particular security camera view.
In the car, you may want the key to call a pre-set phone number, or open Android Auto, or a favorite Google Play Music playlist.
During a meeting, you may want the KEY2 to be able to open Google Docs or Keep for quick note-taking.
You can change what the Convenience Key does by going into Settings —> Shortcuts & gestures —> Convenience key.
Shortcuts
We've already gone over this, but just to reiterate — because it's so useful — the KEY2's Speed Key is awesome in facilitating shortcuts from anywhere in the OS.
You can assign any keyboard key to perform an identical set of tasks to that of the Convenience Key (negating one, or both? Nah, choice is good!): opening an app, setting a speed dial, sending an SMS, or engaging in any one of Android's native shortcuts.
Get started by holding the Speed Key (it has nine small dots and is located on the bottom right of the keyboard, next to the SYM button) and tapping any letter of the alphabet.
Productivity Tab
The Productivity Tab is something that debuted on the PRIV in 2015, and it's still useful today — especially if you use BlackBerry's own productivity apps.
By default, you access the Productivity Tab by swiping in from the right side of the screen (there's a little silver indicator) which opens an overlay with a bunch of tabs. You can see your upcoming calendar entries, your emails, your tasks, and your contacts, with a bottom tab offering a space for widgets from other apps.
You do need to be using BlackBerry's native apps for the Productivity Tab to be useful — including the Hub. To get started, swipe in on the silver sliver to configure it, or turn it off completely.
Launcher tweaks
The BlackBerry Launcher is surprisingly robust and customizable, especially when compared to some others that ship on popular phones. For instance, you can apply custom icon packs to the entire home screen, which is a fun way of expressing yourself, and you can also change their size and grid formation.
Even more granular, you can change the labels on a particular app, or hide it altogether, which is neat.
Finally, BlackBerry supports something called "Pop-up widgets," which allow you to swipe up on an icon to engage its widget. Perfect for calendars, messaging apps, and news readers.
Quick Privacy Shade
Our final trick is a little one with a potentially large impact: quick access to the phone's built-in Privacy Shade.
Swiping down anywhere on the screen using three fingers activates the Privacy Shade, which is a quick way to shield unwanted eyes from what you're reading or watching on the phone. Even better, pair it with a privacy-focused screen protector, and you'll be working for the DoD in no time.
What are your favorite productivity tweaks?
If you're a KEY2 owner, or even a holdover from the KEYone days, what are your favorite productivity tweaks to keep you working hard and getting sh*t done?
Get the Android Central Newsletter
Instant access to breaking news, the hottest reviews, great deals and helpful tips.
Daniel Bader was a former Android Central Editor-in-Chief and Executive Editor for iMore and Windows Central.