Best 10 cases for Samsung Galaxy S6 edge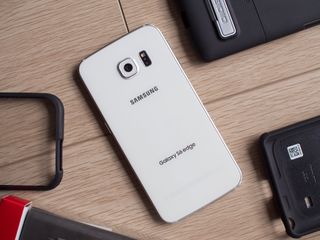 When it comes to cases, most of us have our favorites that we tend to stick with — whether they be affordable for your budget or designed to deal with damage better than the rest. Once in a while, though, it's good to branch out from that comfort zone to try something new for an even newer device.
We've selected 10 cases for the Galaxy S6 edge that include staff favorites, as well as community choices from the forums. Simply great cases that will keep your device safe from wear and tear.
Caseology Wavelength Series Case
Up first is Caseology's Wavelength Series Case — a slim, dual-layer cover that features a shock absorbing TPU underneath a thin polycarbonate shell. The unique wave pattern on the TPU case enhances your overall grip, matching nicely with the color scheme of the rest of the case. The skin is actually highly resistant to fingerprints and oils, too. It's a great medium to protect the Galaxy S6 edge that doesn't add a bunch of bulk, holding up to those harsher impacts.
Ringke Fusion Crystal Hard Case
We have a special love for clear cases, and one we've always enjoyed is Ringke's Fusion Crystal Hard Case. All transparent without the bulk.
After snapping your Galaxy S6 edge into this crystal hard case, you gain protection from scuffs, scratches and minor impacts. You'll also find dust caps (port covers) on the bottom of the case — which depending on your preference — may or may not be ideal. If the complete clear look isn't for you, there's a tinted smoke option to choose from as well.
OtterBox Symmetry Case
Designed to handle impacts like a champ, the OtterBox Symmetry Case for Galaxy S6 edge keeps a slimmer form compared to its Defender sibling, utilizing a co-molded construction with TPU and polycarbonate layers. The back shell is extremely smooth, and the side buttons have been raised for an easier press. Even though the Symmetry Case is built tough, it manages to stay friendly with most wireless chargers.
Samsung S-View Flip Cover
Given that Samsung's S-View Cover for the Galaxy S6 edge has a more unique design over previous versions this time around, we felt it deserved a spot on this list.
The traditional, smaller clear acrylic window of the S-View has been dropped with this model — being replaced with a full-screen, tinted transparent front cover that has quite a reflection to it. You can still manage incoming calls and other notifications through the cover while staying protected from front to back. It does have a little more thickness to it, but the case definitely looks sharp around the Galaxy S6 edge.
Verus Thor Active Case
For a little more heavy duty protection, we've chosen the Verus Thor Active Case. Not only is it the perfect match for Galaxy S6 edge users that need a rugged solution against damage indoors and out, it's bundled with a sturdy belt clip holster that doubles as a viewing stand.
Packed with a TPU cover and highly flexible polycarbonate, the Thor Active adds layers where it matters most — without bulking up your Galaxy S6 edge to the point it loses its appeal. It comes in a variety of colors to choose from, too.
Spigen Air Cushion Bumper Case
One of our community favorites is Spigen's Air Cushion Bumper Case for its see-through back shell and slim TPU bumper that raises the display just slightly from any flat surface.
The buttons along the side of the bumper are embossed for an easy press without sticking out from the rest of the case. There are 5 unique colors to pick from and each offer a clear back cover — allowing you to sport the sleek design of your Galaxy S6 edge.
Samsung Clear Protective Cover
The Samsung's Clear Protective Cover for the Galaxy S6 edge keeps original design a top priority while offering extra protection on each corner of the device.
This transparent cover is popular for its ability to handle minor impacts without overdoing it on layers or compromising the look of the Galaxy S6 edge. The camera, display, ports and buttons are all accessible while the case is worn, too. It even comes in a variety of matching colors including gold, green, silver and black.
Spigen Slim Armor Case with Kickstand
Sporting a slim design with both TPU and polycarbonate layers is Spigen's Slim Armor Case. Truly a fan favorite when it comes to the best cases.
The 1.2mm raised lip keeps your Galaxy S6 edge's display from touching any surface while Spigen's "Air Cushion Technology" helps to handle serious impacts on all 4 corners. And, for the kickstand lovers out there, the Slim Armor Case comes with its own integrated kickstand that folds flush when not in use.
Urban Armor Gear Case
Meeting military standards and surpassing numerous drop tests is the Urban Armor Gear Case for Galaxy S6 edge. This slim cover is extremely lightweight, but pulls off protecting the Galaxy S6 edge very well. All four corners feature a thick TPU to shield the major impact points, while the rugged polycarbonate shell adds serious grip.
Spigen Capsule Ultra Rugged Case
Last up is Spigen's Capsule Ultra Rugged Case for Galaxy S6 edge, a heavy duty TPU cover that packs both shock absorbing properties and unique accents on the back that provide a better grip in the hand. Spigen's Air Cushion technology returns on all four corners as well, taking on impacts without a worry. The beveled edges raise the Galaxy S6 edge's display approximately 1.2mm when faced down for a scratch-free device.
Get the Android Central Newsletter
Instant access to breaking news, the hottest reviews, great deals and helpful tips.