Best 10 cases for Samsung Galaxy S6 edge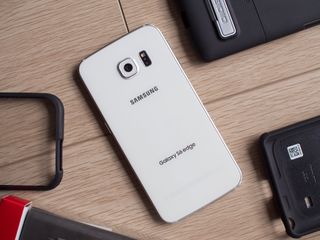 When it comes to cases, most of us have our favorites that we tend to stick with — whether they be affordable for your budget or designed to deal with damage better than the rest. Once in a while, though, it's good to branch out from that comfort zone to try something new for an even newer device.
We've selected 10 cases for the Galaxy S6 edge that include staff favorites, as well as community choices from the forums. Simply great cases that will keep your device safe from wear and tear.
Caseology Wavelength Series Case
Up first is Caseology's Wavelength Series Case — a slim, dual-layer cover that features a shock absorbing TPU underneath a thin polycarbonate shell. The unique wave pattern on the TPU case enhances your overall grip, matching nicely with the color scheme of the rest of the case. The skin is actually highly resistant to fingerprints and oils, too. It's a great medium to protect the Galaxy S6 edge that doesn't add a bunch of bulk, holding up to those harsher impacts.
See at Amazon (opens in new tab)
Ringke Fusion Crystal Hard Case
We have a special love for clear cases, and one we've always enjoyed is Ringke's Fusion Crystal Hard Case (opens in new tab). All transparent without the bulk.
After snapping your Galaxy S6 edge into this crystal hard case, you gain protection from scuffs, scratches and minor impacts. You'll also find dust caps (port covers) on the bottom of the case — which depending on your preference — may or may not be ideal. If the complete clear look isn't for you, there's a tinted smoke option to choose from as well.
See at Amazon (opens in new tab)
OtterBox Symmetry Case
Designed to handle impacts like a champ, the OtterBox Symmetry Case for Galaxy S6 edge keeps a slimmer form compared to its Defender sibling, utilizing a co-molded construction with TPU and polycarbonate layers. The back shell is extremely smooth, and the side buttons have been raised for an easier press. Even though the Symmetry Case is built tough, it manages to stay friendly with most wireless chargers.
See at Amazon (opens in new tab)
Samsung S-View Flip Cover
Given that Samsung's S-View Cover (opens in new tab) for the Galaxy S6 edge has a more unique design over previous versions this time around, we felt it deserved a spot on this list.
The traditional, smaller clear acrylic window of the S-View has been dropped with this model — being replaced with a full-screen, tinted transparent front cover that has quite a reflection to it. You can still manage incoming calls and other notifications through the cover while staying protected from front to back. It does have a little more thickness to it, but the case definitely looks sharp around the Galaxy S6 edge.
See at Amazon (opens in new tab)
Verus Thor Active Case
For a little more heavy duty protection, we've chosen the Verus Thor Active Case (opens in new tab). Not only is it the perfect match for Galaxy S6 edge users that need a rugged solution against damage indoors and out, it's bundled with a sturdy belt clip holster that doubles as a viewing stand.
Packed with a TPU cover and highly flexible polycarbonate, the Thor Active adds layers where it matters most — without bulking up your Galaxy S6 edge to the point it loses its appeal. It comes in a variety of colors to choose from, too.
See at Amazon (opens in new tab)
Spigen Air Cushion Bumper Case
One of our community favorites is Spigen's Air Cushion Bumper Case (opens in new tab) for its see-through back shell and slim TPU bumper that raises the display just slightly from any flat surface.
The buttons along the side of the bumper are embossed for an easy press without sticking out from the rest of the case. There are 5 unique colors to pick from and each offer a clear back cover — allowing you to sport the sleek design of your Galaxy S6 edge.
See at Amazon (opens in new tab)
Samsung Clear Protective Cover
The Samsung's Clear Protective Cover (opens in new tab) for the Galaxy S6 edge keeps original design a top priority while offering extra protection on each corner of the device.
This transparent cover is popular for its ability to handle minor impacts without overdoing it on layers or compromising the look of the Galaxy S6 edge. The camera, display, ports and buttons are all accessible while the case is worn, too. It even comes in a variety of matching colors including gold, green, silver and black.
See at Amazon (opens in new tab)
Spigen Slim Armor Case with Kickstand
Sporting a slim design with both TPU and polycarbonate layers is Spigen's Slim Armor Case (opens in new tab). Truly a fan favorite when it comes to the best cases.
The 1.2mm raised lip keeps your Galaxy S6 edge's display from touching any surface while Spigen's "Air Cushion Technology" helps to handle serious impacts on all 4 corners. And, for the kickstand lovers out there, the Slim Armor Case comes with its own integrated kickstand that folds flush when not in use.
See at Amazon (opens in new tab)
Urban Armor Gear Case
Meeting military standards and surpassing numerous drop tests is the Urban Armor Gear Case for Galaxy S6 edge. This slim cover is extremely lightweight, but pulls off protecting the Galaxy S6 edge very well. All four corners feature a thick TPU to shield the major impact points, while the rugged polycarbonate shell adds serious grip.
See at Amazon (opens in new tab)
Spigen Capsule Ultra Rugged Case
Last up is Spigen's Capsule Ultra Rugged Case for Galaxy S6 edge, a heavy duty TPU cover that packs both shock absorbing properties and unique accents on the back that provide a better grip in the hand. Spigen's Air Cushion technology returns on all four corners as well, taking on impacts without a worry. The beveled edges raise the Galaxy S6 edge's display approximately 1.2mm when faced down for a scratch-free device.
See at Amazon (opens in new tab)
Probably going to wait for the SAMSUNG S-VIEW FLIP COVER to be released, and see how it, looks. I cannot bring myself to cover this phone. I bought the Samsung Clear protective cover the day I bought the phone and returned it the next day. It was a very cheap slippy plastic that scratch easily and developed a crack around the camera, this is without having dropped the phone at all.

S-View case kind of reminds me of the LED-Note 4 Case, just better. Rooted LG G2 Rooted GSIII
Stock Galaxy Note 4
(The Sprint Lover)

I'm not a fan of flip cases but this one really intrigues me. Can't wait to see reviews on it, though it is pricey at $50+

Hmm... just ordered the Clear cover. I'm glad Amazon is good about returns.

Just an FYI as I didn't notice this until someone pointed it out to me. For most of Amazon's returns it seems like it's easy and free but they charge you a return shipping cost. They just deduct it from the amount of your return.

Spoiled by returning options... everybody these days, mostly Americans, firstly think about returning the goods and secondly if they really need it... terrible waste of materials! Ecology!

How did it "develop" the crack? By a brut force or by an excessive twist?

I like Ringke especially this one
http://www.amazon.com/Galaxy-Edge-Case-Technology-Protection/dp/B00TJ3DK...

The spigen cushion is great. Had it on my nexus 5, very protective for the size. Posted via the Android Central App

I have to add the Obliq Naked Shield case to the list. Very thin, crystal clear and offers protection on all four edges and a raised lip. Posted via the Android Central App

Currently typing this on an edge with the Spigen Slim Armor. It's a great case, especially if you like kickstand. Posted via the Android Central App

Does anyone know of a holster/belt clip that the Ringle Fusion or the Spigen Hybrid Ultra slide into fairly well? I like these two because they are slim, but still wish I could clip to my belt on occasion. Posted via the Android Central App

Bomea, makes one. I bought mine on amazon for about $10

I have 5 Obliq Edge cases I'd love to give away rather than try to sell.

Any of them the Naked Shield? I'll take them off your hands! Posted via the Android Central App

Yup one is a naked shield.

Really want to give it away? I'd love to have a spare. Posted via the Android Central App

Send me message I have no problem mailing them to you.

Hello! If you any extras, I'd love one too. Thanks in advance (: Posted via the Android Central App

Sure, message me as well.

Howdy, if you still have any extra, may I have one too? Thx in advance....

Yes, I'll hold the Naked Shield for Chaz since he was specific but first come first serve on the rest:
Black Slim Meta
Tri-Color Poly Bumper (gold,silver,black)
Brown Folio
Black Folio

Hi, may I have the Brown or Black Folio.
Or whichever other car is left.
Thanks

That's still available just message me. However, the brown Folio may be charcoal grey I'll have to refresh my memory Monday.

Is the black slim meta still available? I'd love to snag one if you're still giving away! :-D Posted via the Android Central App

Only the naked shield and tri-color bumper were claimed so far. Message me soon, trying to sending those out tomorrow.

PM sent, thanks!! Posted via the Android Central App

Do you still have them? I usually wouldn't let anyone give me anything, but I just crashed my car and they are making me pay 3,500k so I am literally broke. Lol.

I still have two flip cases.

If you still have any cases, I'd love one. cousin bought me a s6e and i haven't bought a case for it yet

Do you still have the flip cases. Just bought a S6 Edge and looking for a case to protect it. Thanks
Or email me

Hi deeb215 - do you still have any cases left? If not, what would recommend I purchase. I just bought a GS6 edge. Thanks for your help!

Naked is best. Ordered a Spigen slim armor for mine, it lasted about 30 hours before being tossed aside. Posted via the Android Central App

It's such a beautiful device, I'd find it difficult to cover it up with a case.

I got my S6 Edge yesterday and my Spigen Tough Armor case came in today. I love it. I've been super happy with my Spigen cases in the past, specifically the Slim Armor. I figured I wanted a little more protection this time around given the cost of the S6 Edge versus my previous phones. So far I really like the Tough Armor case and it doesn't seem like it's much thicker than the Slim Armor cases I've had in the past. The important thing is that Qi charging still works through the case, so that's a plus.

I picked up a nice generic case off of ebay works pretty good Best five dollars I ever spent Posted via the Android Central App

Was just wondering how many of you guys going with the clear case . There was no way I was gonna cover my gold s6 edge with a black case Posted via the Android Central App

I did. Love it (the Samsung brand).

Gow any of the 6 you guys reviewed work with the qi charging pads? Posted via the Android Central App

These particular cases aren't bulky enough to affect wireless charging from what we've seen Posted via the Android Central App

I got the spigen neo hybrid. Love the case and doesnt add much bulk either. Posted via the Android Central App

OK. I'm officially confused. The tech world has of course fawned over the GS6 like nothing with Android in a looong time. Every write up, hands on, and review points to the fabulous, exceptional, beautiful, excellent, wonderful, and "premium" nature of the build quality and materials now used on the sides and back of the device. Not that the S6 is not an excellent performer, but the giant hoorah is the premium build quality over previous iterations. Now, the vast majority of owners are going out (have gone) to purchase cases that are going to cover all this greatness up! Someone help me here, for I truly don't understand. How is this the major advantage the media / community is claiming once it's all hidden away under plastic or some other cover material?

Check out the Clear Protective. It doesn't interfere with the aesthetics...it improves them.

That's why I got a clear case (Ringke Fusion/ smoke), because it offers some protection, makes the phone easier to hold on to, and actually makes the phone look better IMO.

I read the title and was looking forward to the top 6 reasons (making a case) for the Edge...

Does anyone know of a good metal bumper case for GS6? Not the edge...

I was afraid that you weren't going to include the Clear Protective Only time I've had a case that I thought it IMPROVED the look of the phone. Not a ton of protection but the corners are covered, the back color exposed, and the access full. Way too expensive but I love it.

What is your opinion of the Trident Kraken AMS case? Ck out the military drop rating, vibration and dust covers for ports/plugs/etc.

I bought the ARMOR KING of alluminum, is amazing...

I bought the Ringke Fusion (smoke black version), and while it doesn't offer much protection it makes the phone easier to hold on to, and still lets the design of the phone shine.

Does anyone here like leather cases? They dont seem to be too popular but I have one from StoryLeather.com from my 26 edge custom too and I LOVE IT. I dont really like plastic hard cases.
Android Central Newsletter
Get the best of Android Central in in your inbox,