Top 5 best cases for HTC One M9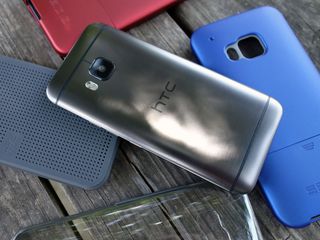 Many HTC One M9 owners out there prefer to rock their device without a case, feeling that HTC Uh-oh protection provides enough insurance in case of a serious drop. The rest of us, however, need that extra protection to make us feel safe. And rocking a case doesn't necessarily mean we have to compromise on style or slimness, either.
Our top 5 best cases for the HTC One M9 have been selected for their popularity in the HTC One M9 forums and staff favorites here at Android Central. Jump past the break to check out which cases made the cut.
HTC DOT View II Case
Featuring a unique matrix UI flip cover, the HTC Dot View II (opens in new tab) not only protects the HTC One M9 from scratches and impacts, but also lets you see notifications, weather updates, accept or reject calls, and even play games — all without ever opening the case.
Where the DOT View II differs from the original DOT View Case is the clear acrylic back shell. This plastic cover snaps around your HTC One M9, but is completely transparent, so you can still rock the original look of your device on one side. When opened, the case kicks-on your display for instant access, but when closed, it activates the retro UI of the front flap. The sheer uniqueness of this flip cover makes it a popular choice among HTC One M9 owners.
See at ShopAndroid (opens in new tab)
Spigen Slim Armor Case
A community favorite is Spigen's Slim Armor Case (opens in new tab) for the HTC One M9, utilizing a webbed TPU core to absorb impacts, topped with a smooth polycarbonate exterior that has a built-in kickstand for watching movies hands-free. No matter what color you go with — champagne gold, gunmetal or slate — each one compliments the HTC One M9 beautifully.
Glossy accents wrap around the top and bottom of the cover, adding to the Slim Armor's simplistic appeal. When the kickstand isn't in use, it sits flush with the rest of the case, providing an audible snap to let you know when it's secured. As its name implies, this hybrid cover really is slim — even with both layers of protection.
See at Amazon (opens in new tab)
Seidio SURFACE Case
Built differently from its predecessors, the SURFACE Case got a redesign with the HTC One M9, which includes a thin TPU layer that sits inside the smooth polycarbonate shell. The best part is that size wasn't sacrificed with this update. It's still the same slim hard case from Seidio we've grown to know and love, only with a little extra cushion.
Featuring two pieces that slide together from the top and button of the HTC One M9, the Seidio SURFACE Case (opens in new tab) adds a firm grip with its signature soft-touch coating and leaves access to your charging and headphone ports. The side buttons are easily accessed by the inner TPU layer, too. Color options include black, blue, red and violet.
See at ShopAndroid (opens in new tab)
HTC Clear Hard Shell Case
Perfect for the accident-prone HTC One M9 owner that doesn't care for cases, this Clear Hard Shell Case from HTC keeps your device looking pretty and wipes any worry of bulk away. Aside from the slim TPU bumper around the edges, this hard case is completely see-through, and looks amazing on the HTC One M9.
With that TPU bumper comes additional grip, which is nice. Side buttons are easy to press and ports are cake to access when it's time to plug in a charger for auxiliary cable. The lip around the display could be raised a bit higher, and the acrylic shell isn't the most scratch-resistant we've seen, but it's a great case for casual protection against minor impacts. You can snatch it up in either a black or pink bumper.
See at ShopAndroid (opens in new tab)
Spigen Neo Hybrid Case
Last up is the Neo Hybrid Case from Spigen, which makes the list for its slim design, incredible grip and bitchin' bumper. The patterned TPU that reaches across the back gives the case a slightly rugged appearance, but matches perfectly with the metal coated side buttons and smooth polycarbonate shell.
While rocking the Spigen Neo Hybrid (opens in new tab) you also gain display protection from flat surfaces, thanks to the raised lip on the front. Although the case doesn't come as one whole piece, installation is still very simple, including both the hybrid shell and durable bumper that keeps it all together. Take your pick of satin silver, gunmetal or champagne gold.
See at Amazon (opens in new tab)
More popular cases for HTC One M9 (opens in new tab)
Android Central Newsletter
Get instant access to breaking news, the hottest reviews, great deals and helpful tips
I have both the Dot View II and the HTC Clear Shield. I only used the Dot View for a few days before switching over the the Clear Shield for daily use. I find the Dot View finicky to use. I love the Clear Shield though. Fits perfectly, and just the amount of protection I need. It does show scratches, but that's the reason I got it. To protect from scratches on the device itself. I also have the Spigen Ultra Hybrid in Space Crystal. It's a great case that adds a little more drop protection than the Clear Shield, but I prefer the feel of the Clear Shield with it's thinner border.

I have three of the cases listed here; Dot View II, HTC Clear Shield and Spigen Neo Hybrid (bought before other two were available). My views on Dot View and Clear Shield are exactly as yours for same reasons! HTC's clear shield makes it easier to hit the correct button despite HTC's poorly executed decision to put the power button so close to the volume down button. I threw the Spigen in a drawer, however because the plastic on the side makes the case too slick to risk dropping it every time i pull it out of my pocket. Plus, that plastic side piece is so flimsy, it bent the first time i put it on and now there's a gap between the two pieces. This was was a failure, Spigen!

It's sad that I completely forgot about this phone Posted via the Android Central App

Let me guess, it wasn't the 5.2 inches of 4k Screen all android users were hoping for? I have it and the screen is beautiful, it sounds nice, it looks nice. HTC did a good job. Except for the camera, I'll agree that it's not the best. My BlackBerry Classic does take better shots. But all I use either for is taking pictures of my cats. So I guess it doesn't really bother me.

Yep you totally got it /s Posted via the Android Central App

Come on now, don't be That guy! Oh, wait... ;) Posted via the Android Central App

I want neo hybrid for oneplus ine Posted via the Android Central App

I love my neo hybrid! Doesn't add a lot of bulk and keeps my phone protected. Posted via the Android Central App

Case! And cover up all that premium, space-age, expensive, ratings busting aluminum with ..... wait for it .... puhhhhhlastic. LOL!!!

Wow. I can't believe nobody ever noticed the irony there before. Posted via the Android Central App

It's been noticed, and I dislike cases as well. But, if I'm gonna have a 3 year old playing with my phone, I'd rather not get it scuffed up. So I'll put a good looking one that still shows the phone through if I'm in a risky environment (Supcase Unicorn Beetle in smoked clear and black), then take it off the rest of the time. But, at least we CAN go naked if we want, with less risk than those with more, ahem, fragile phones ;)
Anyone see the M9 video where they do 3, 6, and 9 foot drops, THEN do a burnout on it which flings it bouncing 100 feet across the parking lot? Still working... Posted via the Android Central App

Still rocking my M8 naked after 8 months. I've dropped it face first on concrete and no scratches on the screen. HTC makes some very durable phones. Dont put it in a case! Posted via the Android Central App

I have a Seidio case which I put on for watching movies or playing Riptide with a controller plugged into the phone. However, the problem with the two piece case is that the halves do not stay together firmly enough for me to trust it. I would fully expect it to come apart if the phone takes a tumble down stairs. Posted via the Android Central App

I own the Dot View and the HTC Clear Shield for my M9 and they're awesome. It does a great job at protecting my phone from dents and scratches and playing with the dot notifications is pretty cool. It's pretty sweet playing with the patterns and notification settings with the dot case. The clear shield is pretty sweet too. Fits snugly and doesn't get in the way at all.

I originally bought the HTC clear case when I got my htc one m9, but then I switched to the Speck Candyshell Grip. It makes a huge difference when handling the phone because of the rubber stripes on it and those stripes also hold the phone in place when lying on its back ( the case). I had this case for my earlier HTC One and even talked my sister into getting one for her Samsung Galaxy. It doesn't come in many colors for the HTC One, but it's a GREAT case and I don't feel like I'm going to drop my phone anymore when handling it, especially for games.

What would be good book style cases for this? Do they make any that has the time view on the front?

LOL,appreciated to your pretty professional and detailed review about the top htc one m9 case,we guys really learn a lot and do know what the differences between the top ones between other knock offs and how to pick one preferable.
I am not worried about where to find the really cool case featuring logo any more until I came across a pretty useful blog at blog.onu-mall filled with tons of useful publications including how to pick the right cell phone case by googling how to pick a quality cell phone case,tracking the blog,i was surprised by a online shop with huge selections of various affordable cool htc one m9 cases, i bought a really fashionable latest Demin Texture Horizontal Flip Leather Case for my girlfriend,she is so impressed with the wallet style coming with card slots for conveniently storing her business cards or credit cards and with stand function allowing her to view video freely, i am so happy making she surprising and would like to share the online store named ONU-MALL ONLINE STORE!
Android Central Newsletter
Get instant access to breaking news, the hottest reviews, great deals and helpful tips
Thank you for signing up to Android Central. You will receive a verification email shortly.
There was a problem. Please refresh the page and try again.