Tonight, we take New York ...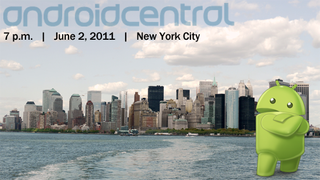 The time has come, boys and girls. We're in New York City (when are we not, these days?) tonight for the first official Android Central reader meet-up. (Official as in nobody's going to have to file a restraining order when it's over. We hope.)
We'll be meeting with a few of our favorite fellow Android blogers -- and most important, 500 or so of our closest friends. You! And for those of you who were able to score tickets, a few giveaways are in order. Samsung's going to be on hand to show off the upcoming Galaxy Tab 10.1 (among other wares, most likely), and will be giving away five of the Honeycomb devices. They'll also be giving away five smartphones. And we've brought along a few T-shirts and other swag to put on the pile.
For everybody coming tonight, see you at 7. (Full details are here.) For everybody else, we'll be covering the event as only Android Central can.
Android Central Newsletter
Get instant access to breaking news, the hottest reviews, great deals and helpful tips
WE'RE SOLD OUT! We've had a number of email requests for access but we're at capacity. Please add yourself to the waitlist and we'll contact you as tickets become available.

Can't wait to be there, should be plenty fun

See you guys tonight ill be there early

will you wear a name tag? or will we all just flock around Phil to recognize each other? :) EDIT: i will recon Phil by his hands, so familiar from dozens of unboxing and review videos

Very excited to see you guys and play around with the 10.1!

Excited to be there.. hope i can make it in time from NJ

Need to do one in Los Angeles too.

Seattle too! I'm sure Corey wants to hang out.

I will be there! Looking forward to this. I'll have to jump on the train right after work as I'm coming from NJ. :)

Got my ticket already printed, hopefully I make it in time.

Damn. So close for me too! Only 3 blocks away.

I shall be there tonight as I was one of the people who went on the wait list and received an email for registration and ticket.

We need a meetup at Phil's house. Hell its only 80 miles to Pcola for me.

See you there, hopping on a Manhattan bound train in 30 minutes.

How about St. Louis? Yeah, I know, everything skips over St. Louis.

Next time pick a bigger venue, I think you guys underestimate your following, especially in New York! Have fun everyone wish I couldve made it!

see you guys in a few hours getting ready for my hike into NYC as i type!

How feasable would it be to have an event like this in major metropolitan areas?
I am in Dallas, for example.
Or have several that are regionalized.

totally sucks!! was gonna go for it as would have loved to meet up with you guys but i have class tonight in college :( oh well maybe next time.

Can you guys make a stop in Columbus, Ohio? New to the Android world I would appreciate it

I say you all should do a meet up in Houston Next. Come on us people in the center of the country feel left out of all these cool shows.

I want a super pod cast with all the blogs like a super round table

Phil,
It was a pleasure meeting up with you at the Samsung Event. Send my best wishes to Jerry. Bob From NJ
Android Central Newsletter
Get instant access to breaking news, the hottest reviews, great deals and helpful tips
Thank you for signing up to Android Central. You will receive a verification email shortly.
There was a problem. Please refresh the page and try again.