Big News - a simple and well-designed news widget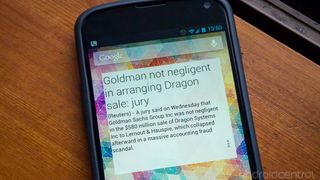 There are plenty of news readers and widgets out there, but not many do their job as elegantly as Big News Pro. Since moving to a new design language with Ice Cream Sandwich, we've been looking to fill our homescreens and app drawers with as many properly-designed holo apps as possible. Big News fits right in with this design, and actually has a nice feature set hiding behind its simplistic exterior.
Read on past the break and see what Big News has to offer as a news widget.
Big News doesn't have its own news reader attached to it per se -- it interfaces with your Google Reader feeds to pull stories, and the only front-end for reading them is the widget. The widget itself can be added like any other, and is resizable from 2x2 up to 4x4. You can change the color of the title and body text, as well as the widget background -- there are several text color choices and light, dark and clear options for backgrounds. The clear widget over a nice background makes for a very simplistic and striking homescreen presentation. There is a widget that offers pictures along with the articles, but so few of my RSS feeds have proper pictures in-line with the story feed that I went with the text-only one.
You can set a specific number of lines for the headline and body, but if the widget is sized too small the text will just trail off. We'd really like to see a scrollable widget option for this reason. The bottom right corner holds a barely-visible settings key to bring up an overlay of four option keys -- mark as read, refresh, next and settings -- that are also hard to see. Once you get used to where they are though it's not as big of an inconvenience as it first seems.
Tapping on the body of the widget will take you to your browser to read the whole story, because as I said there's no news reader integrated with Big News. If you prefer, Big News can send you to Deer Reader to read the article instead if you've chosen to install it -- app developer Reindeer Crafts makes both apps. We like the fact that the widget and news reader have been decoupled to give users the choice of where to open their stories. The browser will be preferable for most people.
Accessing Big News from the app drawer basically takes you into the settings menu, where you can choose which feeds should be displayed and further tweak advanced settings. The aforementioned widget settings are available here, as well as auto sync options, and the ability to turn on notifications for Jelly Bean devices (more on this below.)
I had a few issues getting the widget to refresh properly when selecting only a few feeds, but none when choosing all feeds to be synced. The Play Store comments don't seem to reflect this experience, so I'm going to assume it's just a one-off issue.
If you are running a Jelly Bean device, Big News can put the same functionality of the widget directly into your notification bar. The expandable and actionable notification will show the title and beginning of the story (or the headline image if you've selected) along with a button to share it directly or move to the next story. In the same way that some weather apps are starting to take advantage of the new Jelly Bean notifications, this is really a personal preference kind of thing. It's nice to see the option, and it's done really well in Big News.
Big News also integrates with Android 4.2's lockscreen widget functionality, and displays the exact same information as it would on a homescreen widget. Not many of us actually have Android 4.2, and the ones who do don't really use lockscreen widgets all that often, but this type of widget lends itself to being displayed on the lockscreen as glanceable information.
Big News does a lot more than you'd expect at first glance, and still manages to keep the design and functionality up to speed with the latest in Android. There's a free version on the Play Store, but if you like what it's doing, the "Pro" version at $1.29 is worth your while.
Android Central Newsletter
Get instant access to breaking news, the hottest reviews, great deals and helpful tips
Andrew was an Executive Editor, U.S. at Android Central between 2012 and 2020.
Must have that wallpaper,
where to download?

http://www.behance.net/gallery/iPad-Retina-Wallpaper/3516257

I find that widget to just be plain sick. Eww.

Agreed, why is there no padding on the edge?
Looks poorly designed

Exactly what I was thinking. Needs more padding.

Which bumper/cover are you using?

Funny you should ask... http://www.androidcentral.com/hands-poetic-borderline-nexus-4-bumper-case
Android Central Newsletter
Get instant access to breaking news, the hottest reviews, great deals and helpful tips
Thank you for signing up to Android Central. You will receive a verification email shortly.
There was a problem. Please refresh the page and try again.