Taking an Android eye around BlackBerry Devcon Europe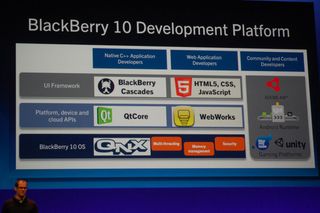 There are increasingly more and more stories that cross the boundaries between Android and BlackBerry of late. It is no secret of course that the forthcoming update to the BlackBerry Playbook to OS 2.0 will bring with it the Android Runtime feature. Allowing Android developers to repackage their applications for distribution in the BlackBerry App World, is just one of many different new development strategies that are being opened up ahead of the launch of BlackBerry 10.
In the Android community, there are a lot of mixed feelings around this. On the one hand, some feel that it is almost begging in trying to get Android applications on board. On the other hand some see the better (and real) side to it all -- it offers another opportunity to make money from selling your apps. There are a lot of amazing Android developers out there who deserve to be making as much money as possible from their work, and with minimal effort on their part the BlackBerry platform is opening a door to them.
Being at BlackBerry Devcon Europe in Amsterdam this week has really opened my eyes to how this is all going to work. The event sold out two weeks beforehand, with around 2000 eager developers from a variety of backgrounds descending on Amsterdam to learn for the future. Among those in attendance were a surprising amount of Android developers. Free PlayBook in hand, these guys are starting to get really excited about being able to distribute their already built apps to a whole new audience with minimal work. The sessions dedicated to working with the Android Runtime were so popular, that an extra session had to be scheduled on the first day to cater for the incredible amount of interest.
The guys from the App World team pointed out that in no way, shape or form are any of the submitted applications to be marketed as Android apps. To the average consumer, there will be no obvious difference. This is how it should be done. They aren't trying to market an Android tablet -- they would have probably just made one if that was the case. Once the repackaged Android apps are submitted to BlackBerry App World, the Android connection ends. Developers are registered as a BlackBerry developer.
The underlying message surrounds the simplicity at which apps can be repackaged. An apk file can be repackaged in a few different ways -- utilizing Eclipse, command lines or even simpler than that, through a web browser. To use the web browser requires little more than requesting some signing keys from BlackBerry, the Gingerbread SDK, and following the steps. Gingerbread or below only for the time being, as the Runtime is based around Android 2.3.3. But with Ice Cream Sandwich having been open sourced, dedicated tablet apps are likely to work with future builds.
We're not expecting Android users to flock to the PlayBook as a cheaper alternative to a fully featured Android tablet, the functionality you would be looking for is desperately lacking in some areas -- but then it isn't an Android tablet. There is a list of features API's that aren't supported at present within Android Runtime. A lot of these are hardware specific, so anything that needs NFC or the Camera for example probably won't work. There are a lot that do work though.
The App Express booth walked interested Android developers through the steps to repackage their apps and sent them away with a working bar file to use on their Playbooks. Of all the apk files put through the process on the first day, just one was incompatible.
All in all, the guys at RIM are welcoming developers from across the board with open arms, not just from Android. But there was a definite buzz around the conference. Nobody is begging for anything from anybody. There will always be different platforms, and competition between the platforms. But Android developers will continue to make killer apps for Android, and continue to deserve to make money from it. We should all be supporting our developers to further success by moving into BlackBerry 10 as well.
Interested developers not at Devcon Europe should remember that you can still get a free PlayBook to try out your apps on. Submit your apps to BlackBerry App World by Feb. 13 to take advantage of the offer.
Android Central's Richard Devine has been lending a hand at the BlackBerry Devcon conference in Amsterdam this week.
Get the Android Central Newsletter
Instant access to breaking news, the hottest reviews, great deals and helpful tips.