Take control of your Google Play application settings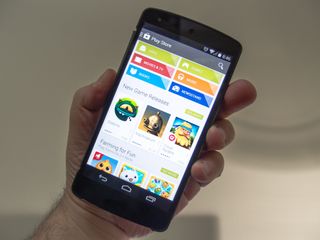 The Google Play application on your phone or tablet is your gateway to all the content Google has to offer. You'll use it often, whether you're looking at apps, books, magazines or any other digital content you can buy or rent from Google for your Android device. Needless to say, it's important to take a quick check of the general settings to make sure you have things just the way you like them.
We've already looked at password protecting your account to protect against unauthorized purchases, and how to manage your automatic update settings to control the way you use your data. Those an important subjects, so they each get their own section in our primer on Google Play. But there are other settings as well, and you should take a minute and set things up. Jump past the break, and we'll have a look.
Visit our Google Play page for everything Google Play
Getting to the settings is easy. Tap the menu button on your phone if it has one, or tap the menu icon in the upper left of your screen (the "hamburger" menu), and choose Settings from the list. You'll see a handful of items you can set, as well as information about the version of the Google Play application you're running on your device. Some, like the Notifications setting are simple enough -- check it to see a notification when there is an update available, uncheck it if you prefer not to see these notifications -- and some we've talked about before, like the Password settings and the Auto-update apps section. For a review of those, click here to learn about the Password section and click here to learn about Auto-updating.
The Add icon to Home Screen setting is one you'll want to set right away. It tells your phone or tablet whether or not to place a shortcut to any application you install right on your home screen. With the box checked, any time you install an app from Google Play you'll see its icon on your home screen. This can help you remember it's there, and makes it easy to find if you've got a lot of apps installed. If you would rather not have this shortcut placed on your home screen, leave the box unchecked. Note that this box is checked by default when you first sign in to your Google account on your new Android.
The Clear search history setting tells your device to erase the list of things you've searched for in the Google Play application. Any time you look for an app or a song or other content, the keyword you entered is saved in a list for easy retrieval. This list can get pretty long, and you may have other reasons for wanting this history erased. A quick tap pn the list item in the Settings menu will clear it all out.
The Content filtering section is important to talk about. This is where you can decide the maturity level of the apps you want to see displayed when you do a search or look through the different categories. If you want to see all the apps, be sure that every box is checked in the pop-up list you see when you tap on the Content filtering list entry.
Google's application store is pretty open, but there are content guidelines in place. If an app fails to meet these guidelines (see them in full right here (opens in new tab)) it will be removed. You're also able to report any violations of these guidelines you see, and there is a spot at the bottom of every applications page in Google Play to do just that. Generally, applications that contain any of the following are against the rules:
Sexually explicit material
Violence and bullying
Hate speech
Impersonation or deceptive behavior
Disclosure of personal and confidential information
The intellectual property of others
Illegal activities
Gambling
Dangerous products
Other content is rated by maturity level. Developers are encouraged to rate their applications accordingly, but Google can and will rate the application accordingly if they find it's incorrectly rated. Repeat offenders can find their developer account suspended. To see clear examples of what Google considers High, Medium, and Low maturity levels have a look at their app ratings guide right here. From there you can choose which level of content you want displayed. Any changes to this setting will require you to set a PIN code so that it can't be changed by anyone else. Google loves kids, and it's great to see them make it easy to help supervise their use of the Google Play store.
Take a minute and set things up correctly and you'll have a better experience while using Google Play. We know not everyone likes fiddling with settings and options, but sometimes it's something you need to do.
Senior Editor — Google Ecosystem
Jerry is an amateur woodworker and struggling shade tree mechanic. There's nothing he can't take apart, but many things he can't reassemble. You'll find him writing and speaking his loud opinion on Android Central and occasionally on Twitter.
Anyone know the method used for app update notifications? This is something I think I would like to turn on but not at the expense of my battery. Thanks.

Unfortunately there's a bug, at least on my 4.2.2 Nexus devices and 4.0.3 Amaze, that shortcuts are added to the home screen regardless of the user choice in Settings. :-( Posted via Android Central App

@ChromeJob, by chance are you using Nova Launcher? There's a Nova Setting to auto-add shortcuts that overrides the Play Store setting. I was super frustrated with this for the longest time until I discovered this setting. Hope this helps.

Will they turn auto-add widgets off by default already? It's annoying to have to set it every time I flash a ROM.

How about auto-update turned off as well? After restoring all of my apps, Netflix tries to update itself. Absolutely not. I understand they are trying to appeal to the more casual user, but you know my e-mail, you know what preferences I've had before, remember it.

if you want Android/google service to be build just the way you want 99% of the people would be disappointed. rather than complaining for silly things like this you start using backup/restore function.

Is that a nexus one in that picture?

I wish there were ways to make addons to the play music app. I'd love a way to have a 'add to collection' button next to songs in list view.. Or at LEAST a way to open the drawer without pressing the song again since I have big fingers Posted via Android Central App

Nice article, never thought of it before but I will have a look soon

i've already use it. i used a PIN number for my filtering content. but then i forgot that PIN number. i've tried do manu times to unlock it, but i couldn't remeber my PIN. how do i get this trouble done? help me please

how do you reset the content filter pin?

Hi, I really don't know where to post my question but I believe it has to do with mu phone's settings.
there are a couple of apps that I would like to install on my phone, Google Keep and YupiCall, and the only answer I get is that I cannot install the apps into my device. I thought it might be a restriction of the country (I live in Mexico), however there's 3 people that already have them while I can't.
That only leaves it to some sort of movement that I did to my settings without knowing, or my phone, Samsung GT-I9070.
I would really appreciate some help in the matter.
Thanks

Mary mobial sa play store ni chal raha plz help me
Android Central Newsletter
Thank you for signing up to Android Central. You will receive a verification email shortly.
There was a problem. Please refresh the page and try again.