T-Mobile announces pricing and availability of Samsung Galaxy S Relay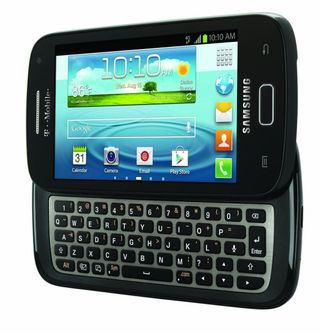 T-Mobile announced the QWERTY keyboard-clad Samsung Galaxy S Relay 4G last week without a peep about how much the thing will cost or when folks will be able to buy it. Today, T-Mobile tacked on a September 19 launch date and a $149.99 pricetag after mail-in rebate and a two-year contract. The Samsung Galaxy S Relay 4G is squarely in the mid-range, but a low pricetag, some new unlimited plans, and an honest to goodness keyboard may be enough to sway back-to-school buyers. Here's a recap.
1.5Ghz dual-core Snapdragon S3 processor
5MP rear and 1.3MP front cameras
1GB of RAM
T-Mobile WiFi Calling support
SAFE enterprise-ready features and capabilities
Personally, I prefer portrait-oriented keyboards, but I think I could get used to this one. Anyone else thinking about picking up a Galaxy S Relay?
Simon has been covering mobile since before the first iPhone came out. After producing news articles, podcasts, review videos, and everything in between, he's now helping industry partners get the word about their latest products. Get in touch with him at simon@futurenet.com.
anyone know how I could buy one outright and get it shipped to England?
Android Central Newsletter
Thank you for signing up to Android Central. You will receive a verification email shortly.
There was a problem. Please refresh the page and try again.