T-Mobile and Sprint merger inching closer to approval after passing security overview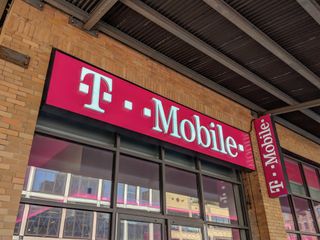 (Image credit: Android Central)
Remember back in April when T-Mobile announced that it was partnering up with Sprint to create one new network? According to a report from Reuters, the merger could be approved by the U.S. government as soon as next week.
However, as with most things, there is a catch. If T-Mobile wants the deal to go through, its parent company Deutsche Telekom needs to stop using any Huawei-made technology.
T-Mobile and Sprint (or any U.S. carrier) already can't use any Huawei equipment, and this move looks to be a bargaining chip from the Committee on Foreign Investment to pressure T-Mobile's parent company to follow suit and do the same. Should Deutsche Telekom disagree, Reuters' source notes that the deal "could still fall through."
Huawei has refuted the security concerns, saying that they're "unfounded", but that doesn't seem to be stopping the U.S. from cutting Huawei's ties with as many of its partners as possible.
T-Mobile initially said that it anticipated the deal with Sprint to be completed by the first half of 2019, so this would certainly help keep that timeline on track. Once T-Mobile gets approval from the Comittee of Foreign Investment, it then needs to seek approval from both the Justice Department and the Federal Communications Commission.
The T-Mobile / Sprint merger could be great for consumers, but it probably won't be
Android Central Newsletter
Get instant access to breaking news, the hottest reviews, great deals and helpful tips
Joe Maring was a Senior Editor for Android Central between 2017 and 2021. You can reach him on Twitter at @JoeMaring1.
I'll be back when coverage improves in my area

I really hope prices don't hike a whole lot

So, does this mean that Tmobile will switch everyone over to GSM phones, or maintain the CDMA network, as well? If they are going to switch everyone over to GSM, eventually, how is this deal any different from ATT buying Tmobile a few years back? One of the main arguments was that there shouldn't be one GSM carrier, because it would harm competition and advancement for the consumers... or something like that. Not to mention, what does Tmobile stand to lose, if the deal falls through? Will they have to pay a ridiculous amount, just like ATT did, when their deal fell through?

It's different for many reasons but stating the one you brought up, if T-Mobile turns Sprint's CDMA network to GSM, there will still be 2 GSM networks (at&t and T-Mobile). Yes, there will only be one CDMA network but that technology is fading as it becomes an all LTE network. T-Mobile will not lose anything if the deals falls through as they didn't agree to anything about that as at&t did with T-Mobile when they proposed merging.

Weak coverage not interested!!

Tried them both....
They suck....

Did everyone miss out on the mention of Huwawei on here?

I had T-Mobile, Sprint now, so if customer service doesn't Improve & billing spikes up then I will be a Cricket customer again so time will tell, waiting to see the outcome of this merger with these 2.

Switched from AT &T to cricket months ago. No problems whatsoever, wished we would have switched earlier

I've been with T-Mobile since 2012, and their C/S treat me like gold. I get what I need from them, when I need it. Coverage was spotty at the beginning, but it never let's me down now that they have improved so much in the last three years.

I dropped T-mobile finally last month I had my share of them for the past 3 years and now that ATT and Verizon has brought their pricing down and want to compete I jumped ship to Verizon which I have been way happier with. I know that prices will be going up eventually if the merger goes through so might as well get grand fathered in on a plan. But the coverage for sure has gone down hill with all the subscribers they have been adding on T-mobile so definitely the capacity issues I have been experiencing.
Android Central Newsletter
Get instant access to breaking news, the hottest reviews, great deals and helpful tips
Thank you for signing up to Android Central. You will receive a verification email shortly.
There was a problem. Please refresh the page and try again.