SwiftKey gets in on the April Fools' action with SwiftKey Tilt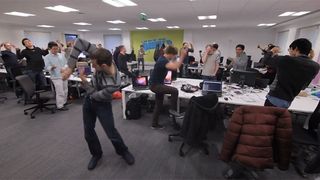 Not to be left out of the April 1 fun, popular keyboard app SwiftKey has today announced "SwiftKey Tilt," a new keyboard designed to offer a "whole-body typing experience." How's it work? Well, instead of typing with your thumb, simply guide a little pinball across the screen to spell out words. (And in doing so, look just as cool as the people above.)
Video's after the break. SwiftKey says the new tilt keyboard will be available today for those "inquisitive enough to find it." (Try typing "tilt," then long-pressing that word in the suggestion bar.)
SwiftKey Tilt: The Whole -Body Typing Experience
LONDON -- April 1, 2013 — SwiftKey today unveils SwiftKey Tilt, the future of smartphone typing. The revolutionary new input method transforms the everyday activity of typing into a whole-body, immersive experience. SwiftKey Tilt makes it possible to text loved ones, email colleagues and type soliloquies without even touching the screen; just rock, wiggle or shimmy your smartphone to insert words in a truly innovative way. Drawing on SwiftKey's mind-reading word prediction ability, SwiftKey Tilt is the most significant typing innovation since the quill.
SwiftKey Tilt works by unleashing a pinball into the keyboard to power a third, exciting way to type on your device. While tapping or flowing words, the device accelerometer sends the brightly colored ball across the keyboard and when it collides with a prediction, the word is inserted. This frees up thumbs to make even quicker progress through a text, email or Tweet. It also offers users an eye-catching way to interact with their devices and is fully compatible with both the Macarena and the Harlem Shake.
"We always felt that fundamentally typing is about how you express yourself," said Dr. Ben Medlock, SwiftKey co-founder and CTO. "We realized that we've never really focused on making that possible through physical movement, though. With SwiftKey Tilt we've changed all that. By moving your whole body to control the little pink ball, users can now be more expressive when they type. Whether that's body poppin', Gangnam Style or my personal Tilting move of choice of 'the mash potato', it leads to a more expressive and personalized result."
The innovative new typing method is available today for all SwiftKey users inquisitive enough to find it.
SwiftKey is a No.1 best-selling app on Google Play in over 50 countries, with contextual predictions available in 60 languages and counting. For more information about SwiftKey, visit www.swiftkey.net.
Android Central Newsletter
Get instant access to breaking news, the hottest reviews, great deals and helpful tips
Alex was with Android Central for over a decade, producing written and video content for the site, and served as global Executive Editor from 2016 to 2022.
Scientists eager to discover the language of honeybees strapped Android phones running SwiftKey Tilt on the insects to log their motions. Their findings were that bees spend a lot of time saying, "Get this buzzin' thing off me."

I think I'm going to stay away from the internet today. All this April fools shit is annoying.

It's also not a joke. Tilt is real. Type in "tilt" without the quotations and hold the blue suggestion box.

I wondered why the update was pushed out a few days ago. They obviously had this planned for a while. Very funny. Reminds me of Tilt Pong.
Android Central Newsletter
Get instant access to breaking news, the hottest reviews, great deals and helpful tips
Thank you for signing up to Android Central. You will receive a verification email shortly.
There was a problem. Please refresh the page and try again.