SwiftKey, Cyanogen, Aviate host device customization Meetup in San Francisco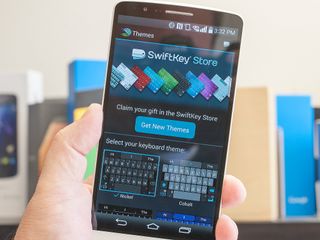 SwiftKey is hosting a meetup in San Francisco, CA on Thursday, December 4, to talk about device customization. The maker of the SwiftKey keyboard will be hosting a talk along with speakers from Cyanogen, makers of CyanogenMod, and Aviate, to talk about how you can personalize and modify your device.
The event will include snacks and drinks along with a networking portion. During the session, you'll get to hear talks from Joe B. from SwiftKey, Aviate co-founder Will Choi, and Cyanogen director of engineering Howard Harte.
If you're in San Francisco, be sure to check out the source link below to RSVP through Meetup as "space is limited."
Source: Meetup
That tablet is too big to be holding in one hand :)

I would love it if Swiftkey added an option to customize what email domains it's @ key would show when long-pressed. I would love to get rid of hotmail.com and yahoo.com and replace them with my company's email address and my client's. Swiftkey if you are listening... please add this option if it is reasonably easy to do so!! Thanks!

I've requested that very feature before. It would be so much more convenient. Posted via the Android Central App

I too would love that. I'm missing outlook which was there for a spat and then replaced by Hotmail. Next-us

I would love it if Swiftkey could fix the lag. For now it should be called SwiftLag.

Latest version has no lag on either of my devices... So far. Next-us

The lag is definitely from your phone. My nexus 6, and my previous nexus 5, has been swift. Posted via the Android Central App

You mean LagKey? Haha Posted via the Moto X Pure Edition

It definitely used to have lag, but they released an update that fixed a lot of issues! Posted via the Android Central App

3 giant companies are getting together to talk. One of them is yahoo (aviate). Please no buyout. Posted via the Android Central App

Just a friendly chat about device customization. =D.

i'm looking forward to the event! Thanks for sharing guys.
Android Central Newsletter
Get the best of Android Central in in your inbox, every day!
Thank you for signing up to Android Central. You will receive a verification email shortly.
There was a problem. Please refresh the page and try again.