Survey: What are your mobile typing and messaging patterns?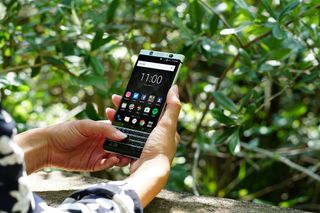 Every single day, all over the world, people are sending messages back and forth through a multitude of different services, and according to some estimates, more than half the world now uses a smartphone. That means there are a lot of folks out there tapping away on their devices using both virtual and physical keyboards.
But do folks enjoy the experience? Can those virtual and physical keyboards be improved? Do people abandon writing longer messages on their smartphones until they get to a computer where the typing experience is arguably better? These are all questions we have and to help get them answered, we have put together a little typing and messaging patterns on mobile survey that we hope you will take part in.
The survey is five simple questions about how many messages you send, what you do most on your smartphone and how you feel about the typing experience your smartphone offers. It shouldn't take any more than five minutes to complete, and we certainly appreciate you taking the time to fill it out! You can fill it out in the embed below, or if that's not working properly you can click on the link below.
Android Central Newsletter
Get instant access to breaking news, the hottest reviews, great deals and helpful tips
I talk on the phone more than text.

You can talk to people on a phone? What is this sorcery

Another question might be... "What keyboard do you use on your phone?" Samsung keyboard has always been awful. SwiftKey has best predictive text... And for awhile had the biggest keyboard too... Easily my favorite. Also... "How do you type?" lol... I'm right handed.... Exclusively a left thumb only typer on a smart phone.

I agree. I based my answer on the typing experience on my use of SwiftKey. If I was judging the default keyboard the score would be way lower.

I don't want to be hounded for this but my best typing experience was on iOS. I've yet to mimic the feel of that keyboard on Android. I have a S7 Edge currently and I tried to stick with the default Samsung keyboard and couldn't. I'm using GBoard right now and it sometimes takes a few seconds to pop-up and even then, sometimes there's input lag or I have to click 3 different menus to get to the symbol I want. Ahh it's just a head ache.

Try the BlackBerry virtual keyboard. Simply the best. It's what makes my S7 Edge even better.

To me, the iOS keyboard feels roughly the same as the BlackBerry VKB (i hate them both).
Gboard is much easier to use.

Not trying to bash your use of iPhone but I feel the opposite, I HATE the keyboard on iOS. It's part of the reason I never wanted an iPhone or iPad.

I'm also not a fan. I only use third party keyboards on iOS...

I'm sorry for what I'm about to say, but I feel obligated to say it since no one said it yet..."how dare you say something positive about Apple"and all that (Don't tell anyone here, cause I won't hear the end of it, but I agree with you, I prefer the iOS keyboard too, it's just more accurate, imo)

GBoard works best for me on my S7, S7 Edge and LG G4, I just find myself being a little clumsy a lot of the time so can have issues with just about any keyboard LOL. Do like typing on iOS too via iPad 4 Mini. What works best for me though is "voice" typing, much better success rate/outcome I find... Just feel stupid talking to my phone in public ;)

Swipe-typing is black magic. i type faster on my phone than i do on pc.

That's because you don't know how to type. But you're very good at swiping ;)

Yeah that and great suggestions makes it much easier for me and I prefer that. I have learned that with the Samsung keyboard, swipe-typing is not enough since the word suggestions don't always make sense.

I just hate typing on glass :-(

WTF is up with the ghastly spell checking on Android? It is so bad. Obvious misspellings get the most effed-up autocorrect suggestions.

SwiftKey for me, but I don't like when my passwords show up in the suggestions.

Survey won't work in my phone. It refuses to scroll past the original screen.

It doesn't work for me in the AC app (won't scroll down) but the "Take the survey" link works splendidly for launching Chrome for Android, where things are fine.

I answered the survey questions as they were written, but the question didn't include messaging apps like WhatsApp, which is about 90-percent of the messaging I use here in the Middle East. I think the survey may be undercounting the actual amount of messages sent due to the wording of the questions.

Once again, can't finish an article or take a survey because of as placement. Ugh.

I find these smart keyboards dummer than the old ones before smartphone days. My old Ericsson and Nokia phones would remember phrases accurately. My current one will predict the same wrong word repeatedly... So much for machine learning...

I am on my LG V20 and have the BlackBerry VKB loaded which is the best out there, it has flick to flick a word up and no other KB out there has that, really I guess BB was in the dark ages on that I guess all the other KB's out there are in the dark ages if they cant figure out how easy this BB KB is to use, try it people

BlackBerry KEYone PKB for the win.

Blackberry Virtual Keyboard is the best with my V20

Blackberry virtual keyboard here too

I want my HP LX100 back with my S8 inside.

BlackBerry VKB all the way. I feel like not enough people know how great this keyboard is.
Android Central Newsletter
Get instant access to breaking news, the hottest reviews, great deals and helpful tips
Thank you for signing up to Android Central. You will receive a verification email shortly.
There was a problem. Please refresh the page and try again.