Surface Duo will receive OS and security updates for three years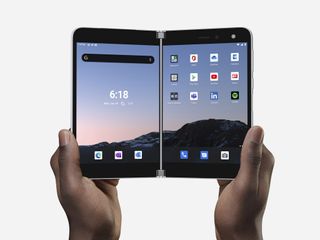 (Image credit: Microsoft)
What you need to know
The Surface Duo will receive security and OS updates for three years.
The Google Pixel and several Samsung flagships have a similar update cycle.
Some manufacturers don't commit to three years of updates for Android devices.
Microsoft's Surface Duo will receive both security and OS updates for three years. Microsoft stated its commitment to updating the Surface Duo for three years to Android Authority. Microsoft had already committed to updating the Surface Duo regularly with both OS updates and security updates but hadn't specified how long the device would receive support.
Microsoft stated to Android Authority that the Surface Duo "Will be supported with OS and security updates for three years." Microsoft's three-year commitment to updates for the Surface Duo lines up with the Google Pixel, and several flagship devices from Samsung, including the Galaxy S10, S20, Note 10, and Note 20.
The Surface Duo starts at $1,400, so people would likely be upset if Microsoft didn't commit to updates for several years. Some companies only ship security updates for three years, with less support for major OS updates.
Preorders today!
(opens in new tab)
Two screens are better than one
Microsoft delves into the future of foldables with an ambitious dual-screen device, featuring two ultra-thin 5.6-inch AMOLED displays bound by a 360-degree hinge. This pocketable inking-enabled Android smartphone marks the latest in the Surface lineup, geared for mobile productivity.
That's nice, especially when they drop support for thier own product in 2. Microsoft's history is littered with examples. $1399 and its not even 5G LOL which planet is Panoy on, few years ago he was a great salesman, today he's still a salesman, but the shine has come off those cars. Sorry, will check in 3 years to see if the tech is on par or ahead of the competition, or if it even exists before giving this company any more money. Your other site sums it up nicely - https://www.imore.com/microsoft-surface-duo-april-fools-joke-august

So is Google's and Apple's history? What's the point you're trying to make. Look it's ok if this product isn't for you.

Devices costing half the price already get that amount of OS and security patch updates...

Every Android OEM needs to do better than three years.
Android Central Newsletter
Get the best of Android Central in in your inbox, every day!
Thank you for signing up to Android Central. You will receive a verification email shortly.
There was a problem. Please refresh the page and try again.