Starbucks app now lets you order and pay for coffee with your smartphone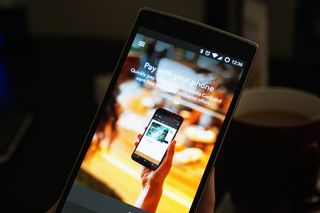 The official Starbucks app for Android has picked up an update, which enables you to place an order and pay for said drink without speaking a word. It's now possible to grab a coffee from your local Starbucks in the US using nothing other than your smartphone.
Customizing your order within the app is only the beginning of your caffeine fix journey, which will likely result in you locating a suitable workstation to pull out the laptop covered with trendy stickers.
Bundling both payments and ordering into the mix and you've got a fully working Starbucks self-service, only you're not the one making the coffee. It's worth noting that the changelog specifically states the new feature will only work in stores Starbucks owns. The company has announced this feature will roll out to Canada and the UK next month.
Download the latest version of Starbucks from the Google Play Store.
Source: Starbucks
I was excited to read this until I read the dreaded "in the US" But glad to see it's being rolled out. I'll give it a shot when it hits the UK.

Isn't it all about the tea across the pond Posted via the Android Central App

Yes!!! Now if dunkin donuts would do this, I wouldn't ever have to talk to anyone when getting coffee in the morning. It would benefit the poor worker who has to deal with me in the mornings... Posted via the Android Central App

Dunkin donuts is muddy water and tastes like azz. Especially if u don't put that heavy cream that they fill half the cup with Posted via the Android Central App

DD can never get my coffee right, even if I order it black to fix it up myself. I think they may be Tim Horton's refugees, filling orders for "regular" coffee. Posted from my XT1575

7-11 coffee hands down over SBs and DDs. Or just make your own with cafe bustello. That stuff is rocket fuel. No need whatsoever for $5 cup of joe Posted via the Android Central App

Agreed...Cafe Bustello + Keurig = instant rocket fuel Posted via the Awesome Galaxy Note 5

I love gas station coffee. Cheaper than the big names and has all the same kick. Posted via the Android Central App

Now if only my town had a Starbucks lol Moto G 2nd Gen 2014 on Cricket
Motorola IronRock XT626 on SouthernLINC
Asus Nexus 7 2013 on WiFi

Neat to be able to order and pay from my phone. As I see it, Starbucks is expensive and it is a treat every once in a while. Most days I pop a Lavazza K-Cup in my Keurig and I am good. Dan Posted via the Android Central App

I would think most Starbucks in the UK are franchised, as are McDonalds, so it may not work anyway.

Starbucks is a corporate business. Only franchise stores are the ones inside malls or other businesses like target or Disneyland. Posted via the Android Central App

You may be correct, but franchising is bigger here. I would think there is a higher level than that. http://www.starbucks.co.uk/business/franchised-stores/opportunity http://www.starbucks.co.uk/business/franchised-stores

You've been able to pay with your phone for a while now. Posted via the Android Central App

Yes but now you can order and even customize your order before you get there. You also pay with it before you get there so by the time you arrive you skip the line and go straight to the barista to pick up your drink. I've been using it on my iPhone for a couple of weeks and it's a time saver. I order 5 minutes before I get there and it's waiting for me without ever speaking to anyone. Great to have it on my Note now. Note 4 vs Note 5 Speed Comparison: http://youtu.be/MYkTxA7dcEY

I see. Yea, that will make it easier. Except startbucks has gotten expensive. I only go there when i get a coupon or groupon deal. Lately iv'e just been going to my local cuban shop and getting some cuban espressos and regular coffee there. 10 times better. If I want a good real pumpking spiced latte then I'll go to Panera.

Mobile order has been available for ios for months now. Glad it's finally available on Android Posted via the Android Central App

But half the experience is talking to the barista! Mmmm...

Ding Ding. It's one of the few times I now get a smile from a pretty girl.

Haven't been able to use this on my note 4 for five updates now. Constantly getting a system error when signing in Posted via the Android Central App

Only in-store? This is 'merica, I demand it work for drive-thru so I don't have to roll down my window except to receive my grande caramel apple spice. Posted via the Android Central App
Android Central Newsletter
Get the best of Android Central in in your inbox, every day!
Thank you for signing up to Android Central. You will receive a verification email shortly.
There was a problem. Please refresh the page and try again.