Starbucks app update bringing coffee goodness to the UK and Canada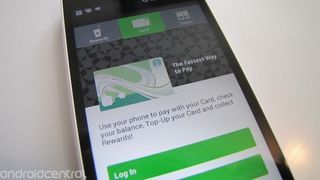 Attention coffee fans. Great news; the Starbucks app for Android has today received a large update bringing support to the UK and Canada. That means that coffee addicts on both sides of the pond can now enjoy mobile payments, the store locator, My Starbucks Rewards Stars, check balance and reload, pin code protection, a home screen widget and transfer capabilities. Good stuff!
Users of the app in the USA still get a few added features including a widget, PayPal support, pin code protection and the ability to view 'My Starbucks rewards' history.
You can find the full press release below or just grab your download of the updated Starbucks app here (opens in new tab).
SEATTLE--(BUSINESS WIRE)--Starbucks (NASDAQ:SBUX) today announced the continued global expansion of the Starbucks mobile platform with the roll-out of Starbucks® app for Android™ to the United Kingdom and Canada. In addition, U.S. customers who download or update to the official Starbucks® app for Android™ will be able to experience new enhancements including a widget, PayPal™ support, PIN code protection, and viewing the My Starbucks Rewards™ history dashboard.
"The expansion of our mobile payment footprint to two of our most important markets is a strong milestone for us, but more importantly, it extends the number of customers who now have a faster and easier way to pay at Starbucks," said Adam Brotman, chief digital officer at Starbucks Coffee Company. "We are thrilled to extend mobile payment capabilities to Android smartphones in the UK and Canada and enhance the experience in the U.S."
Customers who download the official Starbucks® app for Android™ in Canada and the UK will now be able to access a range of features including Starbucks Card mobile payment, store locator, My Starbucks Rewards™ stars, check balance and reload, PIN code protection, widget and balance transfer capabilities. Through the Starbucks® app for Android™ expansion to the UK and Canada, Starbucks mobile payment will now be accepted at nearly 14,000 Starbucks locations worldwide.
Starbucks® App for Android™ Features:
Starbucks® app for Android™, available on Google Play, is available for phones running Android™ 2.2 or above and is designed to offer a rich user experience. Starbucks® app for Android™ allows customers in the U.S., UK and Canada to:
Pay with your phone: Enjoy the faster, more convenient way to pay at participating Starbucks stores. Just download the app, enter your Starbucks Card number, scan and go.
Pay and reload with PayPal™ (NEW): Pay and reload your Starbucks Card via PayPal on your Android device through the Starbucks® app for Android™ (US and Canada only). Additionally, you can use your smartphone to reload your Starbucks Card using any major credit card.
Manage your card account: Access your Starbucks Card balance directly from your phone.
Manage and check your My Starbucks Rewards status (ENHANCED): Find out how close you are to earning your next free drink through an easy-to-view My Starbucks Rewards™ history dashboard.
Find nearby Starbucks stores: Save time by finding a Starbucks store near you. The locator helps you view the stores through a map view or list view and helps you search for stores based on your needs.
Activate a widget (NEW): Core to the Android™ experience, a widget is now available so you can quickly and easily view your balance, My Starbucks Rewards™ star count, store locator and Touch to Pay icon.
Leverage safeguards (NEW): Add another safeguard by including a PIN code protection.
Starbucks® app for Android™ is available for phones running Android™2.2 or above. To download, visit Google Play at https://play.google.com (opens in new tab).
I got excited because I thought the new update redesign might make the app more ICS-like. Boy was I wrong. This thing is bloated and slow. The graphics don't look right and seem compressed on my Galaxy Nexus. Just awful.

I noticed the same thing, the graphics including the icon for the app are no where near sharp on my nexus. Looks very amateur.

It's really bad. We need ESPN to redesign!

So Bloated that I dropped it. It was 5meg before the update, and even larger after. Go get My Coffee Card Pro or Free from the market. It does everything the Starbucks app does and takes up a mere 564K, and launches instantly, works perfectly with your Starbucks cards.

"Attention coffee fans" and "Starbucks" do not belong in the same sentence. McDonald's has better coffee.

Easy Ali! Some people need to be drawn gently into the light. Or maybe they like coffee made from burnt coffee beans roasted 6 months ago. ;)

Or you can just accept that people have different tastes and move on with your life.

I've noticed lots of complaints about this update. The widget doesn't work or do anything at all on my GS3.

Do Not Install.
Stay with the the old app for a while. The reviews on this update are universally BAD. Over heating phones. Can't kill it. Open faint launching for no reason.
It appears to have major problems. There are many places that have better coffee than Starbucks. But McDonalds isn't one of them.
Go watch them refill the coffee machine at McDonalds some time. Ugh.

I've never watched them do anything with the coffee machine, but I know I'll drink McDonald's coffee over Starbucks any day. If I'm at Starbucks, I have to get so many flavors in it to cover the taste of the coffee, I might as well be drinking a bottled Frappuccino

If you're trying so hard to "cover the taste of the coffee" then why are you even drinking coffee? I drink coffee from both, black, and I don't find either to be better than the other. Maybe you should try a lighter roast of bean (blonde) if you ever go again.

Coffee goodness? So it sells competitors coffee?

Unfortunately the coffee roasting process at Starbucks seems better suited to Espresso-based drinks, which taste fine IMHO. That said, I fine their brewed coffee mostly offensive, though I have consumed them on occasion. I tend to like McDonalds coffee, plus it's cheap (like 25% of a comparable Starbucks cup). My truly favorite coffee is a medium-roast Costa Rican bean, freshly-ground and brewed at home. Yummy.

Costa Rican? Please. Go find a local roaster, and lay your hands on some Ethiopian Harrar.

I would suggest not updating for now. Per the comments on the market, this update not only messes up the Starbucks app but apperently does weird things (one person said it somehow opened 3 other apps when launched). To me, this app has already seemed like an iphone port (the Starbucks iphone app works beautifully). So this could be yet another poor iport.
Android Central Newsletter
Get the best of Android Central in in your inbox, every day!
Thank you for signing up to Android Central. You will receive a verification email shortly.
There was a problem. Please refresh the page and try again.