Sprint's upcoming Samsung SPH-D600 gives entry-level a whole new meaning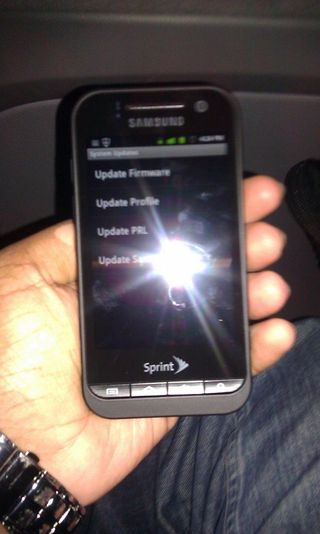 This week we're getting a better look at the mysterious Samsung SPH-D600, that entry-level WiMax device said to be destined for Sprint's 4G network. We first saw the prototype a few weeks back but now we're getting a look at it in all of its blurrycam glory. Again, it looks like this will be a Gingerbread-powered device, with 1GHz processor under the hood, a 480 x 320 resolution screen, and 3.2 MP rear facing camera with a front-facer as well. One thing we're still a little unclear on is whether or not this device will have the slide-out keyboard recent rumors have been suggesting. Regardless, "entry-level" is starting to look pretty darn attractive, wouldn't you say? Still no word on when the D600 will be hitting Sprint, or what name it'll carry, but you can be sure we'll pass along all of the information as soon as it becomes available. Hit the break for the rest of the D600's impromptu photoshoot.
Source: Phandroid
Android Central Newsletter
Get instant access to breaking news, the hottest reviews, great deals and helpful tips
I love the fact that they're releasing a slew of new devices this summer... I just really really want them to give the Evo 3D it's release date. Hell it could release July 1st for all I care, I just want to know already....

Pretty sure they will stick with the first week in June. Their last two flagship phones came out then and it gets all the premier members to reup their contracts every year.

No it wont. They took away the one year full upgrades for everyone not on the really expensive unlimited minutes plans. I used to upgrade yearly. Not anymore

Well...I could wait til July 1 because that's the day I'm eligible to upgrade from my Intercept!

This is almost on par with vzw's high end stuff right now... sad

That's what I was basically thinking. It is indeed sad.

Please. Verizon has plenty of good phones.

Yet they release no roadmap for Gingerbread elsewhere.

Eh i cant wait for my epic to get gingerbread officially

Very nice. Screen resolution is still low, but it's entry level. Anyone know if the 1GHz processor is a hummingbird?

Looks like a replacement for the Intercept or whatever that Moment replacement was called. Either way, it is going to be a huge improvment over either of them.

They must be hard at work on gb builds. EE15 is only 12 days old. Can't wait for gb on, my epic.

I really don't understand why anyone would buy an entry level device if they are signing a new contract why not pay the extra for the latest tech. There is always form-factor to consider but Sprint has high-end phones with just about any form-factor. I guess an extra $100 is just too much for something you're gonna have at your side the better part of the day.

If it's priced under $75, it will attract additional phones on family plans. One gets a higher end phone and everyone else in the family wants an Android phone.

Exactly. Moms and dads may pay $75 for a phone for junior, but paying $199 or $249 may not be something they want to do.

Some people want a balance between a personal form factor preference, functionality, performance and value. At the time, Sprint's entry level phones didn't carry the 4g data charge. Therefore, the Optimus S was the right choice, as it seemed very HTC-influenced (without Sense) unlike the Samsung offerings that many have criticized for a number of reasons. It's a solid phone for a non-superuser.

I love my optimus s. If i could get my optimus as a slider or with blackberry curve-esque keyboard. That and updated to gingerbread then i'd be super happy. It has been a pretty reliable phone thus far. It was priced well and performs admirably. It also fit the pockets with out weighing them down. I think LG got it right when it comes to an entry level phones. There are people like my parents who still use simple flip phones and enticing them to pay the money for bulky phones that they get frustrated by because it force closes is not a good market strategy. Solid well made entry level phones are definitely the way to take a market. not everyone can afford a HTC EVO or IPhone every month. remember even though some of us enjoy the latest update of android there are those who just want a phone to make a simple call.

it seems like this is just a better version of the Samsung Transform

Given Samsung's low end phones, probably so.

If it has similar galaxy S internals(SGX 540 paired with 1ghz proc) then its only slightly weaker than the HTC evo lol.

That's a pretty nice looking phone. Gimme my EVO 3D!!
Android Central Newsletter
Get instant access to breaking news, the hottest reviews, great deals and helpful tips
Thank you for signing up to Android Central. You will receive a verification email shortly.
There was a problem. Please refresh the page and try again.