Sprint now lets you use voice and data simultaneously on Galaxy S8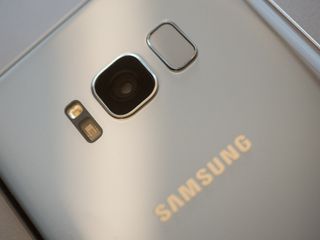 Sprint has released an over-the-air (OTA) update for its version of the Samsung Galaxy S8 and Galaxy S8+. In addition to the usual round of bug fixes and security improvements (not that those aren't important), the company also took the time to add its new "Calling Plus" feature.
The feature allows users to use voice and data at the same time, no matter if the user is on LTE or calling over Wi-Fi. The previous "WiFi Calling" feature has now been rolled in as well. From Sprint:
Calling PLUS combines two features: one old and one brand new! WiFi calling - our VoIP calling feature that lets you make and receive calls over WiFi [sic] Voice and text on the Sprint LTE network, allowing simultaneous voice and data
Calling PLUS is delivered to your device by software update. Once your device has received the software, set up is easy!
On the phone, select Settings > Calling PLUS.
Slide Calling PLUS to On.
Customer can view Tutorial pages to learn more information about the service.
View pre-populated address. If the Country field says Non-USA, Select the Country and choose USA. Enter a USA address manually. If address is not shown or is incorrect, enter the address manually. Address must be within the USA.
Select Save. Your phone will validate the address required for E911 service and completes the enablement of Calling PLUS.
6.Select Calling PLUS options to enable each feature: Wi-Fi Calling is On by default. LTE Calling is optional but recommended to allow both Simultaneous Voice and Data and call handoffs between Wi-Fi Calling and LTE Calling. Call handoffs will go from Wi-Fi to LTE even if the LTE Calling switch is Off. LTE Calls require the Wi-Fi Calling switch to be turned On for a handoff to Wi-Fi.
That's it! Your phone is now enabled for Calling PLUS. You can call anyone using Calling PLUS, the person or party that you're calling does not need to have Calling PLUS in order for it to work.
Sprint has also added the Calling Plus feature to the LG Stylo 3 and the Samsung J7 Perx.
Has your phone received this update yet? Let us know down below!
Be an expert in 5 minutes
Get the latest news from Android Central, your trusted companion in the world of Android