Why I'm switching from Apple Music to Spotify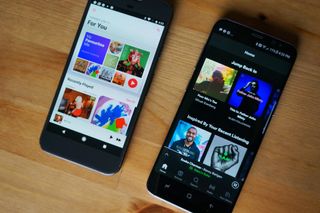 It's been just over two years since Apple announced it was jumping into music streaming business with its Apple Music service. I was an early adopter to the service and even decided to stay loyal after otherwise jumping ship over to Android from iOS — but the lack of meaningful support for the Android app has slowly worn me down and left me with little choice but to switch over to Spotify.
I was able to overlook most of Apple Music's most glaring Android shortcomings — the lacking support for Android tablets, Android TV, and Chromecast — because the music recommendation engine and curated playlists were on point. I was more than comfortable with the user interface, which featured a bottom row for quickly switching between the "For You" tab for discovering playlists and album recommendations, and the "My Music" tab for accessing my ever-growing library of tunes and custom playlists, though it's worth noting that I could not care less about the "Radio" or "Connect" features.
The "For You" tab was a joy to check each day, with fresh playlists and a great mix of new suggestions and classic album recommendations from my personal library. Everything was stored in the iCloud, which meant that I could bring my music library with me when switching between phones (and that happens a lot with this job).
But the real problems started when Apple Music version 2.0 dropped in the Google Play Store back in April, which completely changed the design of the app — without addressing or adding any of the missing features. Some people may have liked the new look and layout but I hate it. I could have lived with the menu moving to the top left corner, but Apple decided to also integrate the "Connect" feature into the "For You" section, so you scroll through way fewer recommendations and then hit a wall of "social posts" from the artists I follow.
Thanks to creepy targeted advertising, the more I openly bitched about Apple Music the more I kept seeing ads for Spotify's deal for 3 months of Spotify Premium for just $0.99. So I took the plunge and realized that not only did Spotify have a nearly-identical library of music, the app design was a throwback to what I used to love about Apple Music.
Oh, and Spotify also offers proper support for Android including an Android TV app, support for Google Home and Alexa, and even a section for podcasts. Essentially, I realized Apple had been playing me a fool and doing the bare minimum to keep me subscribed as an Android user.
My Apple Music subscription will expire four days before the two-year anniversary of the service's launch. It makes me wonder how many of the over 10 million app downloads are people like me who switched from iOS to Android and wanted to keep enjoy Apple Music — but ultimately go elsewhere when it becomes clear that supporting Android is a low priority for Apple.
Besides the introductory pricing offer, you may be asking why I choose to switch to Spotify. Well, to be honest, the options are kind of slim for us up here in Canada. A Google Play Music subscription does not include YouTube Red, which is just another service that isn't available to Canucks, along with Amazon Music and Pandora. Spotify was really the only other gig in town, so I guess I'm fortunate that it also happens to be the best music service for Android.
Are there any other Apple Music fans out there who feel the same way? Should I give Google Music another shot or am I best off sticking with Spotify? Tell me what you think in the comments!
Get the Android Central Newsletter
Instant access to breaking news, the hottest reviews, great deals and helpful tips.
Marc Lagace was an Apps and Games Editor at Android Central between 2016 and 2020. You can reach out to him on Twitter [@spacelagace.